Time Savings
In uncertain markets, demands on financial consultants increase… and so does the value of model portfolios. By delegating critical, but cumbersome, investment tasks to external managers, you can free up more time to deepen client relationships and efficiently scale your practice.
MODELS CAN REDUCE INVESTMENT MANAGEMENT TIME BY 50%
How financial consultants spend their time: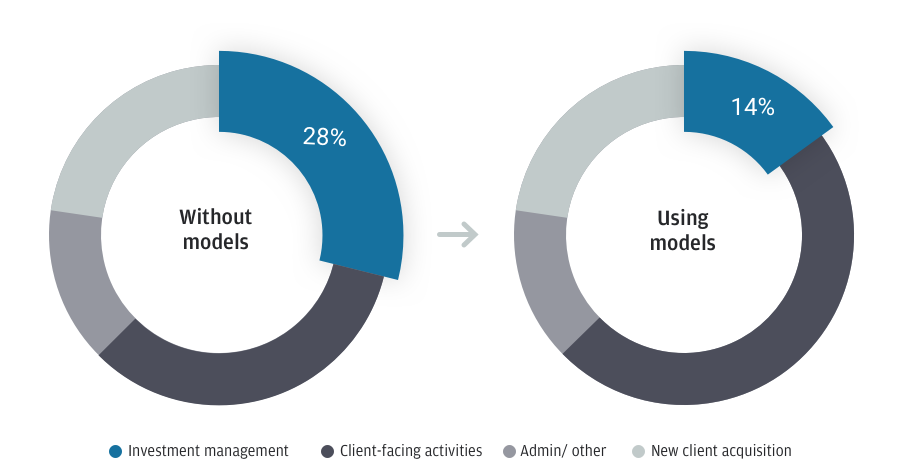 On average financial consultants spend 50 hours/month on investment management, which means using models can free up 25 hours a month for clients & prospects 1
1Broadridge Financial Solutions, The Future of Advice, 2020. Illustration assumes a 45-hour work week and 48 work weeks per year.
J.P. MORGAN MODELS CREATE SCALE AND EFFICIENCIES
FOR FINANCIAL CONSULTANTS

Strategic allocation across a range of risk/return profiles
---

Manager due diligence, selection and oversight
---

Tactical allocations adjust as market opportunities arise
---

Ongoing portfolio oversight
---

All-in-one investing to simplify reporting and reviews
---

Expert asset class views and market insights
---

Automated tax management during and after model transitions*
*Available on 55ip to U.S. Registered Investment Advisors who custody accounts through Fidelity, TD Ameritrade Institutional, and Schwab Advisor Services.
Learn about the other benefits of using models

Client Retention
65% of financial professionals say outsourcing investment management increases client retention2

Market navigation
98% of financial professionals say outsourcing allows them to deliver investment solutions2
2AssetMark, 2019 Impact of Outsourcing Study.