Economic & Market Update
Welcome to the 3Q 2022 J.P. Morgan Asset Management economic and market update. This seminar, presented by Dr. David Kelly, highlights the major themes and concerns impacting investors and their clients, using just 10 Guide to the Markets slides.
There are 68 pages in the Guide to the Markets. However, we believe that the key themes for the third quarter can be highlighted by referencing just 10 slides.
DR. DAVID KELLY
CHIEF GLOBAL STRATEGIST
ECONOMIC & MARKET UPDATE: USING THE GUIDE TO THE MARKETS
TO EXPLAIN THE INVESTMENT ENVIRONMENT
1. The U.S. economy is beginning to lose momentum
---
Entering the second half of 2022, there is a growing danger that the U.S. economy could slip into recession. On the positive side, while real GDP shrank in 1Q22, monthly data suggests it logged solid growth in 2Q22 as the Omicron wave subsided and spending picked up in pandemic-impacted areas such as travel, restaurants, leisure and entertainment.
However, entering 3Q22, there are gathering forces slowing economic momentum. After two years of record stimulus, the economy is facing huge fiscal drag, with the federal budget deficit likely to fall from 12.4% of GDP in 2021 to less than 4% of GDP this year – the single biggest decline since the demobilization following the end of World War II. This decline reflects an end to stimulus checks, enhanced unemployment benefits, enhanced child tax credits and a host of other programs that were supporting lower and middle-income households during the pandemic. In addition, a surge in 30-year mortgage rates is weighing on the housing sector and an 8%+ rise in the trade-weighted dollar year-to-date is impeding U.S. exports. All of this, combined with collapsing consumer confidence, has raised the risk that the U.S. economy falls into recession in the near term.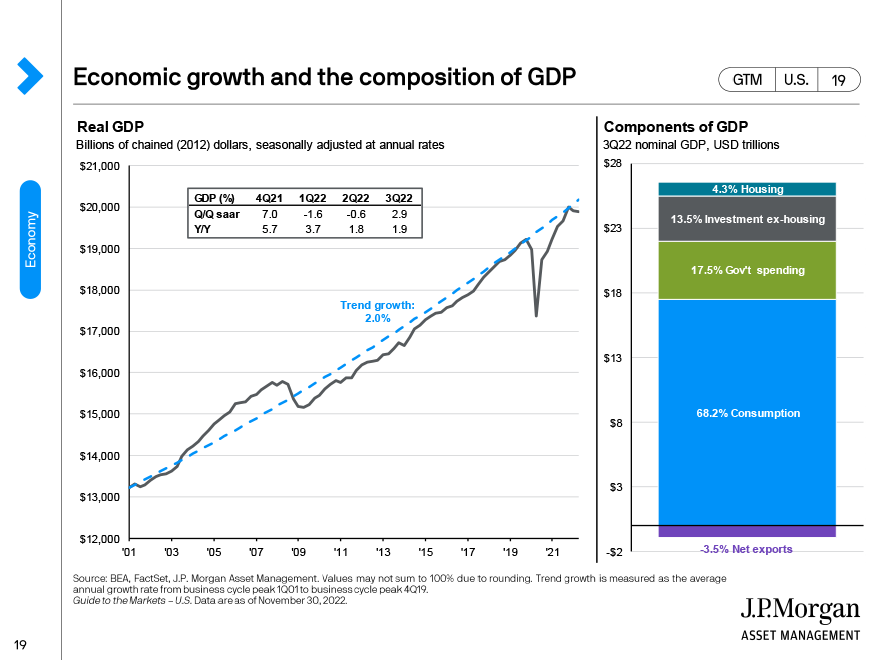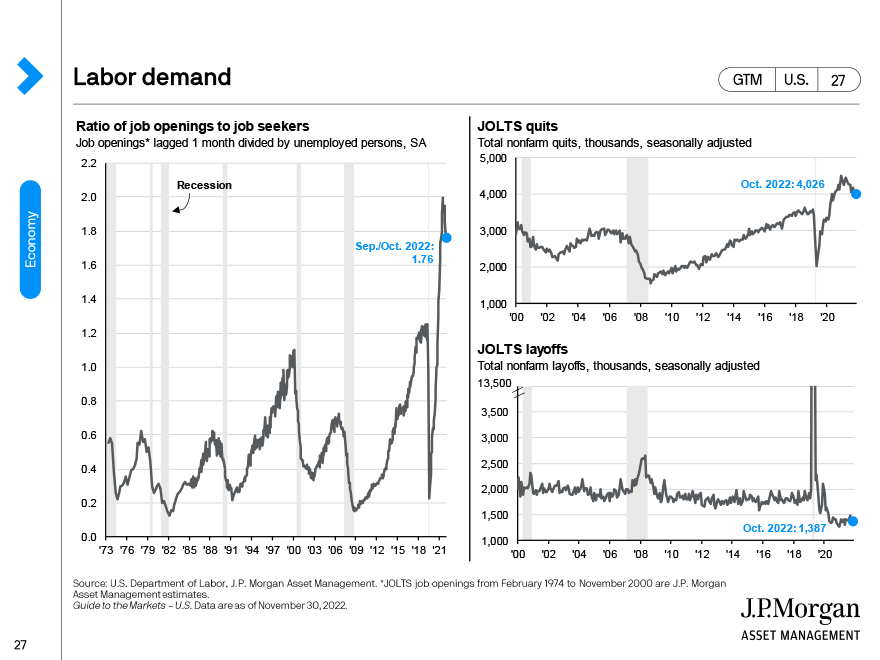 2. The labor market remains a bright spot for the economy
---
The labor market continues to be a bright spot in an otherwise gloomy environment, with the unemployment rate remaining at 3.6% for the third consecutive month in May, just 0.1% above its 50-year low in 2019. There continues to be massive excess demand for labor, with roughly 5.45 million more job openings than unemployed workers in May. This excess demand should fade over the next few months, reflecting slowing economic momentum and diminished business confidence. However, it is likely to keep wage gains elevated and hopefully encourage an increase in labor force participation, particularly as an aging baby-boom generation and limited immigration continue to hamper labor supply. Importantly, strong wage growth may also limit declines in inflation, which has become the biggest concern for consumers, investors and policymakers.
3. Inflation has remained elevated well above the Fed's 2% target
---
Inflation continues to run very hot with May 2022 headline CPI showing an 8.6% year-over-year gain, the highest reading since December 1981. High inflation during this expansion has largely reflected the impact of strong consumer spending colliding with supply shortages across major sectors of the economy. More recently, this has been amplified by a general recovery in airfares, hotel rates, and rents from their pandemic lows. Inflation has been further exacerbated by continued supply chain problems due to the Russian invasion of Ukraine and China's attempts to maintain a "zero-COVID" policy, pushing out the peak of year-over-year CPI inflation.
By the end of 2022, we do expect some of the supply-driven issues to fade, allowing headline inflation to ease. However, the longer high inflation persists, the stickier it gets and core PCE inflation could remain above 3% year-over-year throughout 2022 and 2023. While longer-term forces are likely to cut inflation further by the middle of the decade, the potential persistence of inflation well above the Fed's 2% target over the next two years has major implications for monetary policy.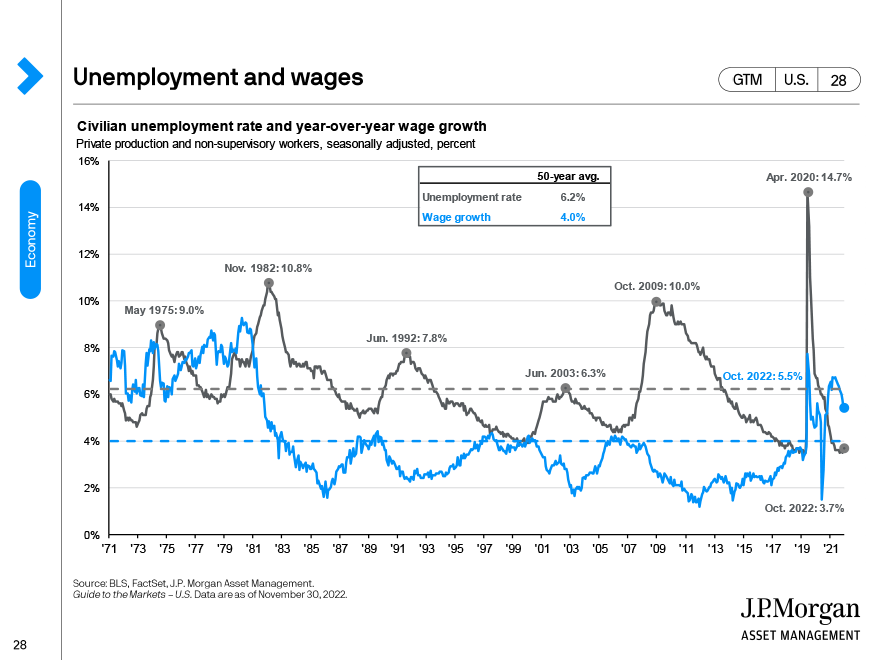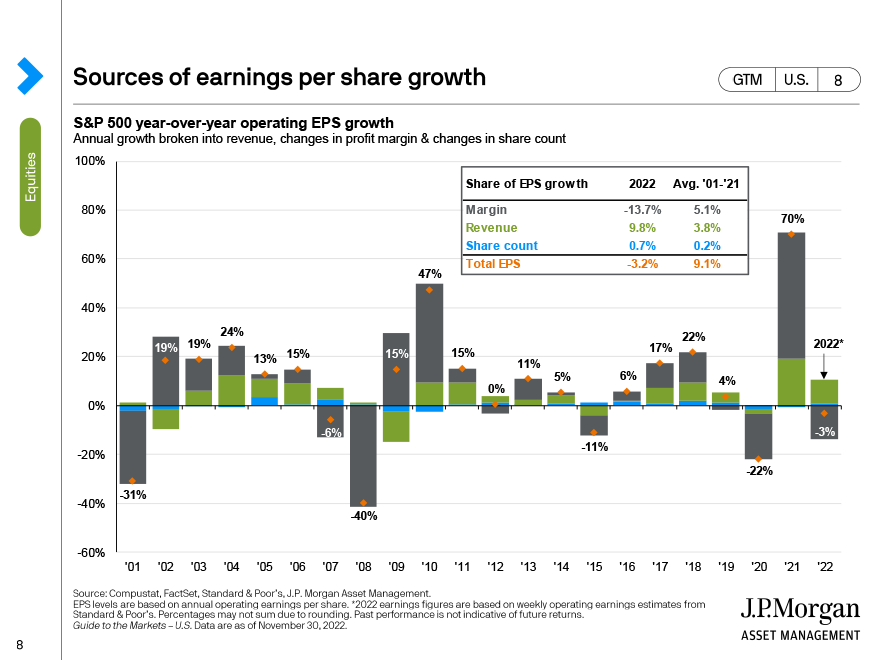 4. S&P 500 earnings should grow more slowly after soaring in 2021
---
Following a spectacular 2021, in which S&P 500 operating earnings-per-share (EPS) rose by 70%, profits are growing much more slowly in 2022. In the first quarter, operating EPS rose just 4.2% year-over-year and analysts now expect a less than 8% gain for full-year 2022.
However, even these estimates may be optimistic. Companies are facing a number of different headwinds – rising wages, higher commodity and input costs, higher interest rates and slowing nominal sales growth. While energy companies will continue to benefit from high margins, elsewhere, these headwinds should cut into profits. A much higher dollar will also erode the value of overseas sales while recession concerns could cause company managements to cut discretionary expenses while they have a macroeconomic excuse to do so.
A recession would, of course, lead to a sharp decline in profits. However, if this eventually led to less wage pressure and easier monetary policy, it could create a better long-term environment going forward. Gridlock in Washington and the prospect of a Republican takeover of Congress this year also reduce the likelihood of an increase in corporate taxes, allowing after-tax profit margins to remain at high levels relative to history.
5. The global recovery is encountering headwinds
---
The global economy presents a mixed picture entering the second half of 2022. On the positive side, the effects of the pandemic are fading in most parts of the world due to widespread immunity gained from both inoculation and infection and less deadly variants of the virus. However, the Chinese economy continues to be impacted by the pandemic as it struggles to sustain a "zero-Covid" policy. European economies are also being badly impacted by much higher energy prices resulting from the war in Ukraine.
Inflation has become a global concern and most central banks are tightening policy to combat it. While we do not expect this to result in a global recession, it should slow the pace of economic recovery around the world. This should, however, relieve some of the pressure on commodity prices if 2023 sees positive economic growth but less inflation around the world.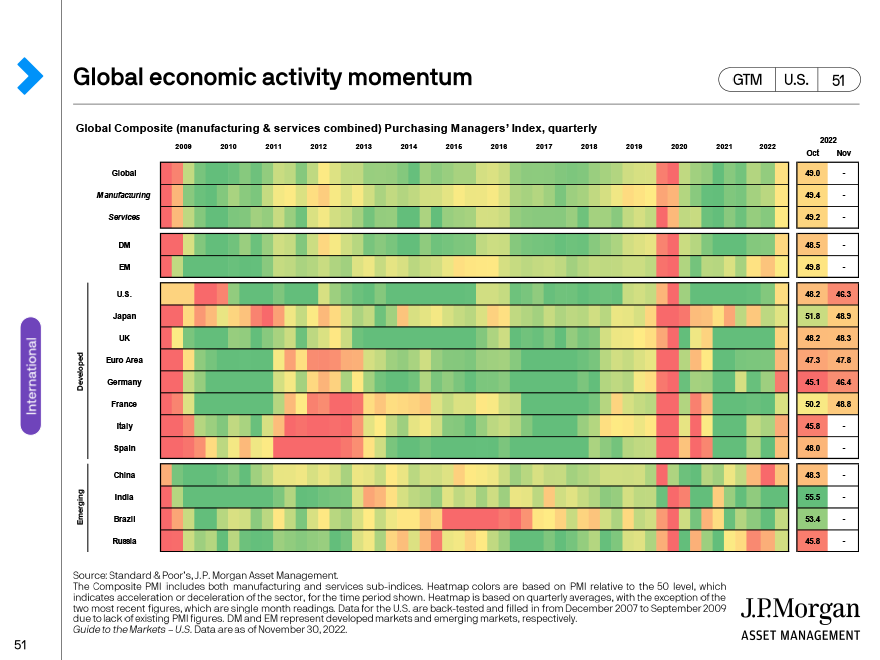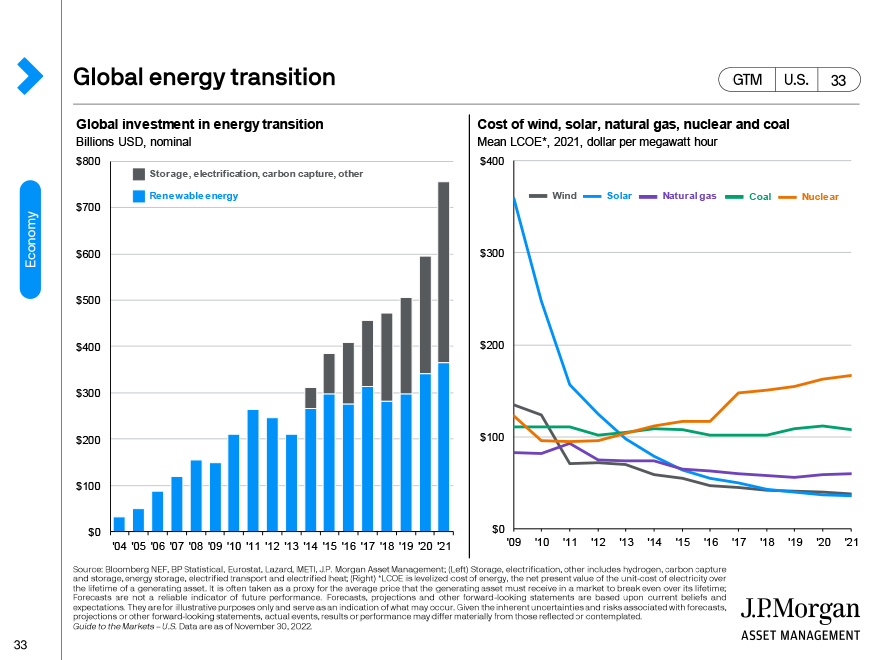 6. The Federal Reserve has turned much more hawkish
---
A rapidly improving labor market and persistent inflationary pressures have pushed the Federal Reserve (Fed) to adopt a much more hawkish stance. At its June meeting, the Fed increased the federal funds rate by 0.75%, following increases of 0.25% and 0.50% in March and May, respectively. In addition, the Summary of Economic Projections indicated a median expectation, among FOMC members, of cumulative further increases of 1.75% this year and 0.5% next year, bringing the federal funds rate to a range of 3.25%-3.50% by the end of 2022 and 3.75%-4.00% by the end of 2023. On quantitative tightening, the Fed is also ramping up the pace of reduction of their massive bond holdings to up to $95 billion/month by September.
Notably, the Fed expects inflation will fall towards its 2% target over the next few years. In its Summary of Economic Projections, the Fed forecasts annual core PCE inflation will fall from its current 4.9% to 4.3% by 4Q22, 2.7% by 4Q23 and 2.3% by 4Q24. While futures markets now roughly agree with the Fed's forecasts of the federal funds rate for the rest of 2022, they expect the Fed to ease policy starting next spring, reflecting the risk that a too-aggressive Fed may tip the economy into recession.
7. The back up in yields presents opportunities in fixed income
---
High inflation, falling unemployment and the Fed's much more hawkish stance led to a sharp back up in bond yields in the first half of 2022, resulting in negative returns across fixed income markets. However, while the likely persistence of stubbornly high inflation suggests continued tightening from the Federal Reserve through the end of the year, increased recession risks could limit further increases in long-term Treasury yields. Credit spreads have also widened out in anticipation of a slowing economy which may present opportunities in areas such as high yield bonds and convertibles, so long as the economy can avoid a deep recession.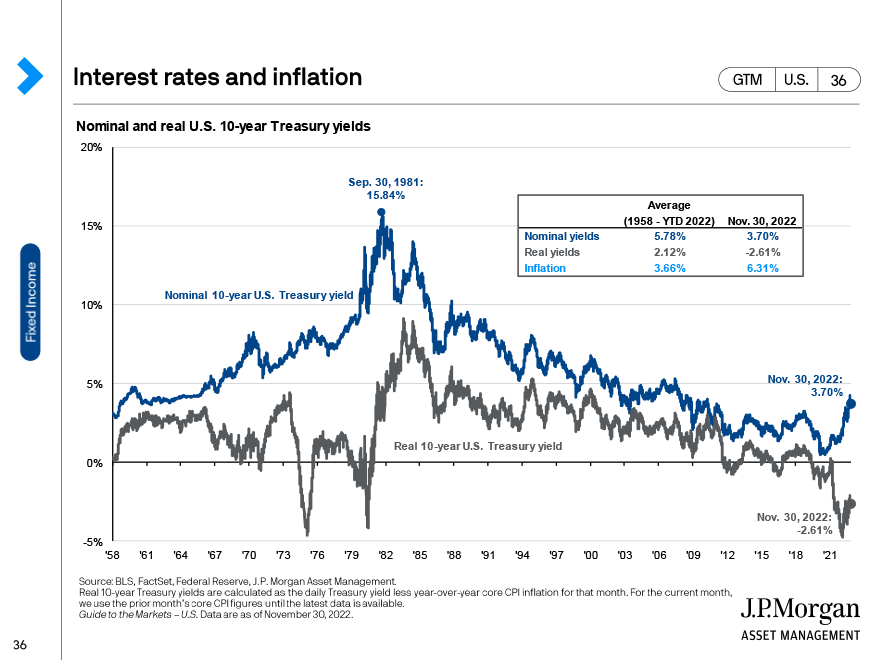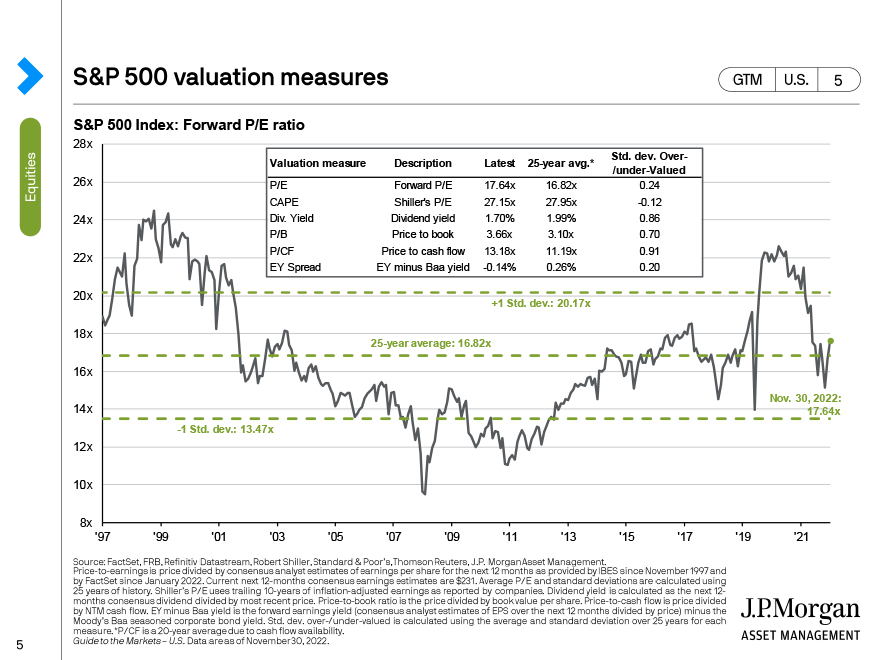 8. U.S. equity valuations have fallen below their 25-year average
---
U.S. equities slumped into a bear market in the first half of 2022 as investors worried about inflation, aggressive Federal Reserve tightening and the threat of recession.
However, while all of these concerns are justified, it is worth noting that the S&P 500 forward P/E ratio is now below its 25-year average of roughly 16.9x. This drawdown should set investors up for better returns in the long run, particularly if today's stressful environment is eventually replaced by one reminiscent of the last decade, with slow growth, low inflation, low interest rates and high profitability. However, higher interest rates will likely continue to cause pressure on valuations across financial markets, leaving U.S. value stocks and international equities best positioned to outperform.
9. 2022 has been a challenging year for most asset classes
---
The Asset Class Return page of the Guide to the Markets makes sober reading entering the second half of 2022, with significant losses in both global stocks and bonds in the first half of the year and only commodities, among the major asset classes, posting significant gains.
However, as investors consider this performance, it is important to take a longer term view. In particular, it is worth noting that a broadly diversified portfolio could have risen by more than 50% between the end of 2018 and the end of 2021. Even with losses this year, many investors are well ahead of the game in their long-term plans and should reassess how much return they need and risk they are willing to undertake in order to achieve their long-term goals.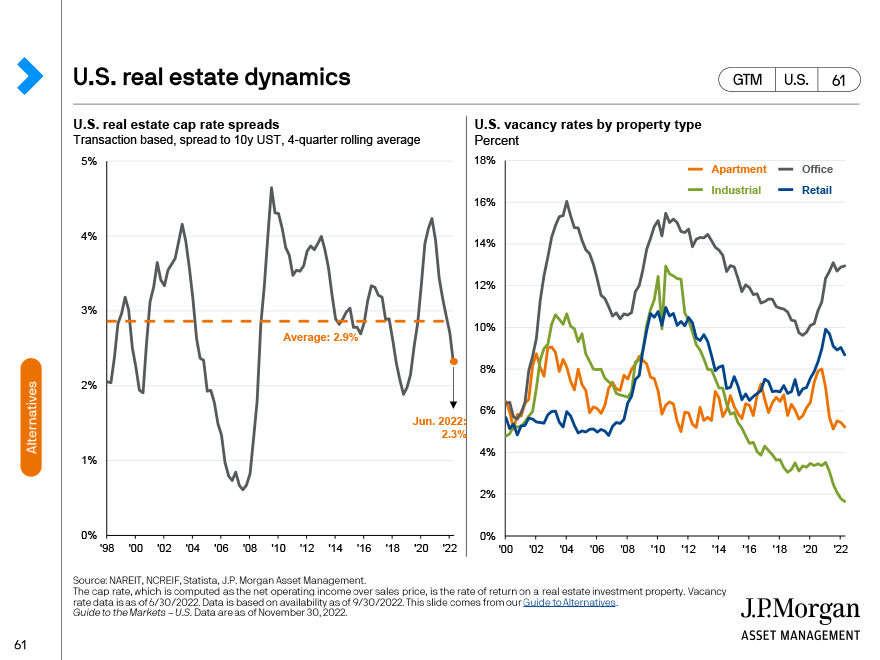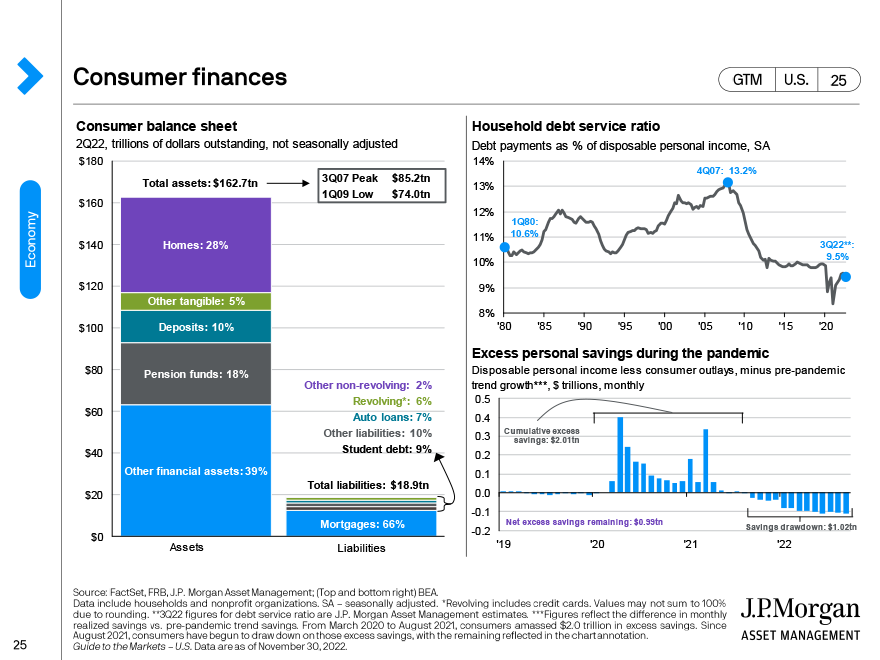 10. Don't let how you feel about the economy overrule how you feel about investing
For many Americans, the first half of 2022 has been very disappointing with the Omicron variant prolonging the pandemic, sharply rising inflation and interest rates, falling stock prices and the shock of Russia's brutal invasion of Ukraine. These factors, combined with a still very partisan political environment, have driven consumer sentiment down to its lowest level on record.

When investors feel gloomy and worried about the outlook, their natural tendency is to sell risk assets in general and stocks in particular. However, history suggests that trying to time markets in this way is a mistake. This slide shows consumer sentiment over the past 50 years with 8 distinct peaks and troughs noted and how much the S&P 500 gained or lost in the 12 months following. On average, buying at a confidence peak returned 4.1% while buying at a trough returned 24.9%.

Importantly, this is not to suggest that U.S. stocks will return anything like 24.9% in the year ahead, as many other factors will determine that outcome. However, it does suggest that when planning for 2022 and beyond, investors should focus on fundamentals and valuations rather than investing based on how they feel about the world.