Economic & Market Update
Welcome to the 1Q 2022 J.P. Morgan Asset Management economic and market update. This seminar, presented by Dr. David Kelly, highlights the major themes and concerns impacting investors and their clients, using just 12 Guide to the Markets slides.
There are 65 pages in the Guide to the Markets. However, we believe that the key themes for the first quarter can be highlighted by referencing just 12 slides.
DR. DAVID KELLY
CHIEF GLOBAL STRATEGIST
ECONOMIC & MARKET UPDATE: USING THE GUIDE TO THE MARKETS
TO EXPLAIN THE INVESTMENT ENVIRONMENT
1. The pandemic continues but its impact on the economy has diminished
---
After a summer of return-to-normalcy, the coronavirus once again emerged in the fall due to the Delta variant and has caused cases to rise again this winter with the emergence of the Omicron variant. We estimate that a combination of vaccinations and infections has left close to 90% of the country with some immunity to Covid-19. However, evidence suggests that the Omicron variant largely evades standard 2-dose vaccinations and natural immunity. Luckily, booster shots are very effective at preventing infection and, even without widespread boosters, the virus seems to be mild for those who contract it. This should allow cases, and particularly fatalities, to fall in the months ahead. Further, while the path of the pandemic has been difficult to predict, its impact on the economy has lessened as business and workers have adapted to operating in a pandemic environment.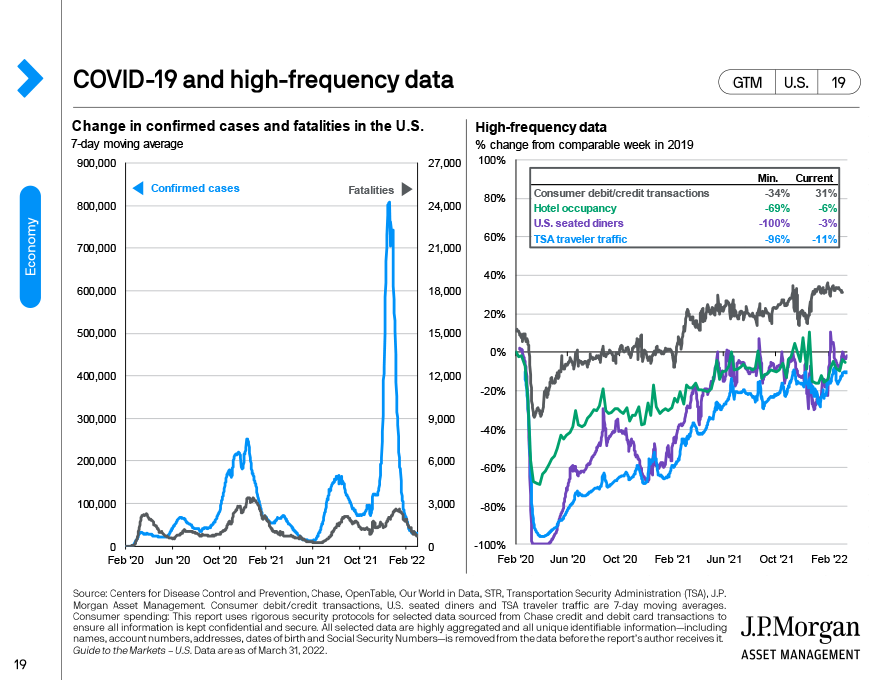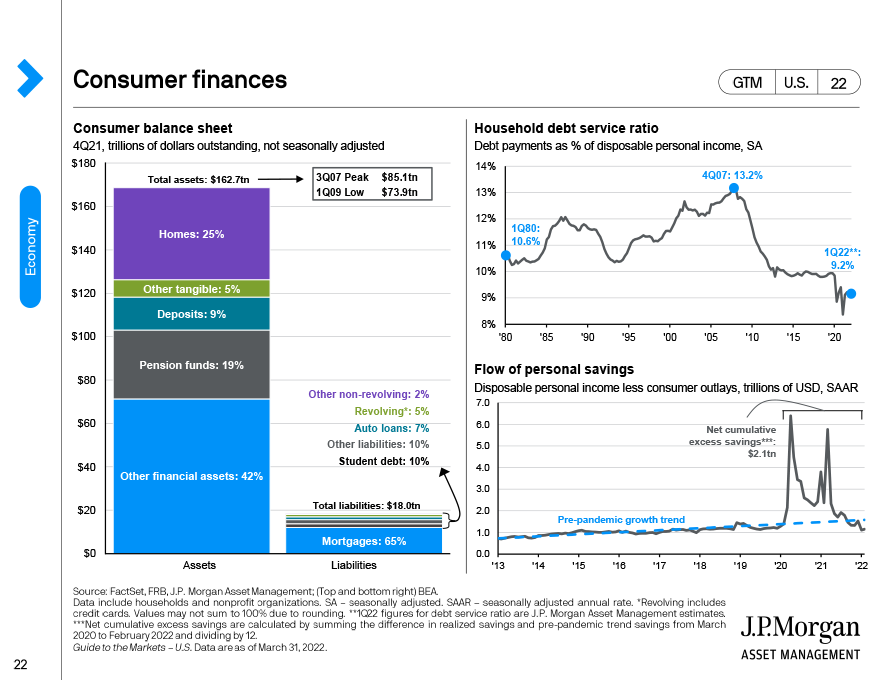 2. Fiscal policy will be much less supportive in the year ahead
---
As the pandemic fades, the extraordinary fiscal support provided by the federal government is also diminishing. Legislation passed in the last two fiscal years has added $5.3 trillion to the economy and has proven to be a powerful accelerant for the recovery. However, this stimulus is likely to drop sharply in the current fiscal year. The details of additional stimulus aimed at infrastructure, child care and education, and other initiatives continues to be negotiated in Washington. However, new stimulus would be stretched out over a decade and at least partially financed by tax increases, providing much less stimulus to the economy than we have seen over the last two years. In 2022, the economy should be much healthier than over the last two years but it will also receive much less government support.
3. The U.S. economy will continue its rebound until it reaches capacity limits
---
The road to pandemic recovery has been bumpier than expected, with the emergence of coronavirus variants and severe supply shortages cutting into consumer and business spending. After a slowdown in the fall, growth reaccelerated at the end of 2021 and should continue to be very strong as reopening resumes and companies try to rebuild inventories. As we move into 2022, real output looks set to exceed its pre-pandemic growth path, indicating a full recovery. At that point, a shortage of workers and much less fiscal and monetary stimulus should slow economic growth to its long-term trend of roughly 2%.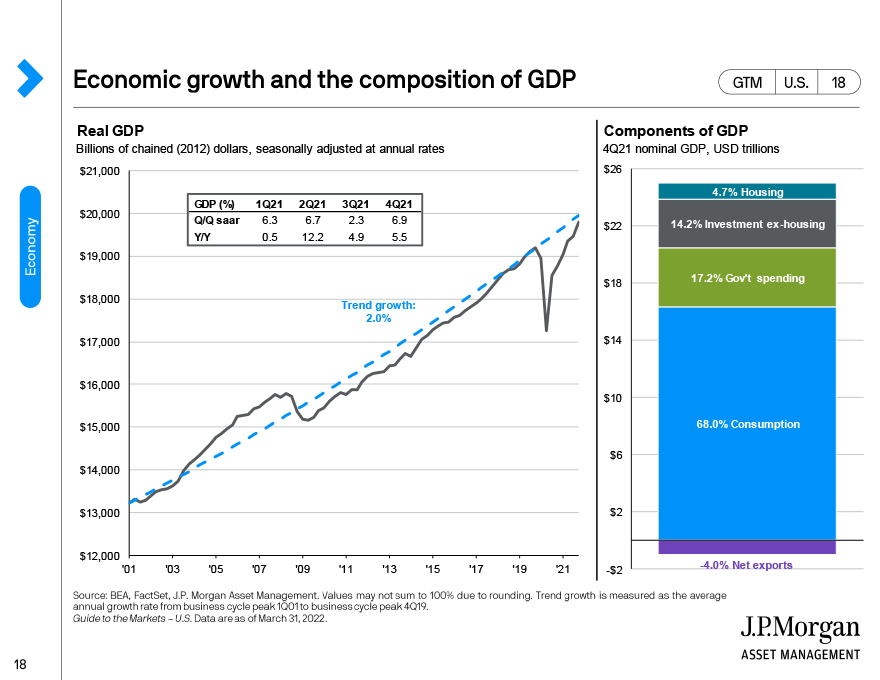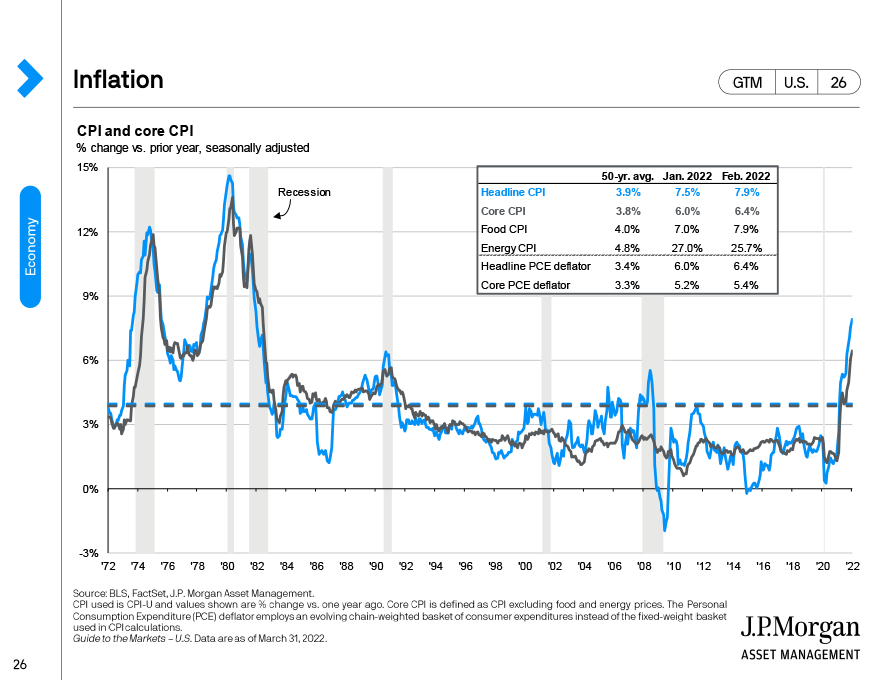 4. Unemployment has fallen and wages have risen
---
The labor market saw huge improvement over the course of 2021, with the unemployment rate falling from 6.7% in December 2020 to 4.2% by November 2021. However, even with this, payroll employment remains 3.9 million below its peak in February 2020. While this might suggest that a small amount of labor market slack remains, wages tell a different story. Wage growth has been rising and is at annualized rates not seen since the 1980s. Put together with surging labor demand, this suggests the employment shortfall is primarily an issue of labor supply. Labor supply has likely been constrained by enhanced unemployment benefits, lower immigration, higher costs of child care, and lingering pandemic fears. The worker shortage may persist for some time, but we expect some of the pandemic effects to recede, allowing unemployment to fall below 4.0% in the first half of 2022.
5. S&P 500 earnings poised to moderate after hitting an all-time high in 2021
---
Earnings have recovered spectacularly since the big declines in early 2020 and hit a new all-time high in 2021. This partly reflects stellar profits in some of the most important sectors of the U.S. equity market such as technology and health care throughout the pandemic, but also a rebound in many of the cyclical sectors that struggled the most last year. More generally, earnings have been bolstered by powerful consumer demand and higher productivity as businesses have been able to reduce costs in a more virtual environment. However, from 2022 on, slower economic growth, higher wage costs, higher interest rates and, potentially, higher corporate taxes could make further profit gains much more difficult to achieve.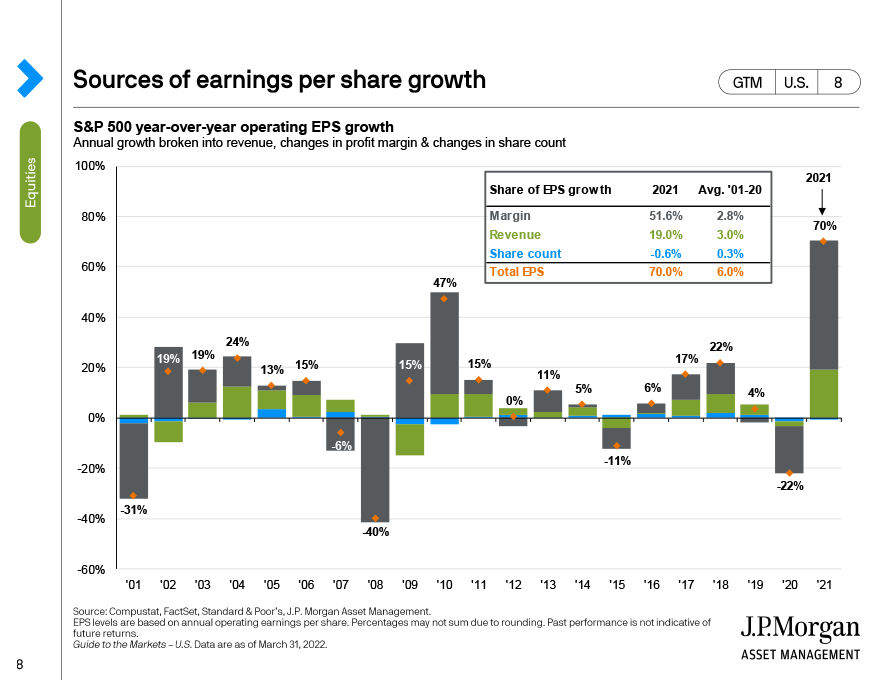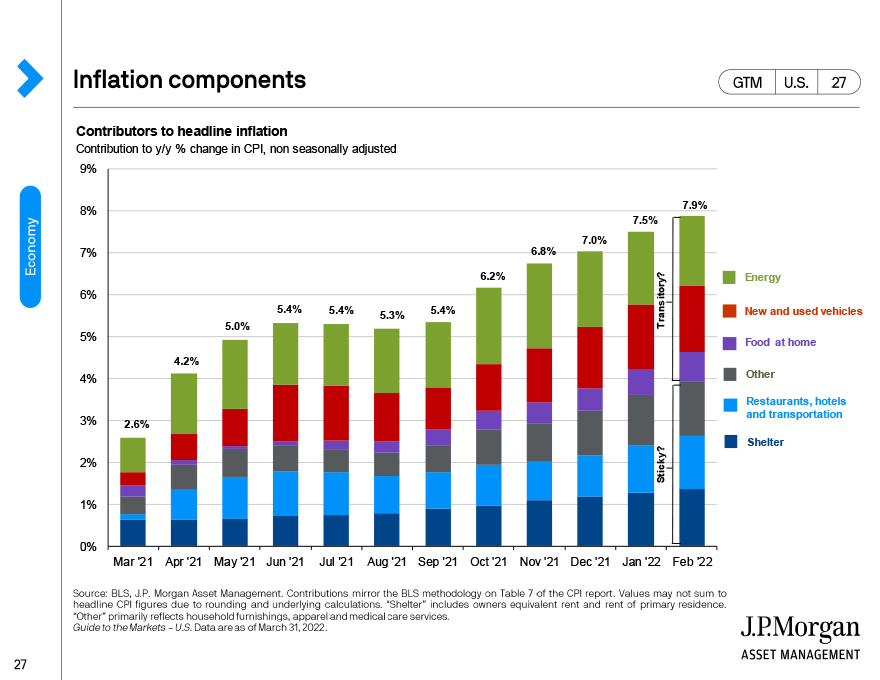 6. Inflation will moderate from its highs but remain above the Fed's 2% target
---
Inflation has heated up significantly this year as surging consumer spending has collided with supply shortages across major sectors of the economy. Higher input costs has sent inflation higher, and this has been amplified by a general recovery in prices of airfares, restaurants, and rents from their pandemic lows. Fiscal support for low and middle-income households has also bolstered consumer demand while a spike in oil prices boosted the volatile energy components of CPI. %. We believe that much of the current inflation surge will prove transitory, particularly the part that is related to the energy and supply chain issues. However, the impacts of higher wage growth, rising rents and generally higher inflation expectations should linger and this should imply inflation that is well above 2% for the remainder of this economic expansion.
7. The Federal Reserve turns more hawkish with rate hikes on the horizon.
---
A rapidly improving labor market and persistent inflationary pressures has pushed the Federal Reserve (Fed) to adopt a more hawkish stance towards monetary policy. At its December meeting, the Federal Reserve made clear that while the delta variant has slowed economic progress, the labor market recovery has been robust and inflation may be stickier than they previously assumed. Consequently, the Fed accelerated the pace of tapering by $30 billion per month, suggesting they would conclude the process by March 2022. This would clear the way for increases in the federal funds rate starting in June and the potential for three rate hikes by the end of next year, as suggested by the median dot plot.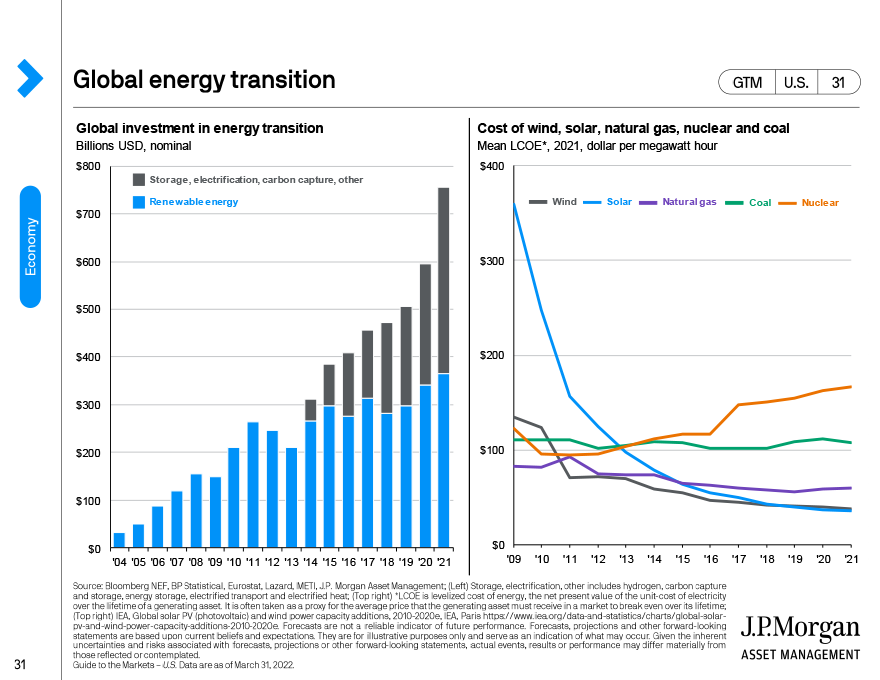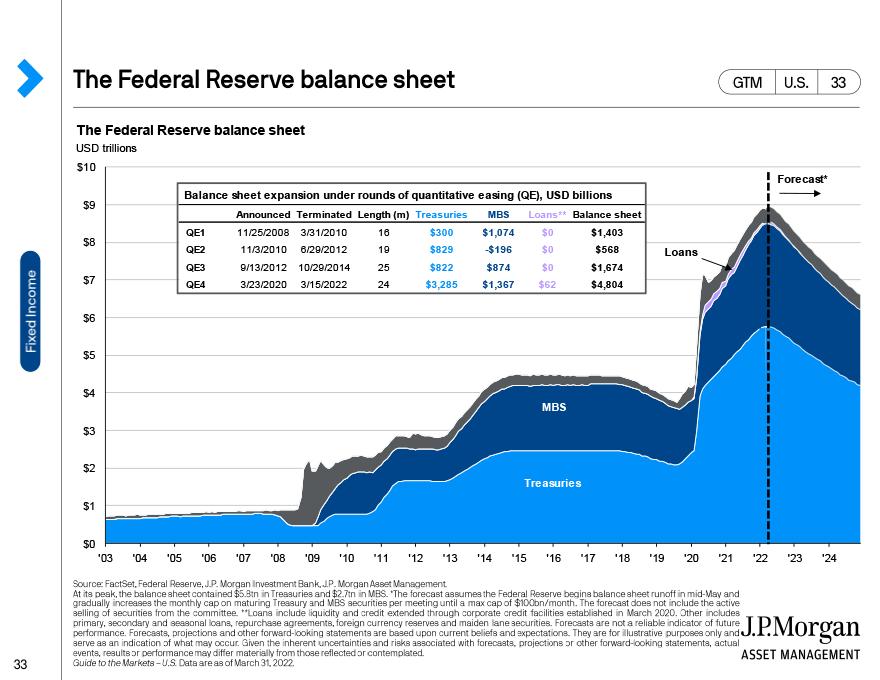 8. Interest rates are likely to resume their ascent
---
Interest rates are likely to resume their ascent to "The combination of very easy U.S. monetary policy and strong global demand for bonds has left 10-year Treasury yields at very low levels. Interest rates will likely move higher in 2022, against the backdrop of rising inflation, faster growth, and a less accommodative Fed. There continues to be a place in portfolios for fixed income to provide diversification and protection in the case of an equity market or economic relapse, but investors may want to focus on shorter duration bonds to be well-positioned if long-term rates resume their ascent.
9. Valuations are high for U.S. equities
---
U.S. equities moved higher in 2021, characterized by range-bound valuations and rising earnings expectations. Stock prices based on current forward P/E ratios still look elevated, although they have come in somewhat as earnings have played catch-up. Looking forward to 2022, returns will depend more heavily on profit margins. Rising wages, supply chain disruptions, and higher taxes could all negatively impact profit margins over the next few years. However, while elevated valuations may pose a speed limit for the market, the outlook for returns remains positive amidst strong fundamentals and corporate profitability.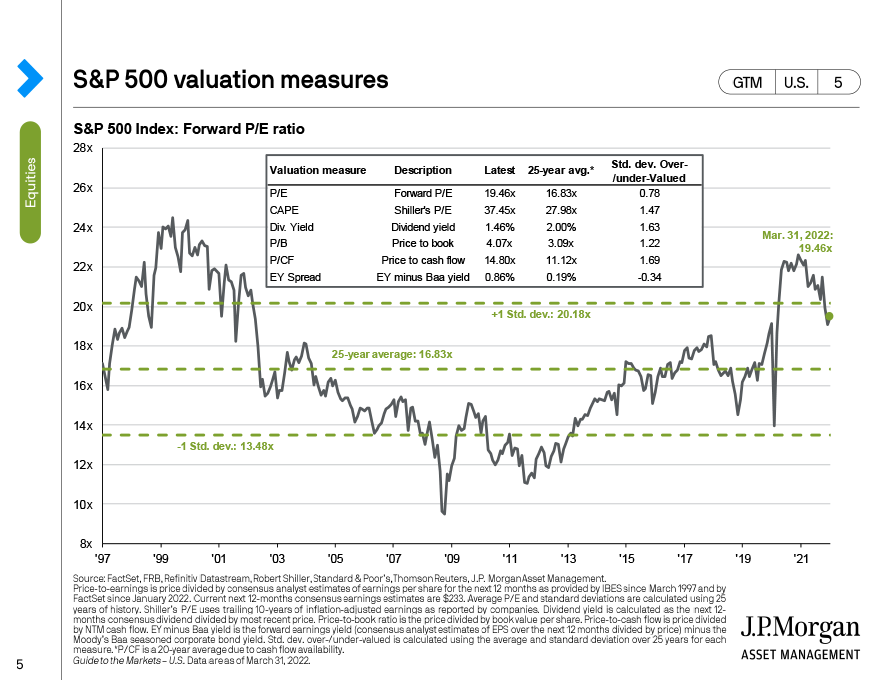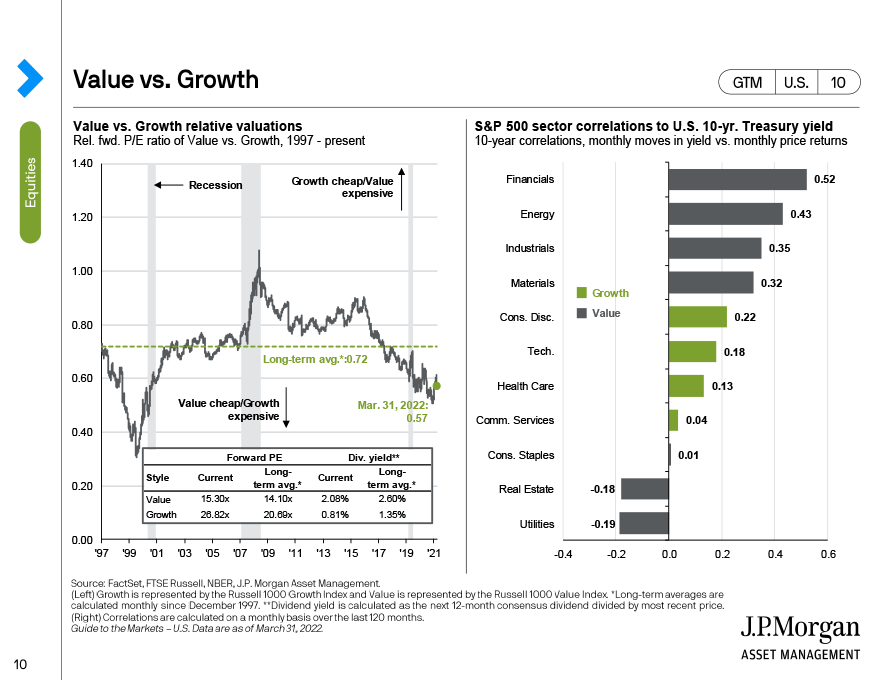 10. Value and growth
---
After multiple years of strong outperformance of growth stocks, most notably during the pandemic in 2020, value began to recover in the first half of 2021. However, a combination of declining interest rates, fears about the Delta variant, and disappointing economic data relative to expectations led growth to outperform in the second half of the year. The left chart shows that value remains at historically cheap levels relative to growth and carries substantially higher dividends. Additionally, value generally tends to outperform growth during periods of above-trend economic activity and rising interest rates. However, investors don't necessarily have to choose between value and growth – the best allocation will be a blend of the two. Earnings of companies in the technology, communication services, and industrial sectors have historically been most correlated to changes in real GDP, while the financial sector could benefit from higher interest rates and a resumption of buyback activity.
11. International stocks offer cyclical and long-term opportunities
---
While the global recovery has been delayed, it has not been derailed, and the global economy is registering solid momentum at the start of the year. We expect the global economy to continue to grow above trend over the course of next year as pandemic effects recede and for robust earnings growth to be an important catalyst for international markets. In addition, valuations remain attractive with both emerging market and developed market stocks at some of their cheapest levels relative to the U.S. in the last 20 years. This, along with a global post-pandemic economic rebound, lower trade tensions and the prospect of a lower dollar in the long run argue for a greater allocation to international equities, with a particular focus on East Asia and Europe.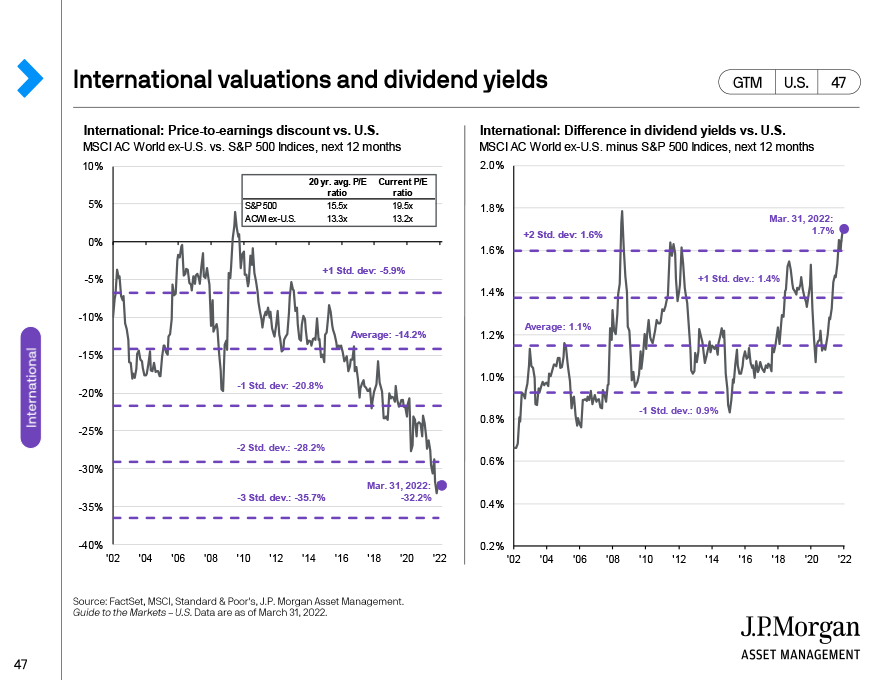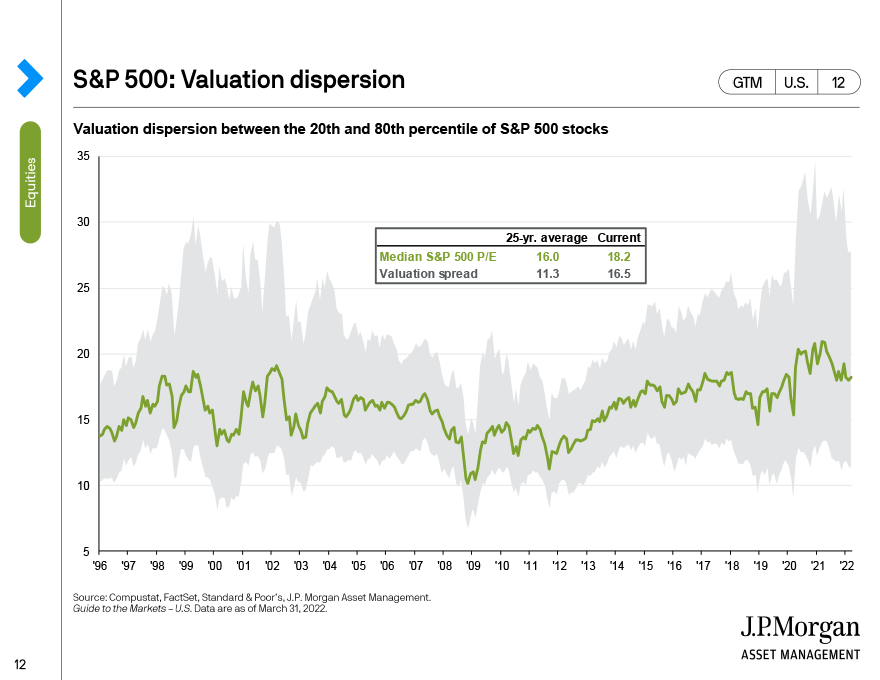 12. S&P valuation dispersions points to active management
---
This slide shows S&P valuation dispersion over the last 25 years, illustrating a widening valuation gap between the most and least favored stocks in the index. The current S&P 500 valuation spread is markedly higher than the 25-year average – this wide dispersion in valuations points to an opportunity for active management.

The U.S. economy has had a bumpy recovery with much higher-than-expected inflation but is still on strong footing as we enter 2022, and further progress on the pandemic at home and abroad will continue to be a tailwind for the global economic recovery. Given the substantial growth markets have had thus far in the economic cycle, investors would be wise to focus on fundamentals and maintain a somewhat diversified stance as we move forward to a, hopefully, more vibrant and healthier 2022.