Fixed Income: How are yields and interest rates impacting core fixed income?
Fixed income
As interest rate volatility settles down, bond yields should be more well-behaved, and investors should look to take advantage of the dramatic repricing year- to-date.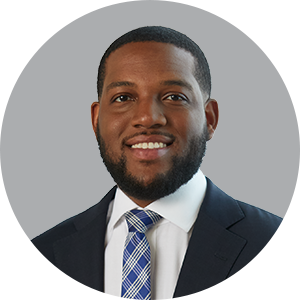 The hawkish pivot from the Fed has sent shock waves through the bond market, and interest rate volatility has spiked higher as a result. Investors are increasingly concerned about the trajectory of monetary policy, and crucially, if the Fed will be patient in raising rates rather than overly aggressive in its efforts to quell inflation at the risk of slowing growth. Still, while policy uncertainty remains elevated, particularly for 2023, the Fed has solidified its hiking path this year, suggesting it will lift the target range for the federal funds rate to 2.50%- 2.75% by year's end.
From a performance standpoint, the first half of this year will be one of the worst on record for core fixed income. That said, most of the pain is likely behind us, assuming that the full repricing of this year's rate hikes are fully baked into bond yields. Importantly, given the Fed's transparency, its likely rate volatility will fall in the second half of this year and into next. As we show in Exhibit 6, since 1983, interest rate volatility as measured by the MOVE index has been highest (outside of recessionary periods) in the first half of a rate hiking cycle and comes down meaningfully in the second half. This makes intuitive sense; a decision to remove accommodative policy tends to be jarring for investors, but as a steeper trajectory for rates is priced in, rate volatility settles down.
Exhibit 6: Outside recession, rate volatility tends to be highest when the Fed first starts hiking
Average level of the MOVE index in different policy cycles, 1983-present*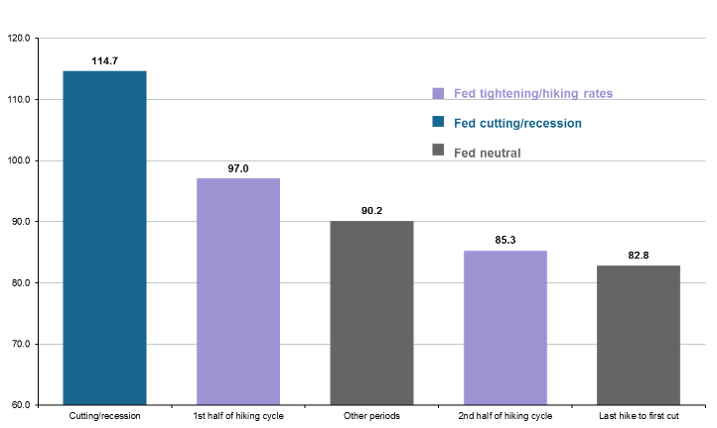 Source: Federal Reserve, Haver Analytics, J.P. Morgan Asset Management. Cutting/recession periods are calculated from the first rate cut to the last rate cut or recession end, whichever occurred last. *From Jan. 1983 - Apr. 1988 (inception of MOVE index), a regression model is used based on a 30-day standard deviation in daily changes in the U.S. 2-, 5-, 10- and 30-yr. Treasury yield; the r-squared = 70%. Data are as of May 31, 2022.
As interest rate volatility settles down, bond yields should be more well-behaved, and investors should look to take advantage of the dramatic repricing year- to-date. The move higher in rates and credit spreads has led to some of the most attractive yields/valuations seen in recent years. Exhibit 7 shows current yields for major fixed income asset classes relative to the past 10 years. It is evident that core bonds are at their highest yields relative to recent history, and given the very tight relationship between current yields and subsequent performance, bond investors can expect decent returns from these assets over the next few years.
Exhibit 7: Yield-to-worst across fixed income sectors
Basis points, past 10 years
Source: Bloomberg, FactSet, J.P. Morgan Credit Research, S&P, J.P. Morgan Asset Management. Indices used are Bloomberg and S&P except for emerging market debt and leveraged loans: EMD ($): J.P. Morgan EMIGLOBAL Diversified Index; EMD (LCL): J.P. Morgan GBI-EM Global Diversified Index; EM Corp.: J.P. Morgan CEMBI Broad Diversified; Leveraged loans: JPM Leveraged Loan Index; Euro IG: Bloomberg Euro Aggregate Corporate Index; Euro HY: Bloomberg Pan-European High Yield Index; U.S. Treasuries: Bloomberg U.S. Aggregate Treasury Bond Index. All sectors shown are yield-to-worst except for Municipals, which is based on the tax-equivalent yield-to-worst, and Leveraged loans, which is based on Yield to 3Y takeout. Guide to the Markets – U.S. Data are as of May 31, 2022.

Even though yields have moved a lot already, we are still biased to higher yields in the back half of this year. We anticipate the nominal U.S. 10-year Treasury yield will end the year between 3.00%-3.25%, suggesting a modest move higher in long rates for a few reasons:
The Fed's balance sheet reduction (quantitative tightening) and possible consideration of outright mortgage-backed security sales sometime next year should put upward pressure on long-term interest rates,


While realized inflation should come down for the remainder of the year and next, it may not come down fast enough to satisfy policymakers, increasing the risk of further aggressive policy rate hikes in 2023, and


As the Fed lifts short-term rates more aggressively than other developed market central banks, the appetite for long-dated U.S. Treasury debt from foreign investors should weaken given the rise in hedging costs.


Investors who are outright short duration and have embraced lower-quality credit in portfolios should consider edging back to a more neutral position and increase the quality of bonds they own. Moreover, an active approach to fixed income is critical at this juncture; rates will not move in a straight line and active managers have a broader ocean of bonds in which to fish.