Week in review

The U.S. Federal Reserve hiked rates by 75bps to 3.00%-3.25%
Bank of England raised rates by 50bps to 2.25%
Japan intervened in the currency market; Bank of Japan kept rates unchanged
Week ahead

U.S. consumer confidence, PCE
Europe unemployment rate, consumer confidence
China NBS and Caixin manufacturing PMI
Thought of the week
The Federal Reserve's (Fed) 75bps rate hike was widely expected and the narrative did not turn materially more hawkish, but the results from the Wednesday meeting still triggered a dip in markets. Equity markets worldwide generally traded lower, while safe-haven currencies like the U.S. Dollar rallied. 2-year Treasury yields also surged above 4.1%, the highest level since 2007, further inverting the yield curve. Much attention was also placed on the Summary of Economic Projections, which put 4Q22 real GDP growth at a mere 0.2% year-over-year, down from 1.7% projected in June. The dot plot showed the Fed still expect to hike another 125bps for the rest of the year and rates will reach a terminal rate of 4.6% in 2023. Turning to the largest economies here in Asia, the picture looks quite different. Japanese and Chinese central banks both announced last week that they will keep rates unchanged at current low levels and attempted to defend their currencies through government intervention. However, they are outliers even in Asia. The Fed's rate hike put renewed pressure on Asian central banks, as yield differentials further widened. Indeed, Taiwan, Philippines and Indonesia all raised rates last week. Doing this is necessary to prevent capital outflows, currency depreciation and imported inflation, but could also stop the nascent Asian economic recovery dead in its tracks. Thus, be it U.S. or Asia, central banks are caught in dilemmas, albeit very different ones. Going forward, market volatility will remain elevated and the pressure on risk asset will remain.
The Fed expects rates to end 2022 at 4.4% before peaking in 2023 at 4.6%
Federal funds rate expectations

Source: Bloomberg Finance L.P., FactSet, U.S. Federal Reserve, J.P. Morgan Asset Management. Data reflect most recently available as of 22/09/22.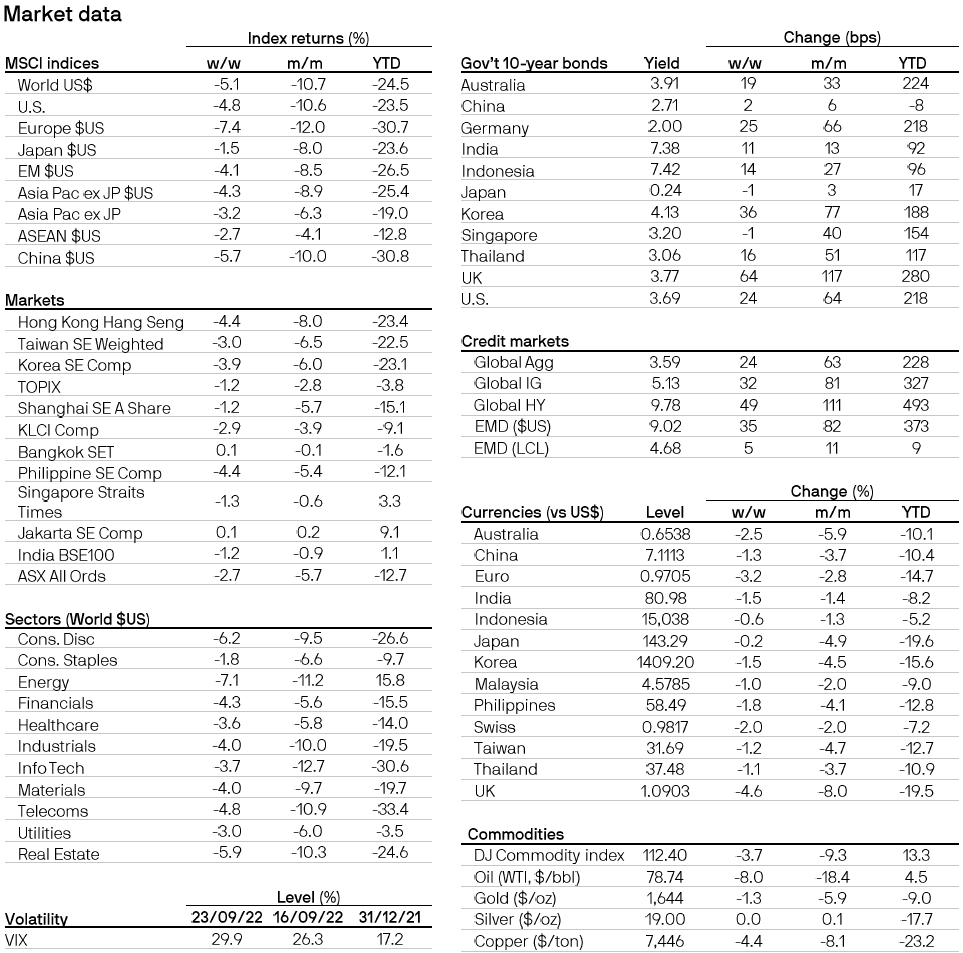 0903c02a82467a72