Parents generally want the best for their children. It has been suggested that it could cost around HK$4 million to raise a child in Hong Kong – a sum which caused quite a commotion several years ago. Would it cost even more now? What are the expenditures you should consider when planning for your children's future?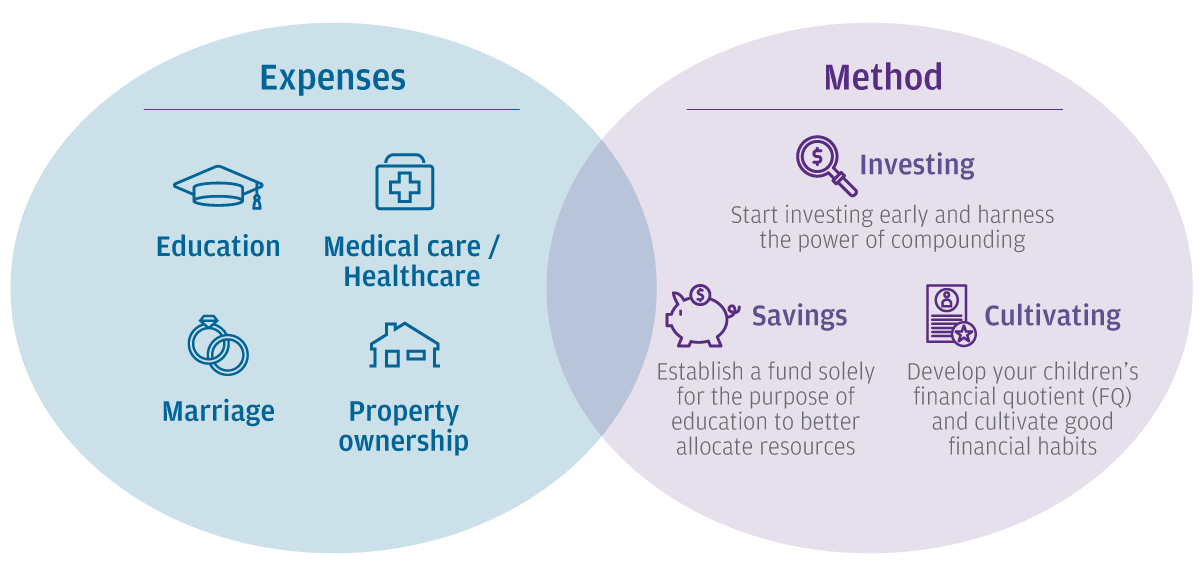 Too Much Market Noise and No Clarity? Actionable Insights to Help You Stay Ahead.
Education
Most parents strive to provide a high-quality education for their children, with the aim of giving them a competitive edge to get a head start in life. Studying abroad is generally perceived as having an edge, and the overall cost of an overseas education is among the main concerns for parents. Tuition fees and living expenses can vary widely in different countries, as shown in the table.
Annual costs of university education by country
Location

Tuition

Living Cost*

UK

approx. HK$92,000 to HK$266,000

approx. HK$125,000

Australia

approx. HK$112,000 to HK$252,000

approx. HK$84,000 to HK$187,000

US

Public: approx. HK$207,000
Private: approx. HK$285,000

approx. HK$125,000 to HK$132,000

Canada

approx. HK$174,000

approx. HK$50,000 to HK$100,000
Source: Hok Yau Club, as of August 2020; Bloomberg, exchange rates of HK dollar to foreign currencies, as of 19 August 2020. Living costs per country include: US (Housing, food, textbook and supplies); Australia (on-campus housing, groceries, food, gas / electricity bill, public transportation); Canada (housing, good, textbook, personal and health insurance); UK (Housing, food, electricity bill, transportation).
Housing
Generally, housing comprises a large portion of a household's monthly spending, especially as Hong Kong ranks top among the most expensive property markets in the world1. Local residential property prices in Hong Kong could be as high as US$ 1,987 (approx. HK$15,400) per square foot2, indicating that a 500-square-foot apartment could cost as much as HK$8 million.
As property prices remain high, housing affordability is a challenge especially for the younger generation looking to purchase their first home. Parents are increasingly helping their children with housing purchases. A recent survey3 showed that about 80% of the parents surveyed indicated they would help their child purchase a home. For an HK$8 million apartment at a 70% loan-to-value, the down payment would work out to be around HK$2.4 million.
Others
In addition to planning for their children's education and assisting them with a home purchase, there could be other expenditures such as wedding planning, medical insurance or overseas travels, depending on the extent of financial assistance that parents plan to offer to their children. Indeed, these expenditures are discretionary. Parents could nurture their children's financial literacy, help them develop good money management habits and better prepare them for future financial success.
As a Chinese saying goes, "parents will worry for 99 years during the 100 years spent with their child." To broaden the future financial possibilities for their children, many parents have set up an education savings plan to help them better manage the daily living expenses. Parents are advised to set clear goals and assess their financial abilities. In addition to savings, they could optimise potential return opportunities through investments as they work towards their financial goals.
1. Source: CBRE Global Living Report 2020.
2. Source: CBRE; Rating and Valuation Department of Hong Kong. As of 08 June 2020.
3. Source: Prudential's website, Prudential's Parents Savings Gap Survey, reflecting the latest data as of August 2020.