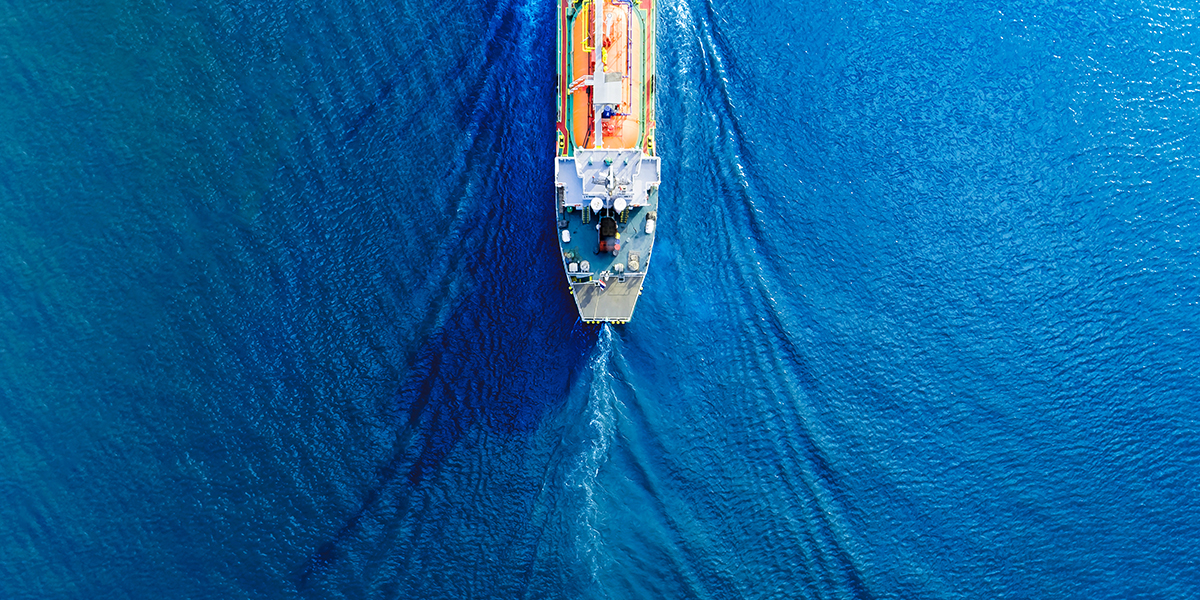 With many U.S. and European investors concerned about U.S.-China geopolitical tension, Japan could be seen as another way to tap into the Asia's economic recovery.
3.7%
Combined dividend and buyback yield for MSCI Japan
In brief
Japanese equities are supported by economic recovery, new impetus to improve governance and shareholder value
International investors have also reduced their Japanese stock exposure in the past five years, with strong YTD net inflows
Despite good performance, valuation is undemanding and the cheap Japanese yen could also contribute to USD-based investors. Stock selection is key given supporting factors are coming from several different directions
Japanese equities have been the pleasant surprise of 2023 so far. Nikkei 225 and the Topix indices are up 19% and 14% year-to-date (YTD) respectively in local currency. There are a number of tailwinds supporting this market, some of which are structural in nature that are relevant to Asia Pacific investors as part of their strategic allocation.
Economic recovery is taking shape
Economic rebound has been one of our themes more broadly for Asia Pacific in 2023. While the U.S. and Europe were rebounding from the pandemic in late 2021, supported by generous fiscal stimulus, this consumption driven process has only started in the second half of 2022 for many Asian economies.
Retail sales in Japan for 1Q 2023 were 6.4% higher than the same period a year ago, reflecting both higher prices and rising demand. However, the tight job market, and greater willingness for employers to raise wages, as reflected by the Shunto spring wage negotiation, should maintain consumption momentum. The tourism sector is also reopening, with the first four months of the year averaging 1.7million per month in visitors arrivals, compared with 60,000 in the same period of 2022, and there is still room to grow to get back to the 2.7million average monthly arrivals in 2019.
Economic recovery and the sharp depreciation of the Japanese yen have brought inflation back to Japan. Headline inflation averaged 3.6% in the first four months of the year. Bank of Japan (BoJ) Governor Kazuo Ueda warned that companies are changing their behavior on wages and prices and the central bank would react quickly if there is a structural change in price pressure. This could be a precursor to some fine-tuning of its ultra-loose monetary policy and yield curve control, which could be supportive of the Japanese yen.
Doing more for shareholders
This is not a new topic, as improving corporate governance and shareholder return was one of the three arrows of Abenomics back in 2012, when the Abe administration introduced the Stewardship Code and the Corporate Governance code.
In 2022, the Tokyo Stock Exchange (TSE) introduced some restructuring measures to reclassify listed companies under the categories of prime, standard and growth, based on liquidity, governance and business performance. It has urged companies with price-to-book ratios of below 1 to look for ways to boost their value. The simplest way would be to make use of Japanese companies' abundant cash position to buy back stocks. In fact, stock buybacks in 2022 hit a record high. The combined dividend and buyback yield for MSCI Japan has reached 3.7%.
Exhibit 1: TOPIX aggregate net income and share buyback announcements*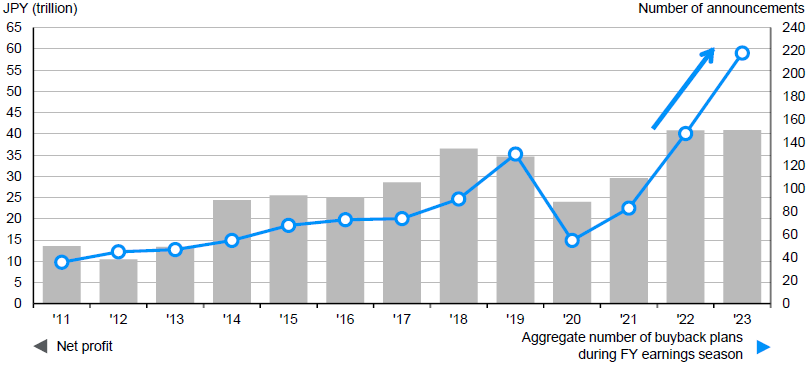 Source: BofA Global Research, QUICK, J.P. Morgan Asset Management.
*Based on TOPIX companies with fiscal year ending in March. Share buybacks aggregated from Apr 1 to May 18 for each year.
Data reflect most recently available as of 24/05/23.
Appealing to international investors once again
International investors have not been particularly active in Japan in recent years. They may have been concerned about the demographic challenges, deflation and low growth. Meanwhile, there are some attractive alternatives, such as the U.S. where Japan could be used as an underweight to fund an overweight position in other markets. Between the five years from 2018 to 2022, international investors sold a net JPY 84billion worth of Japanese equities. For 2023 YTD, they have bought a net JPY 29billion. With many U.S. and European investors concerned about U.S.-China geopolitical tension, Japan could be seen as another way to tap into the Asia's economic recovery.
Investment implications
Despite the robust performance in recent months, MSCI Japan's price-to-earnings ratio, at 14.2 times, is still below its 15-year average. This remains at a steep discount compared with the U.S.
Investing in Japanese equities is going to require considerable stock selection. The economic recovery is likely to benefit companies focusing on domestic or tourist demand. Meanwhile, the TSE's push to boost shareholder value is focused on mainly value stocks. However, there are also companies with strong technical and innovation intellectual capital that have strong long-term earnings potential. Hence, pointing the sail in the right direction would help investors to capture the best opportunities.
On the currency front, the Japanese yen is also undervalued and the prospects of the BoJ to tighten monetary policy, albeit modestly, means we could see the Japanese yen strengthen against the U.S. dollar (USD) and potentially add to the return to USD-based investors. The negative relationship between the currency and the stock market has not been as obvious in the past 18 months. Moreover, companies focusing on domestic demand and tourism flows are less likely to have their earnings undermined by a stronger Japanese yen, compared with more export-oriented companies.
09tr233005061332