12-month forward returns of JPMorgan Global Bond Fund – Class A Units' benchmark index in the past 20 years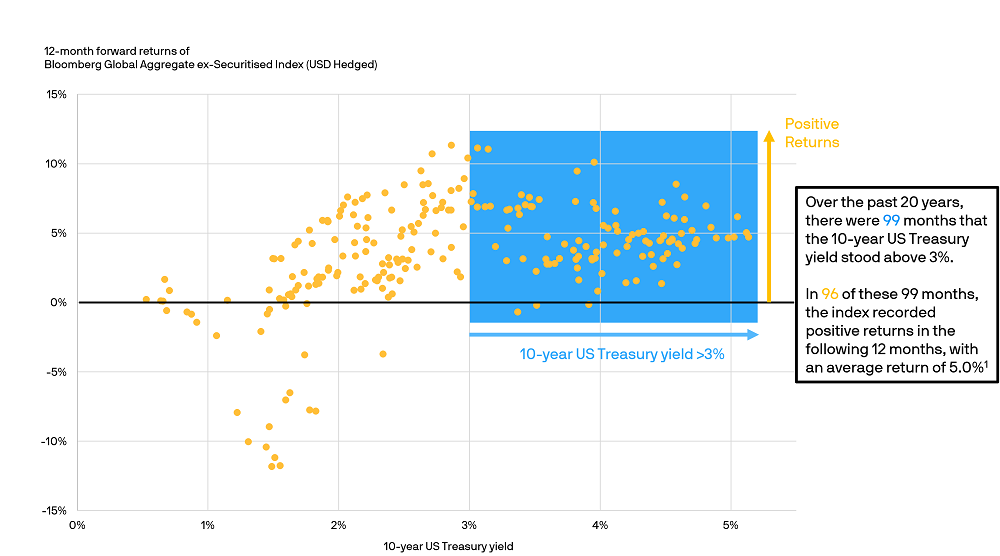 1. Source: J.P. Morgan Asset Management, Bloomberg. Data as of end-March 2023. USD refers to US dollar. Past performance is not a reliable indicator of current and future results. Forecasts and estimates are indicative of macro trends, may or may not come to pass. Indices do not include fees or operating expenses and are not available for actual investment.

Bloomberg Global Aggregate ex-Securitized, USD hedged Index (benchmark index of JPMorgan Global Bond Fund – Class A Units) is a global investment grade bond index with around 70% government bonds and 30% corporate debt securities.
As illustrated in the chart above, higher Treasury yields are generally associated with a relatively more attractive return profile.
We see opportunities in investment grade bonds, especially government bonds. As the end of the hiking cycle looms, investors looking to lock-in relatively high risk-free rates could bolster market demand for government bonds. In addition, we believe government bonds could serve as an anchor in bond portfolios as the credit spreads of corporate bonds generally would widen with further signs of an economic downturn.
The JPMorgan Global Bond Fund – Class A Units invest at least 80% in investment grade bonds. As of end-April 2023, the portfolio invested over 60% in government-related debt securities. We prefer government bonds at the moment, compared with investment grade corporate credit, as a buffer against risk-off moves and the possibility of credit spreads widening2. The Fund stays focused on quality bonds for better risk-adjusted return opportunities, alongside dynamic duration and disciplined risk management3.
Provided for information only based on market conditions as of date of publication, not to be construed as investment recommendation or advice. Forecasts, projections and other forward looking statements are based upon current beliefs and expectations, may or may not come to pass. They are for illustrative purposes only and serve as an indication of what may occur. Given the inherent uncertainties and risks associated with forecast, projections or other forward statements, actual events, results or performance may differ materially from those reflected or contemplated.
Diversification does not guarantee investment return and does not eliminate the risk of loss. Yield is not guaranteed. Positive yield does not imply positive return.
2. Source: J.P. Morgan Asset Management, as of end-April 2023. The Fund is an actively managed portfolio, holdings, sector weights, allocations and leverage, as applicable are subject to change at the discretion of the Investment Manager without notice. The Investment Manager seeks to achieve the stated objectives. There can be no guarantee the objectives will be met.
3. Duration is a measure of the sensitivity of the price (the value of the principal) of a fixed income investment to a change in interest rates and is expressed as number of years. The portfolio risk management process includes an effort to monitor and manage risk, but does not imply low risk.
© All Rights Reserved - JPMorgan Asset Management (Australia) Limited ABN 55 143 832 080, AFSL No. 376919
All investments contain risk and may lose value. The information provided on this article is general in nature only and does not constitute personal financial advice. The information has been prepared without taking into account your personal objectives, financial situation or needs. Before acting on any information you should consider the appropriateness of the information having regard to your objectives, financial situation and needs. Before making any decision, it is important for you to consider the appropriateness of the information and seek appropriate legal, tax, and other professional advice. Prior to making an investment decision, investors should read the relevant Product Disclosure Statement and Target Market Determination, which have been issued by Perpetual Trust Services Limited, ABN 48 000 142 049, AFSL 236648, as the responsible entity of the fund available on https://am.jpmorgan.com/au.