Week in review

U.S. CPI inflation falls to 5.0% y/y
Australian unemployment rate unchanged at 3.5%
Westpac consumer confidence rises 10.3pts to 85.8
Week ahead

China 1Q real GDP
Eurozone consumer confidence
U.S. and Eurozone PMIs for services and manufacturing
Thought of the week
The unemployment rate in Australia remained very close to its record low in March with another 53,000 jobs being added over the month, illustrating the ongoing difficulty in finding workers in Australia. Further evidence of the tightness in the labour market comes from the growth rate of hours worked outpacing the growth in employment, even as it came down slightly from the prior month. However, the increase in hours worked may be function of demand as well as supply, employees want to work more hours to combat the rising cost of living. The pace of job gains is likely to moderate, and the unemployment rate steadily rise over the course of the year. Leading indicators for the labour market have started to soften (see chart) and indicates that further job gains in the coming months will be harder to come by. How far unemployment may rise could be limited by a shift in business attitude towards retaining and re-hiring staff and the shift from just-in-time workers to just-in-case ones.
Righty tighty


Australian unemployment rate and NAB survey on employment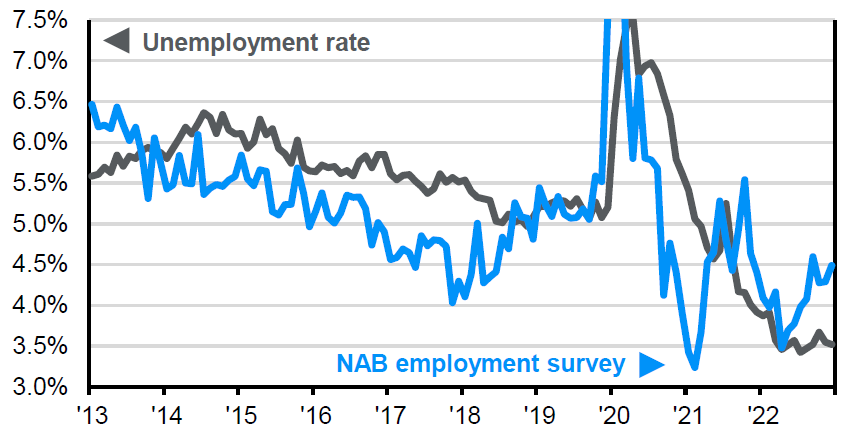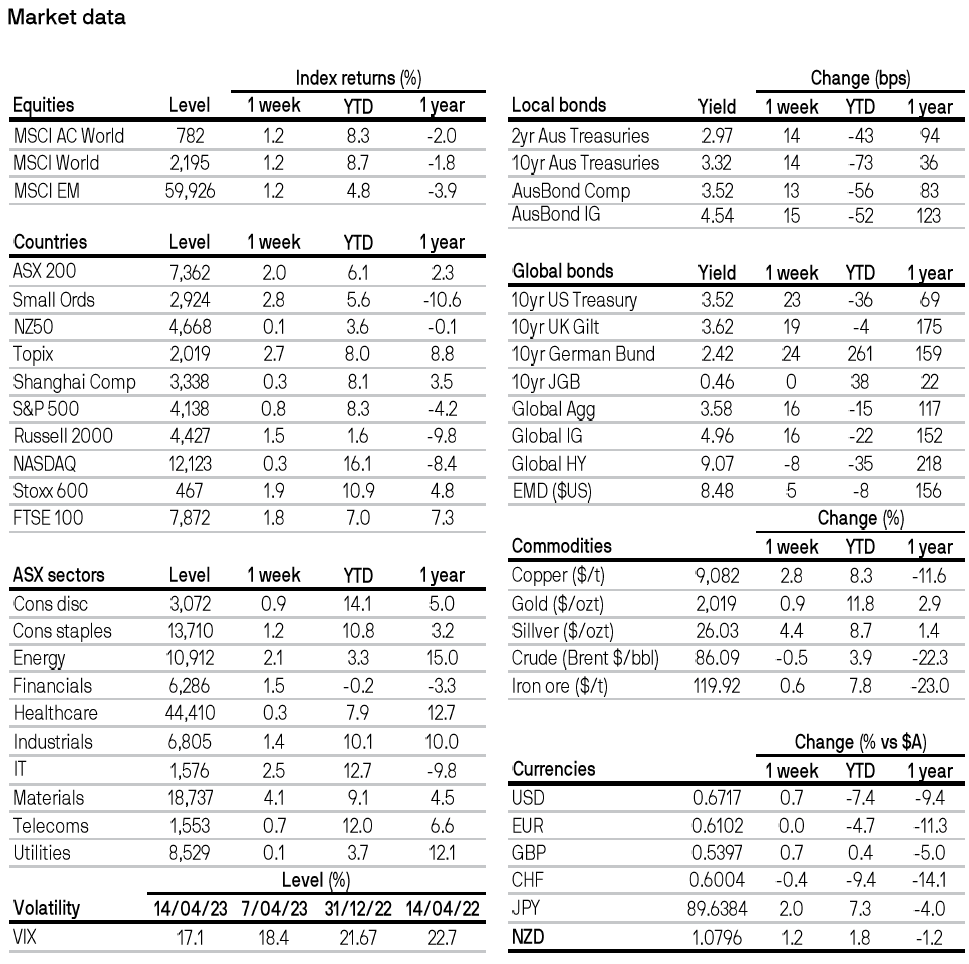 Source: ABS, FactSet, NAB, J.P. Morgan Asset Management.
Data reflect most recently available as of 14/04/23.
All returns in local currency unless otherwise stated.
Equity price levels and returns: Levels are prices and returns represent total returns for stated period.
Bond yields and returns: Yields are yield to maturity for government bonds and yield to worst for corporate bonds. All returns represent total returns. AusBond Comp is the AusBond Composite 0+ Yr, AusBond IG is the AusBond Credit 0+ Yr both provided by Bloomberg.
Currencies: All cross rates are against the Australian dollar. An appreciation of the foreign currency against the Australian dollar would be positive and a depreciation of the foreign currency against the Australian dollar would be negative.

0903c02a82467ab5​