Week in review

U.S. Fed raises rates by 50bps
U.S. inflation falls to 7.1% y/y
Australia unemployment rate steady at 3.4%
Week ahead

U.S. housing starts
Eurozone consumer confidence
Australia private sector credit
Thought of the week
A big question for both the markets and the economy is just how high unemployment rates will go. There have been an increasing number of press on layoffs in some industries. This week's chart illustrates that as margins fall so does employment, but with a lag. The question becomes how far will companies go in protecting margins given the difficulty with hiring over the last two years? Will hording of labour keep the labour market tight? These questions are still to be answered and how productive workers are will be a factor. There is no doubt that the labour market will loosen as economic activity slows. However, the peculiarities in the labour market during the pandemic and the impact on inflation through wages add to the uncertainty of just how far, and fast, the core rate of inflation may decline. The Federal Reserve's latest forecast is that the U.S. unemployment rate will reach 4.6% in 2023. To put this in context, this is close to the low in the unemployment rate prior to the GFC, and demand for labour remains high.
U.S. profit margins and employment
Year-over-year change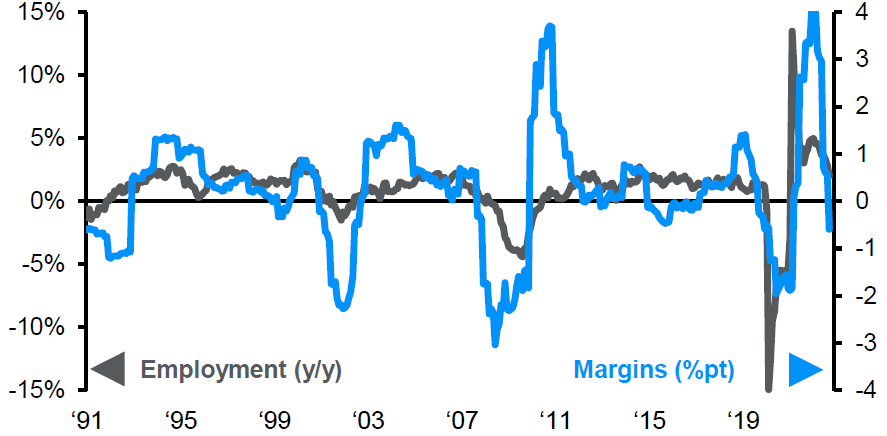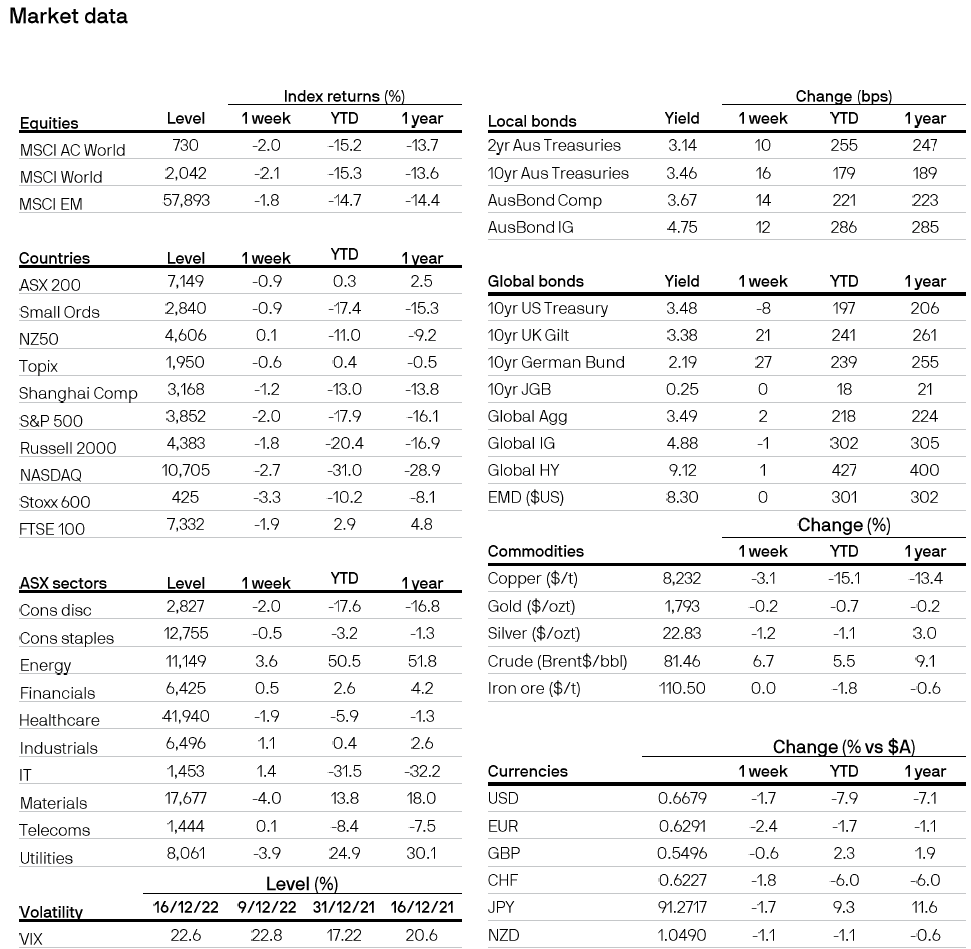 Source: BLS, FactSet, Standard & Poor's, J.P. Morgan Asset Management.
Data reflect most recently available as of 16/12/22.
All returns in local currency unless otherwise stated.
Equity price levels and returns: Levels are prices and returns represent total returns for stated period.
Bond yields and returns: Yields are yield to maturity for government bonds and yield to worst for corporate bonds. All returns represent total returns. AusBond Comp is the AusBond Composite 0+ Yr, AusBond IG is the AusBond Credit 0+ Yr both provided by Bloomberg.
Currencies: All cross rates are against the Australian dollar. An appreciation of the foreign currency against the Australian dollar would be positive and a depreciation of the foreign currency against the Australian dollar would be negative.

0903c02a82467ab5