Week in review

Australia retail sales declines 0.2% m/m in October
Australia building approvals falls 6.0% m/m in October
China PMI manufacturing 49.4
Week ahead

RBA policy rate decision
Australia 3Q 2022 real GDP
U.S. ISM services
Thought of the week
Did we see the first sign that inflation in Australia has peaked? The monthly inflation number for October saw prices fall by 0.2% m/m and rise by a less than expected 6.9% y/y. However, this inflation data from the Australian Statistic Bureau comes with some heavy caveats. For example, it only captures around 70% of the inflation basket that goes into the official quarterly series and the proportion of the basket covers increases with each monthly release. This means that the October figure is less meaningful than the December figure. Still, the monthly series does reflect some of the trends that will appear in the official figure when it is released and may provide a rough but timelier guide to inflation pressures in Australia. The monthly decline in the inflation figures will not be enough to sway the RBA at its meeting this week and a 25bps hike remains the view. But the flexibility that has entered the RBA rhetoric of late and the lagged impact of monetary policy is setting up the case for an extended pause in 2023.
Australian inflation peak?
Year –on-year change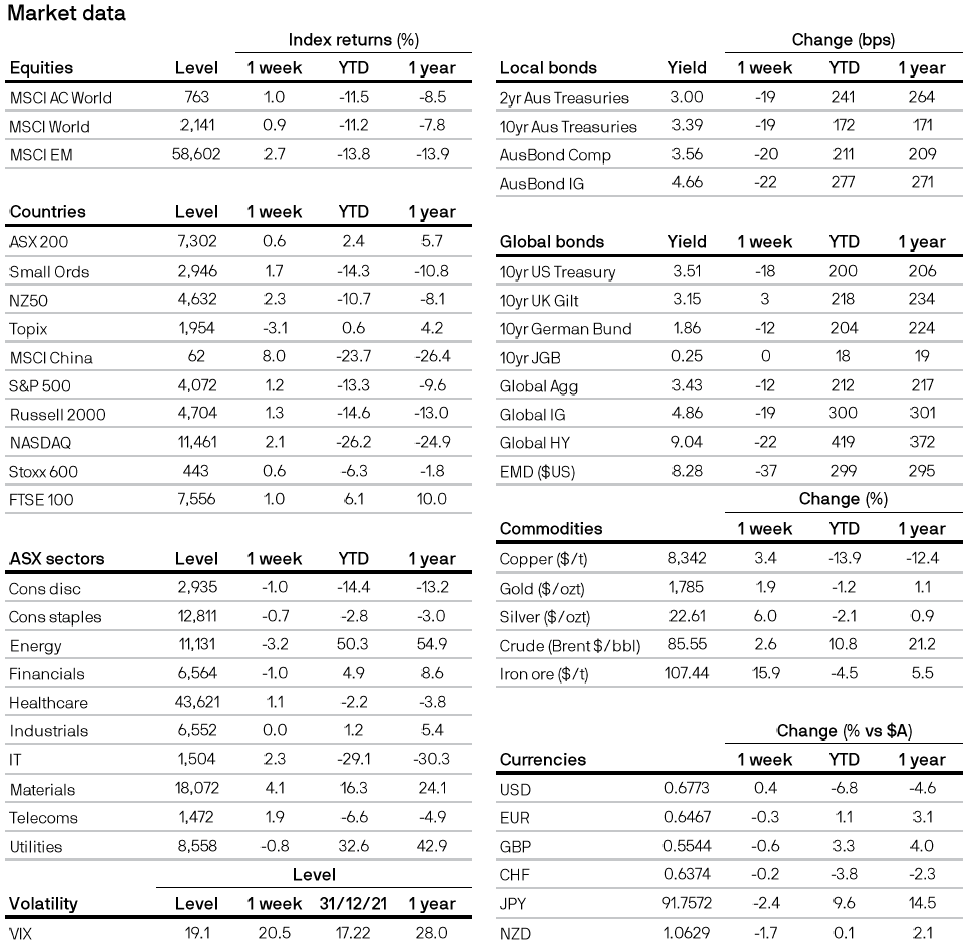 Source: ABS, J.P. Morgan Asset Management.
Data reflect most recently available as of 2/12/22.
All returns in local currency unless otherwise stated.
Equity price levels and returns: Levels are prices and returns represent total returns for stated period.
Bond yields and returns: Yields are yield to maturity for government bonds and yield to worst for corporate bonds. All returns represent total returns. AusBond Comp is the AusBond Composite 0+ Yr, AusBond IG is the AusBond Credit 0+ Yr both provided by Bloomberg.
Currencies: All cross rates are against the Australian dollar. An appreciation of the foreign currency against the Australian dollar would be positive and a depreciation of the foreign currency against the Australian dollar would be negative.

0903c02a82467ab5