Week in review

Eurzone consumer confidence rises to 23.9
Eurozone PMI manufacturing 47.3
U.S. PMI manufacturing 47.6
Week ahead

Australia private sector credit and retail sales
U.S. nonfarm payrolls and labour market report
Eurozone CPI inflation
Thought of the week
The monthly PMIs are one of the best indicators of where the economy is heading given their high correlation with the direction of GDP. Across developed markets, the PMIs are firmly below the level of 50 which indicates an economic contraction is around the corner. However, the latest figures show a small improvement in the UK and Eurozone, while the U.S. figure continues to decline. This signal is perhaps at odds with the broader narrative that Europe is heading for recession but the U.S. may still skirt around one. Heading into 2023 the regional differences in economic activity will have important ramifications for the direction of equity markets as relative valuations are more favourable for the Eurozone compared to the U.S. Similarly, better relative growth outside of the U.S. would be one reason to see the U.S. dollar depreciate in the year ahead. The timing of a recession and which region experiences one and which doesn't may be semantics as the PMIs suggest global growth will be very weak next year.
PMIs point to manufacturing recession
Index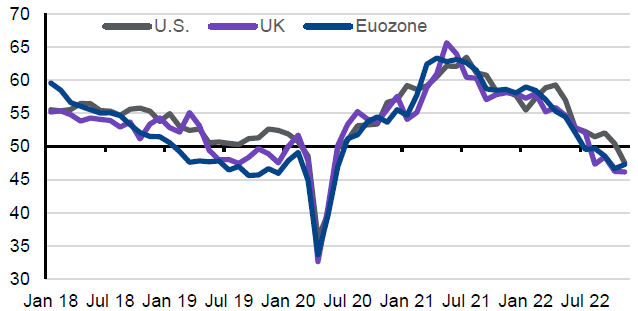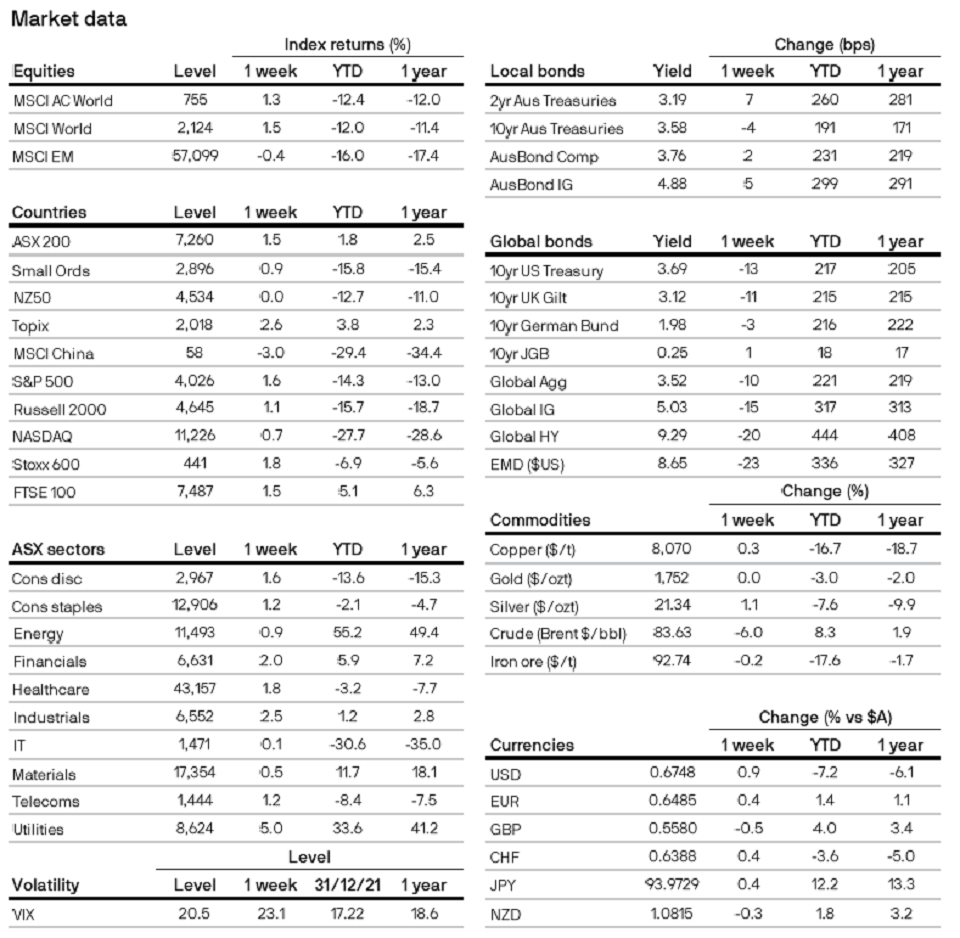 Source: ABS, BEA, Eurostat, FactSet, ONS, J.P. Morgan Asset Management.
Data reflect most recently available as of 25/11/22.
All returns in local currency unless otherwise stated.
Equity price levels and returns: Levels are prices and returns represent total returns for stated period.
Bond yields and returns: Yields are yield to maturity for government bonds and yield to worst for corporate bonds. All returns represent total returns. AusBond Comp is the AusBond Composite 0+ Yr, AusBond IG is the AusBond Credit 0+ Yr both provided by Bloomberg.
Currencies: All cross rates are against the Australian dollar. An appreciation of the foreign currency against the Australian dollar would be positive and a depreciation of the foreign currency against the Australian dollar would be negative.

0903c02a82467ab5