Week in review

Australia unemployment rate falls to 3.4% and wage price index rose 3.2% y/y
U.S. retail sales 8.3% y/y
China retail sales softer at -0.5% y/y
Week ahead

Eurozone and U.S. PMI for manufacturing
RBNZ official cash rate
U.S. durable goods orders
Thought of the week
Despite all the shocks the global economy has experienced in the last few years, the labour market has shown a resolve that is remarkable as unemployment rates have remained very low. In major developed markets, the unemployment rates reached multi-decade lows. A combination of higher participation rates and slowing employment growth is needed for unemployment rates rise in many markets, but this will be a key piece to the global disinflation story for 2023. The labour market is a lagging indicator of economic activity, but it is one that will ultimately allow central banks to bring their tightening cycles to a close next year. There are some signs that things may be starting to ease at the periphery across economies, but overall levels of labour demand continues to remain high. At this point, central banks still have more work to do to restore supply-demand balance to labour markets — and the risk remains that they could end up over-tightening in the process.
Labour markets need to be less resilient
Unemployment rates, seasonally adjusted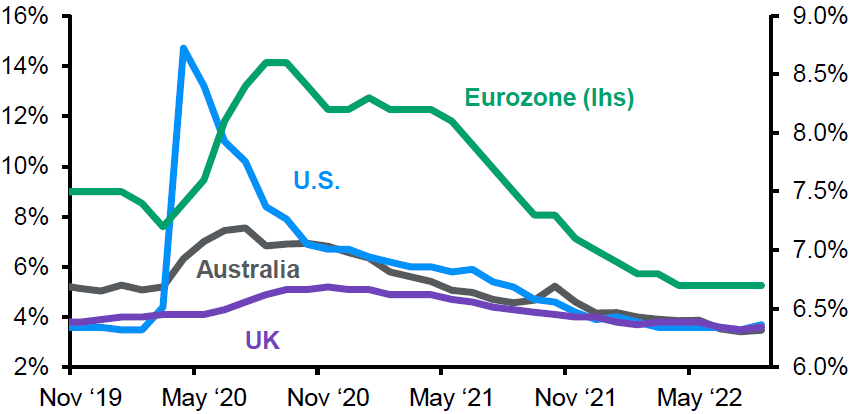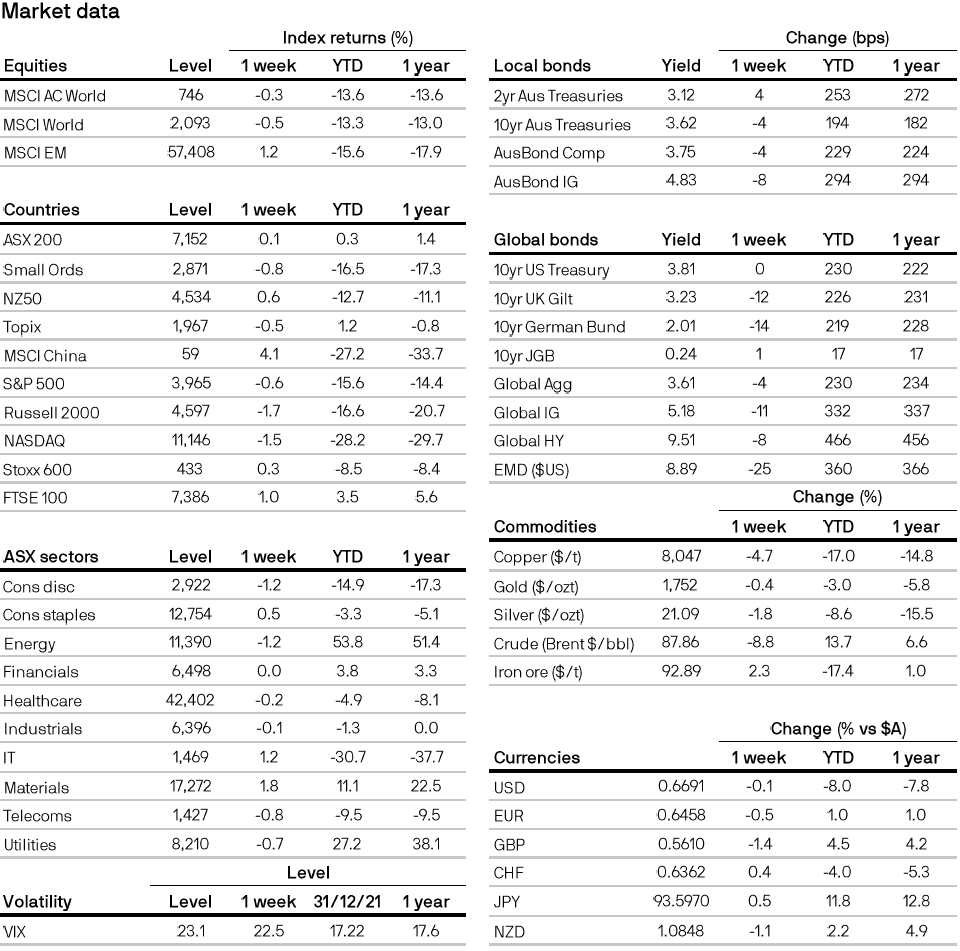 Source: ABS, BEA, Eurostat, FactSet, ONS, J.P. Morgan Asset Management.
Data reflect most recently available as of 18/11/22.
All returns in local currency unless otherwise stated.
Equity price levels and returns: Levels are prices and returns represent total returns for stated period.
Bond yields and returns: Yields are yield to maturity for government bonds and yield to worst for corporate bonds. All returns represent total returns. AusBond Comp is the AusBond Composite 0+ Yr, AusBond IG is the AusBond Credit 0+ Yr both provided by Bloomberg.
Currencies: All cross rates are against the Australian dollar. An appreciation of the foreign currency against the Australian dollar would be positive and a depreciation of the foreign currency against the Australian dollar would be negative.

0903c02a82467ab5