Week in review

Australia consumer confidence drops to 78.0, a 6.8% m/m decline
China CPI inflation 2.1% y/y for October
U.S. CPI inflation falls to 7.7% y/y
Week ahead

China fixed asset investment and retail sales
Australia quarterly wage cost index and unemployment rate
U.S. retail sales
Thought of the week
Investors are looking for a way out of the current equity malaise. There are a variety of indicators which can offer guidance on when this may occur, if it hasn't already. One is valuations, the S&P 500 has historically troughed with valuations. Today the S&P 500 trades at a forward P/E of 16.5x, which is higher than its 15-year average and well above the 13x or 10x lows seen in prior bear markets. Another is the ISM survey and again, the equity market has typically troughed close to the low in this survey. However, this is a little like getting directions that say 'turn left before the bridge' but not knowing where the bridge is. Moreover, tightness in financial conditions (proxied by the 2-year yield in the chart) suggest that there may still be further weakness in the ISM survey. Our view is that its too soon to call the trough in equities given the uncertainty on rates, inflation and earnings despite the declines this year. Time robs investors of their patience when they need it the most.
Financial conditions lead economic activity
ISM index and change in 2y bond yield (bps)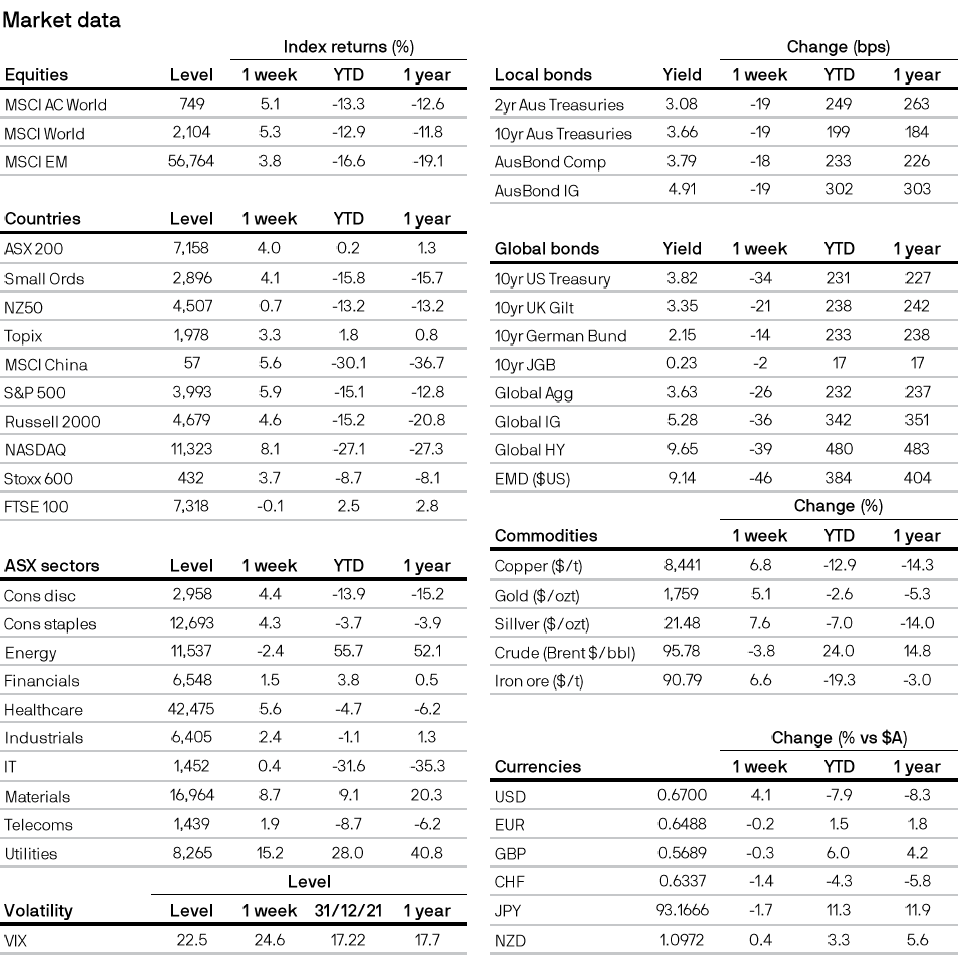 Source: FactSet, ISM, J.P. Morgan Asset Management.
Data reflect most recently available as of 11/11/22.
All returns in local currency unless otherwise stated.
Equity price levels and returns: Levels are prices and returns represent total returns for stated period.
Bond yields and returns: Yields are yield to maturity for government bonds and yield to worst for corporate bonds. All returns represent total returns. AusBond Comp is the AusBond Composite 0+ Yr, AusBond IG is the AusBond Credit 0+ Yr both provided by Bloomberg.
Currencies: All cross rates are against the Australian dollar. An appreciation of the foreign currency against the Australian dollar would be positive and a depreciation of the foreign currency against the Australian dollar would be negative.

0903c02a82467ab5