Week in review

Australia CPI inflation rose to 7.3% y/y in 3Q
European Central Bank raised policy rate by 75bps to 2.0%
U.S. PMI for manufacturing fell to 49.9
Week ahead

RBA policy meeting
U.S. Federal Reserve policy meeting
U.S. nonfarm payrolls and labour market report
Thought of the week
Prices in Australia rose more than expected in the third quarter. Compared to a year ago, prices were up 7.3% and core measures of inflation were up 6.1%. This is high by historical comparisons, but not the same as the double-digit price rises being felt in Europe and the UK. However, Australian prices are likely to continue to rise in the fourth quarter with the impact of flooding hitting food prices, the fuel excise tax relief expiring, and the fading drag of support for utilities. Moreover, inflation is no longer something that is just being inflicted on the economy by global factors and a weak currency. This week's chart shows the acceleration of both tradeable and non-tradeable inflation. The lift in non-tradeable inflation suggests more momentum in domestic inflation pressures than may have been assumed as businesses pass on rising costs to end consumers. The higher inflation number doesn't change the outlook for the RBA in our view, we still expect slower but not lower rate hikes and 25bps moves given the lag in policy impact.
Domestic inflation pressures growing sharply
Year-over-year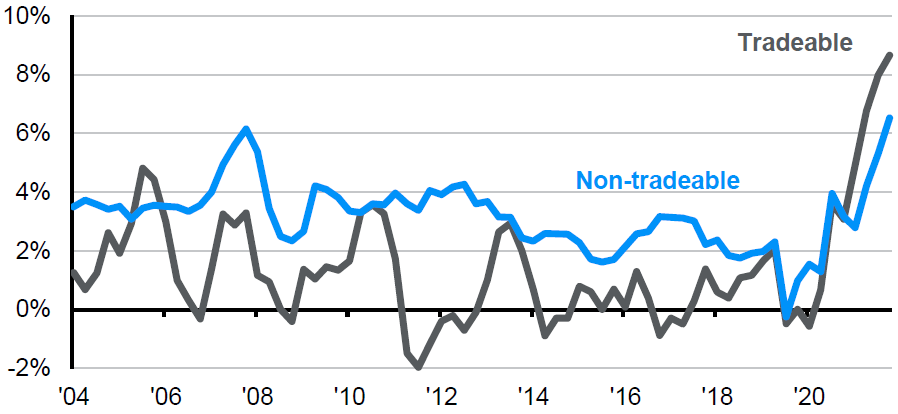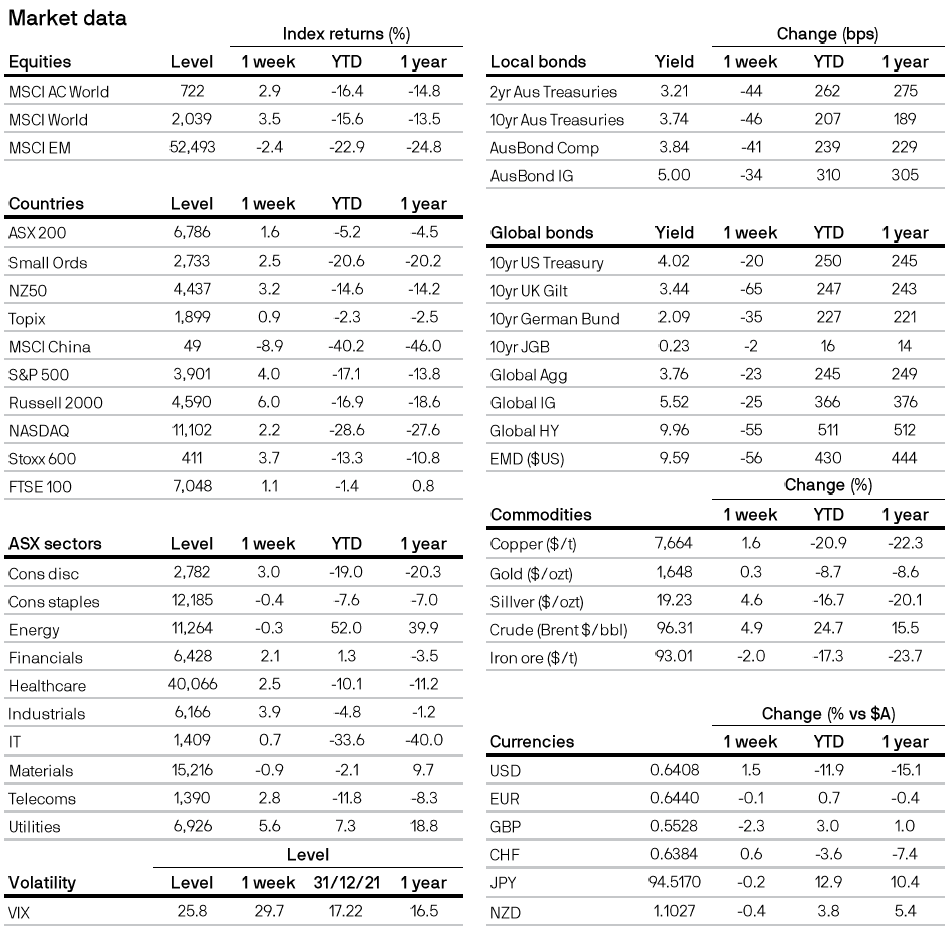 Source: ABS, FactSet, J.P. Morgan Asset Management. Data reflect most recently available as of 28/10/22.
All returns in local currency unless otherwise stated.
Equity price levels and returns: Levels are prices and returns represent total returns for stated period.
Bond yields and returns: Yields are yield to maturity for government bonds and yield to worst for corporate bonds. All returns represent total returns. AusBond Comp is the AusBond Composite 0+ Yr, AusBond IG is the AusBond Credit 0+ Yr both provided by Bloomberg.
Currencies: All cross rates are against the Australian dollar. An appreciation of the foreign currency against the Australian dollar would be positive and a depreciation of the foreign currency against the Australian dollar would be negative.

0903c02a82467ab5