Week in review

Australia unemployment rate unchanged at 3.5%
UK CPI inflation rose to 10.1% y/y
U.S. housing starts fell to 1.4m on annualised basis
Week ahead

European and U.S. PMIs for manufacturing and services
European Central Bank policy meeting
Australia 3Q 22 CPI inflation
Thought of the week
The sell-off in the equity market suggests equity investors are pricing in an increasing probability of recession, but credit spreads have been relatively well behaved, sitting well below levels compared to prior recessions. One explanation is the expectation that defaults will not rise that far given healthier corporate balance sheets and adequate ability to cover coupon payments. Another is the limited need for high yield issuers to tap the market for re-financing which would expose them to higher interest rates. The issuance of high yield bonds in the third quarter was the lowest since 2009. Meanwhile, the higher value of rising angels (high yield debt that is upgraded to investment grade) this year is out stripping the fallen angels (debt that is downgraded from investment grade to high yield) impacting supply and demand in the market. It is the combination of all these forces which has contained spread in the high yield bond market, however, this is unlikely to last.
Rising stars in the credit market have been elevated this year
U.S. dollars billions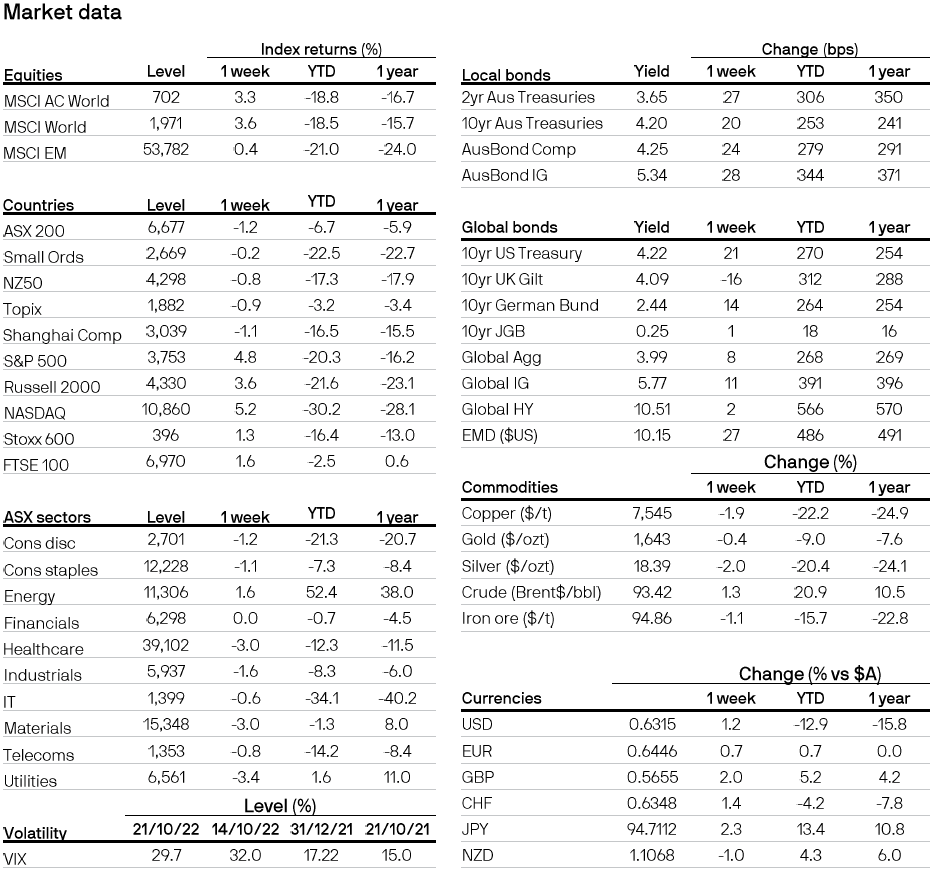 Source: J.P: Morgan Securities, J.P. Morgan Asset Management. Data reflect most recently available as of 21/10/22.
All returns in local currency unless otherwise stated.
Equity price levels and returns: Levels are prices and returns represent total returns for stated period.
Bond yields and returns: Yields are yield to maturity for government bonds and yield to worst for corporate bonds. All returns represent total returns. AusBond Comp is the AusBond Composite 0+ Yr, AusBond IG is the AusBond Credit 0+ Yr both provided by Bloomberg.
Currencies: All cross rates are against the Australian dollar. An appreciation of the foreign currency against the Australian dollar would be positive and a depreciation of the foreign currency against the Australian dollar would be negative.

0903c02a82467ab5