Week in review

U.S. CPI inflation up 8.2% y/y, core inflation up 6.6% y/y
Australia consumer confidence falls to 83.7
Australia business conditions rise to 24.7
Week ahead

RBA minutes of monetary policy meeting
China 3Q real GDP
Australia labour market report and unemployment rate
Thought of the week
The drop in equity markets this year reflects the risk to the economic and earning outlook. More hopeful investors may take the view that the downside to earnings is already captured by today's prices. The U.S. earnings season currently underway may test this theory. Looking back suggests that markets aren't as forward looking as may be assumed and the trough in prices comes close to the trough in earnings (see chart). What's more is that in recessions the decline in earnings can be north of 20%, and even in milder growth environments such as the mid-2000s the drawdown can still be closer to 10%. Further disappointment on the earnings outlook and a downgrade cycle that is still progressing suggests further headwinds to the equity market in the near term. What could change and create more upside for equities is if analysts were to 'rip off the band-aid' with a large change in earnings expectations based on this quarters results, rather than a steady downward trend over coming quarters. Patience may be a virtue in a bear market.
Equities may not be as forward looking as you think
MSCI World price and forward earnings draw down.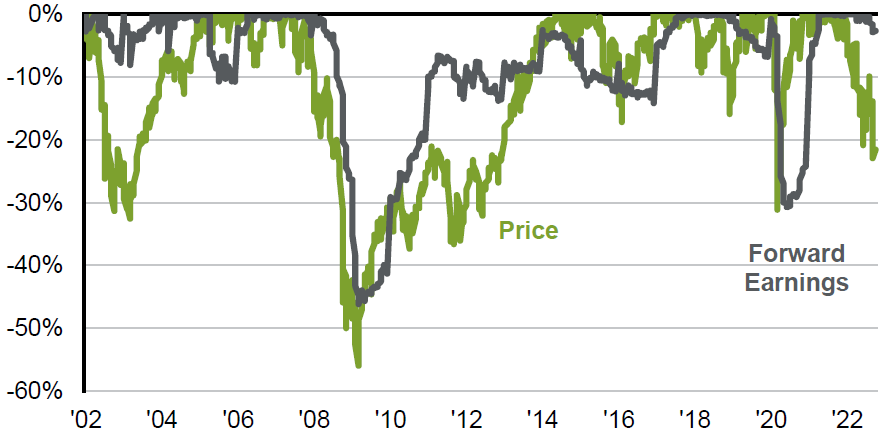 Source: Bloomberg L.P., FactSet, MSCI, J.P. Morgan Asset Management. Data reflect most recently available as of 14/10/22.
All returns in local currency unless otherwise stated.
Equity price levels and returns: Levels are prices and returns represent total returns for stated period.
Bond yields and returns: Yields are yield to maturity for government bonds and yield to worst for corporate bonds. All returns represent total returns. AusBond Comp is the AusBond Composite 0+ Yr, AusBond IG is the AusBond Credit 0+ Yr both provided by Bloomberg.
Currencies: All cross rates are against the Australian dollar. An appreciation of the foreign currency against the Australian dollar would be positive and a depreciation of the foreign currency against the Australian dollar would be negative.

0903c02a82467ab5