Week in review

Australia consumer confidence lifts to 84.4
U.S. CPI inflation falls to 8.3% but core inflation rises to 6.3%
Australian unemployment rate
Week ahead

U.S. Federal Reserve meeting
U.S. and European PMI manufacturing indices
Eurozone consumer confidence
Thought of the week
In Europe fiscal support is ramping up to offset the impact of higher energy prices on households. Last week the UK and Europe outlined policies to support consumers which will be funded through a combination of either more government debt or taxing those in the energy sector that have benefitted from higher energy prices. The figures are eyewatering, but given policies aim to cap the household energy bill the final costs is unknown and will depend on how long the region suffers through elevated energy prices. However, they pale in comparison to the support doled out during the pandemic. In Germany, for example, COVID related spending was 15% of GDP. The measures announced in Europe last week are unlikely to have a material impact on inflation given many initiatives already announced at the national level. Even with this policy support a degree of good fortune will still be needed to stifle the severity of the energy crisis and an all-out recession as industrial activity falls and consumers hampered.
Federal funds rate expectations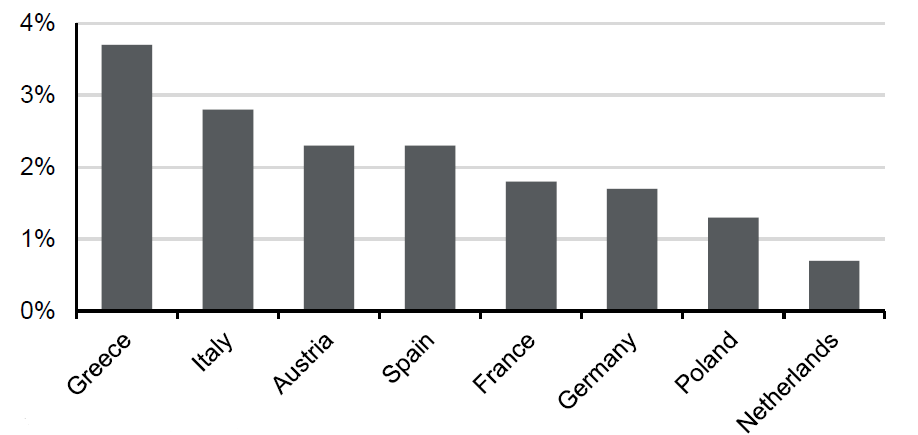 Source: Bloomberg Finance L.P., FactSet, U.S. Federal Reserve, J.P. Morgan Asset Management. Data reflect most recently available as of 22/09/22.
0903c02a82467ab5