Week in review
Eurozone consumer confidence rises to -24.9
U.S. composite PMI falls to 45.0
Eurozone composite PMI falls to 49.2
Week ahead
Australia retail sales for July
China PMI manufacturing
U.S. nonfarm payrolls
Thought of the week
The U.S. economy didn't shrink by as much as first thought in the second quarter of the year. Small beer given the current morose economic outlook. The U.S. economy will bounce back in the third quarter and the Atlanta Fed's GDPNow tracker forecasts 1.4% q/q annualized growth in the current three-month period. However, in the quarters ahead the data is less promising. The closely watched Purchasing Managers Indices show a slowing in activity and a softer economy as tighter financial conditions weigh on activity. There was some positive news as the employment sub-index hasn't fallen as far as others, reinforcing the message that a resilient labour market can keep the U.S. from entering a more severe recession and a material rise in the unemployment rate. The Sahm Rule is a recession predictor relies on at 0.5%pt rise in the unemployment rate over a 12-month period as an early indicator of recession in the U.S. Our base case remains the while the U.S. economy will remain weak, it will avoid a recession.
Tighter financial conditions are slowing activity in the U.S.
PMI manufacturing sub-indices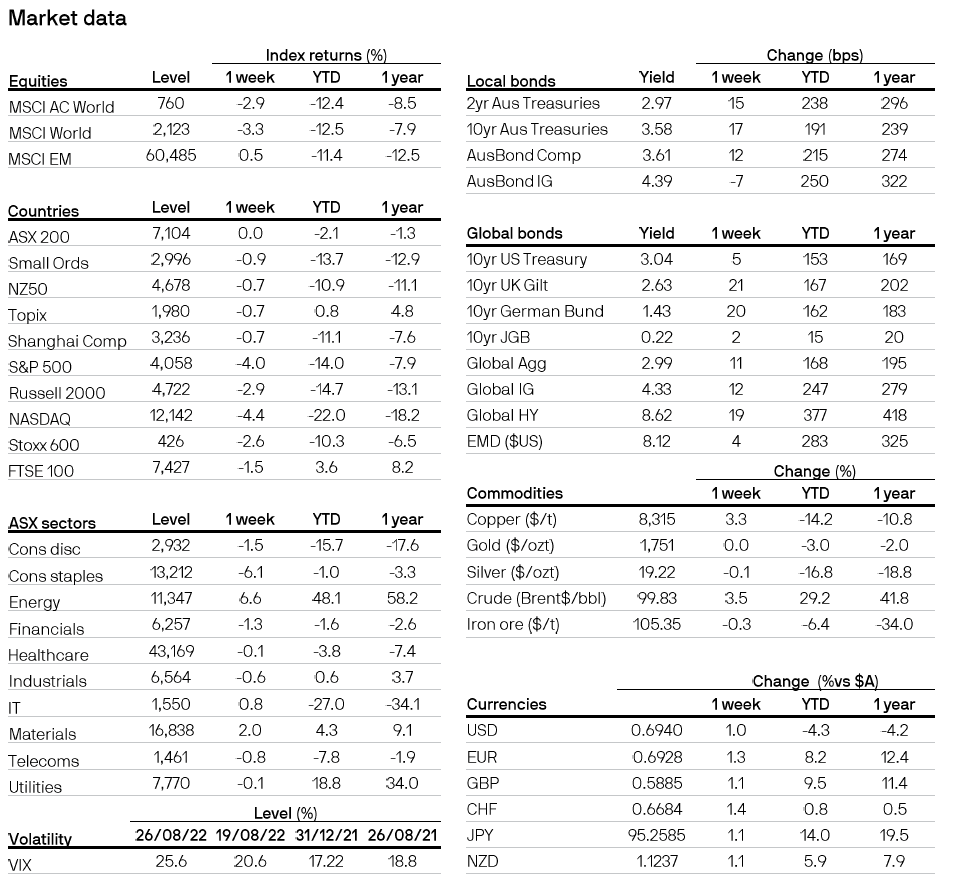 Source: J.P. Morgan Securities, J.P. Morgan Asset Management.
Data reflect most recently available as of 26/08/22.
All returns in local currency unless otherwise stated.
Equity price levels and returns: Levels are prices and returns represent total returns for stated period.
Bond yields and returns: Yields are yield to maturity for government bonds and yield to worst for corporate bonds. All returns represent total returns. AusBond Comp is the AusBond Composite 0+ Yr, AusBond IG is the AusBond Credit 0+ Yr both provided by Bloomberg.
Currencies: All cross rates are against the Australian dollar. An appreciation of the foreign currency against the Australian dollar would be positive and a depreciation of the foreign currency against the Australian dollar would be negative.
0903c02a82467ab5