Week in review
Australia unemployment rate falls to 3.4% in July
Australian wage growth 2.6% y/y in 2Q
The PBOC unexpectedly cut interest rates by 0.1%
Week ahead
PMI manufacturing for Japan
PMI manufacturing and services for U.S. and Eurozone
U.S. PCE inflation
Thought of the week
The unemployment rate in Australia fell to 3.4% in July, the lowest since 1974, but beneath the headline figure the message seasonality may be playing a factor. The number of full-time jobs fell in July by 87,000, rather than the 25,000 expected gain. Of greater note is the elevated absenteeism of workers due to illness. The winter flu season, combined with the lingering COVID cases and isolation requirements , means that employers maybe hanging on too more staff to ensure adequate coverage. As the weather improves, the absence of workers should too and may see the unemployment rate that nudges higher in the coming months. The tightness in the labour market is not driving wage growth as high as might be expected. At 3.4% the Australia now has a lower unemployment rate than the U.S., but wage growth here is nowhere near the 5.2% y/y pace being set in America. The low unemployment rate and the expectation of further wage growth will keep the RBA firmly on the tightening path at its next meeting.
Absence of workers may lead to hoarding
Employees working reduced hours due to sickness or injury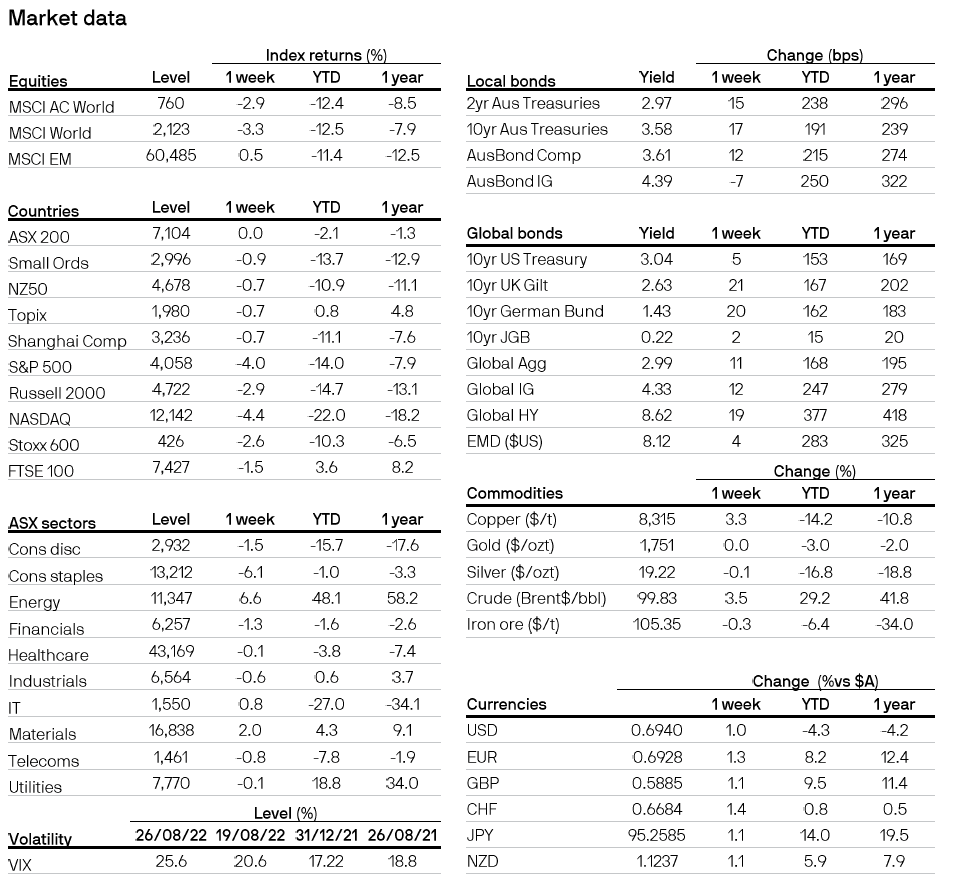 Source: ABS, J.P. Morgan Asset Management.
Data reflect most recently available as of 19/08/22.
All returns in local currency unless otherwise stated.
Equity price levels and returns: Levels are prices and returns represent total returns for stated period.
Bond yields and returns: Yields are yield to maturity for government bonds and yield to worst for corporate bonds. All returns represent total returns. AusBond Comp is the AusBond Composite 0+ Yr, AusBond IG is the AusBond Credit 0+ Yr both provided by Bloomberg.
Currencies: All cross rates are against the Australian dollar. An appreciation of the foreign currency against the Australian dollar would be positive and a depreciation of the foreign currency against the Australian dollar would be negative.
0903c02a82467ab5