Week in review
Australia business confidence rises to 6.9
Australian consumer confidence falls to 81.2
U.S. CPI inflation cools to 8.5% y/y
Week ahead
China retail sales
RBA policy meeting minutes
Australia labour market report
Thought of the week
Investor have taken a much more risk on tone in the second half of the year. The S&P 500 has gained 11% since the end of June and while this move isn't enough to reverse the first half losses, it's a start. One notable exception to the equity recovery is China. The Shanghai Comp is down 7% so far this quarter. Rising political angst with the U.S., continued restrictions to suppress COVID outbreaks and the systemic risks emanating from the property market all pose challenges to a positive view on China. Residential real estate investment is 9% of China's economy, compared to about 5% in the U.S. The significant size of the property market and its leverage has always been a risk and officials have been slowly trying to de-lever the sector for several years. The trouble is that the property market is a popular channel for credit growth, as property is used as collateral for loans. We don't think the property market is set to crumble, but until things stabilise on COVID and the property market, sentiment is likely to remain guarded.
Chinese property prices and land sales
% year-over-year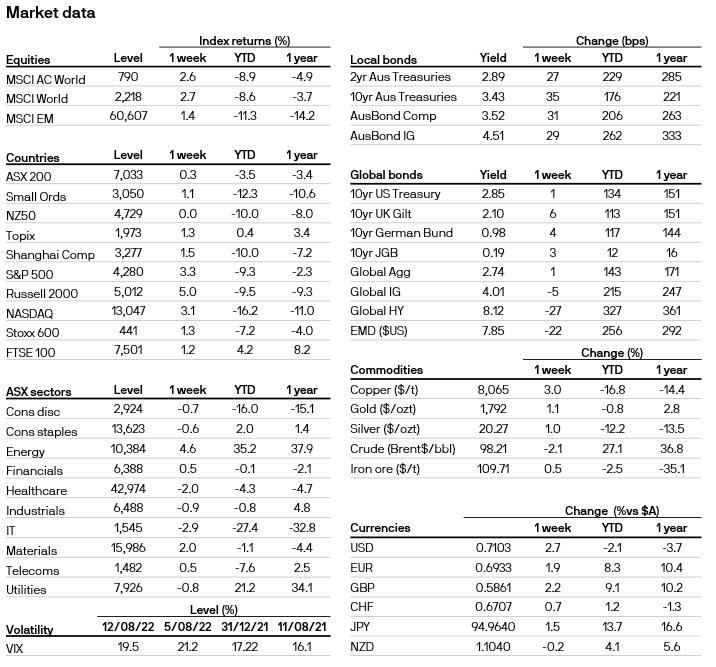 Source: CEIC, NBS, PBoC, J.P. Morgan Asset Management.
Data reflect most recently available as of 12/08/22.
All returns in local currency unless otherwise stated.
Equity price levels and returns: Levels are prices and returns represent total returns for stated period.
Bond yields and returns: Yields are yield to maturity for government bonds and yield to worst for corporate bonds. All returns represent total returns. AusBond Comp is the AusBond Composite 0+ Yr, AusBond IG is the AusBond Credit 0+ Yr both provided by Bloomberg.
Currencies: All cross rates are against the Australian dollar. An appreciation of the foreign currency against the Australian dollar would be positive and a depreciation of the foreign currency against the Australian dollar would be negative.
0903c02a82467ab5