Weekly Market Recap
Are you gonna go my way
08/08/2022
Week in review
RBA hikes interest rates 50bps to 1.85%
Australian trade surplus record $17.6bn in June
China PMI manufacturing index drops to 50.4
Week ahead
Australia business and consumer confidence
U.S. CPI inflation
China PMIs for manufacturing and services
Thought of the week
Is the U.S economy getting stronger or weaker? Depends where you look. Two major business surveys released in the last week pointed in different directions. The widely followed Purchasing Managers' Index for services in the U.S. dropped sharply in July to below the key level of 50 and points towards contraction in the services sector. Given services represents a much larger share of the U.S. economy than manufacturing the implication was the rebound in service activity expected as the U.S economy reopened was very short lived. However, the equally important Institute of Supply Management non-manufacturing index showed that services picked up in July. Historically these indices have pointed in the same direction, even if they are larger discrepancies from month-to-month in the last few years. Unfortunately, our view is that the ISM figure is likely to catch-down to the fall in the PMI rather than the other way around. The U.S. economy has been resilient given the headwinds, but activity will remain weak this year.
U.S. business surveys point in different directions
Index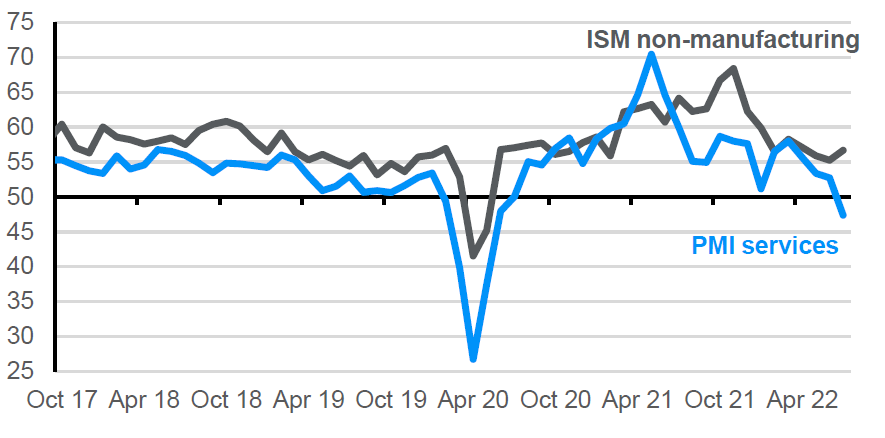 Source: Markit, ISM, J.P. Morgan Asset Management.
Data reflect most recently available as of 05/08/22.
All returns in local currency unless otherwise stated.
Equity price levels and returns: Levels are prices and returns represent total returns for stated period.
Bond yields and returns: Yields are yield to maturity for government bonds and yield to worst for corporate bonds. All returns represent total returns. AusBond Comp is the AusBond Composite 0+ Yr, AusBond IG is the AusBond Credit 0+ Yr both provided by Bloomberg.
Currencies: All cross rates are against the Australian dollar. An appreciation of the foreign currency against the Australian dollar would be positive and a depreciation of the foreign currency against the Australian dollar would be negative.
0903c02a82467ab5