Weekly Market Recap
Is this it?
01/08/2022
Week in review
Australian headline inflation increases to 6.1% y/y
Australian retail sales weaker than expected at 0.2% m/m
U.S. Federal Reserve raises interest rates by 75bps
Week ahead
RBA official policy rate
Australia retail sales for June
China PMIs for manufacturing and services
Thought of the week
The U.S. Federal Reserve (Fed) raised interest rates by 75bps last week bringing the Fed Funds Rate to a range of 2.25-2.50%. This is estimated to be the neutral rate which is neither restrictive nor supportive for the economy. Now the Fed has reached this point where the magnitude of the hikes in the coming months are likely to be smaller and much more reactive to the incoming economic data. With two months until the next Fed meeting there will be ample data for the Fed to react to and the policy vs growth mix is likely to become more favourable for markets. However, the U.S. economy is expected to slow meaningfully over the rest of the year and there is the risk of slipping into a recession which limits an outrightly bullish view on the equity market. But signs that the Fed is moving on from peak hawkishness and U.S. inflation rates may start to fall are further reasons to suggest that yields have peaked and that bonds offer some insurance against a potentially worse economic outlook.
Government bond yields peaked or paused?
10-year government bond yield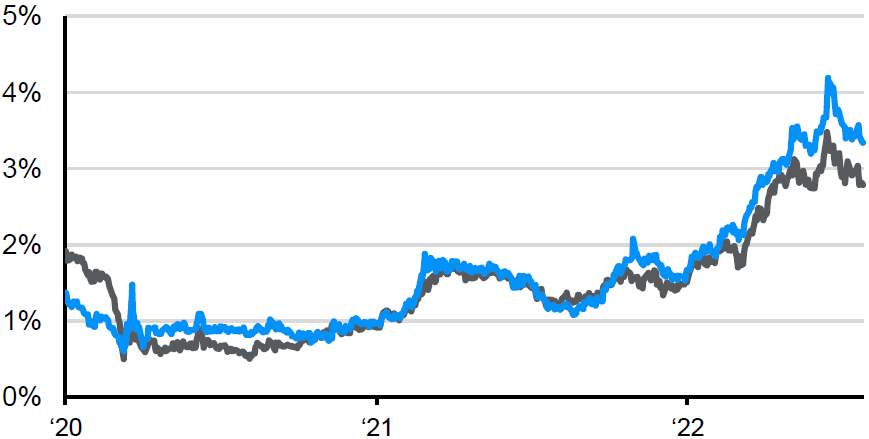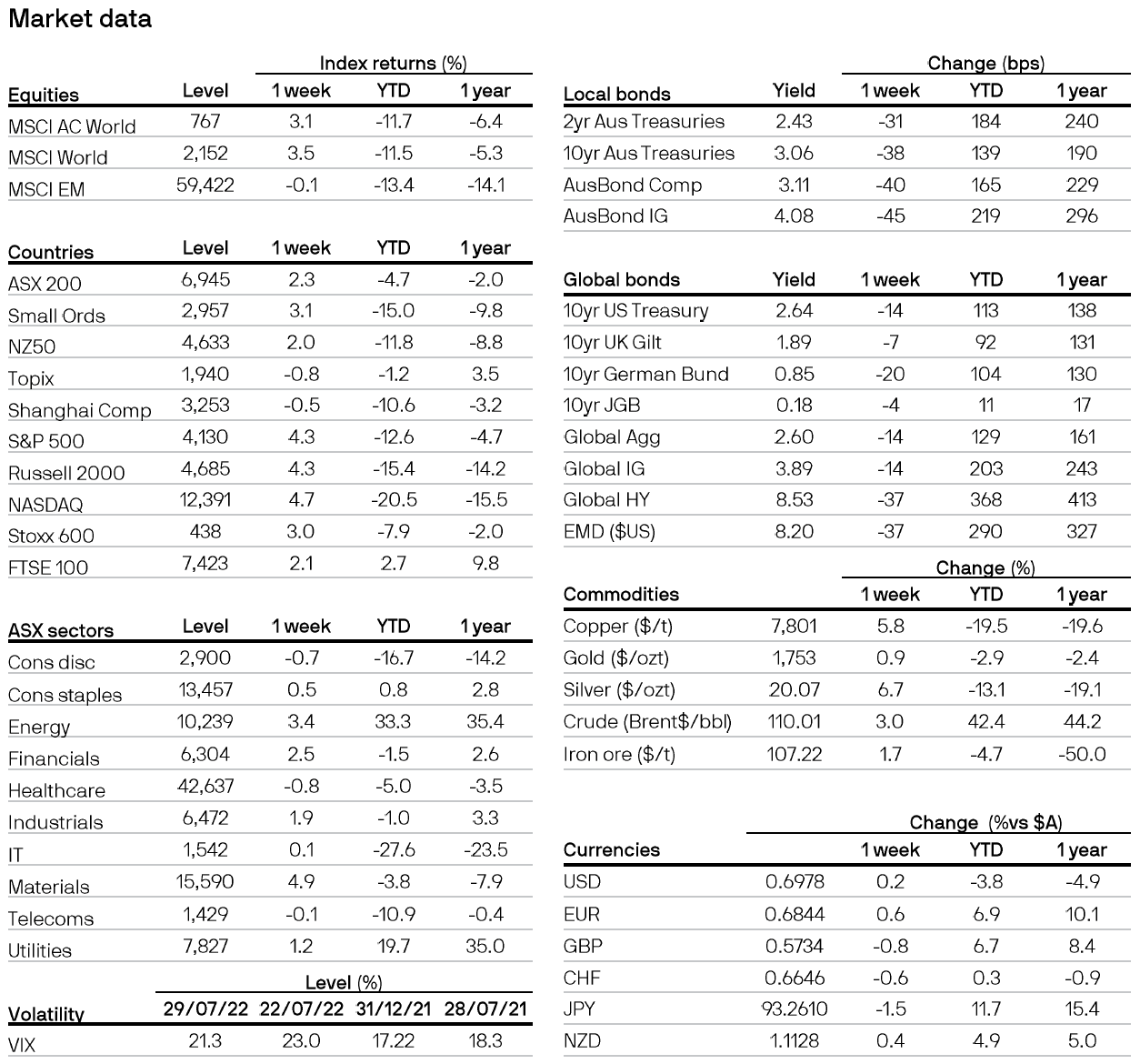 Source: FactSet, Tullet Prebon, J.P. Morgan Asset Management.
Data reflect most recently available as of 29/07/22.
All returns in local currency unless otherwise stated.
Equity price levels and returns: Levels are prices and returns represent total returns for stated period.
Bond yields and returns: Yields are yield to maturity for government bonds and yield to worst for corporate bonds. All returns represent total returns. AusBond Comp is the AusBond Composite 0+ Yr, AusBond IG is the AusBond Credit 0+ Yr both provided by Bloomberg.
Currencies: All cross rates are against the Australian dollar. An appreciation of the foreign currency against the Australian dollar would be positive and a depreciation of the foreign currency against the Australian dollar would be negative.
0903c02a82467ab5