Weekly Market Recap
Some don't like it hot
25/07/2022
Week in review
Eurozone consumer confidence plunges to -27
European Central Bank raises rates by 50bps
UK CPI inflation 9.4% y/y
Week ahead
Australia 2Q CPI inflation
Australia retail sales for June
U.S. Federal Reserve policy rate meeting
Thought of the week
The UK is sweltering under a heatwave of a different kind as inflation rose at 9.4% y/y in June. Meanwhile, inflation in Canada increased by 8.1% y/y for the same period. These higher-than-expected inflation figures will maintain pressure on central banks to hike rates. The Bank of Canada increased the cash rate by 100bps at its meeting this month, and we expect the Bank of England will opt for an outsized 50bps hike when it next meets. The U.S. Federal Reserve is also likely to continue the 75bps increases at this week's meeting. However, U.S. inflation may have peaked as falling commodity prices, increasing auto production and a slowing housing market should cool headline inflation in the coming months. No such case for Australia where the 2Q inflation report is likely to show a rise in the headline figure and be above the RBA's forecast. The hawkish comments from Governor Low last week should see the RBA hike by another 50bps at its August meeting with an upside risk to similar sized rate hikes at following meetings.
Australian inflation still heading toward the peak
Contribution to inflation y/y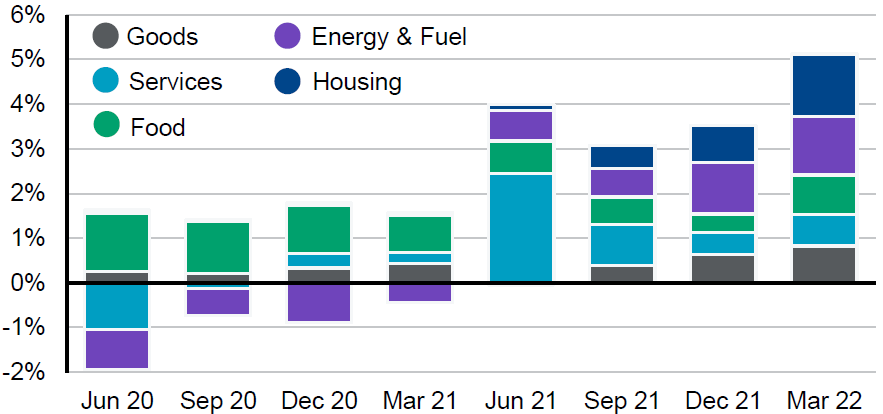 Source: ABS, FactSet, J.P. Morgan Asset Management.
Data reflect most recently available as of 22/07/22.
All returns in local currency unless otherwise stated.
Equity price levels and returns: Levels are prices and returns represent total returns for stated period.
Bond yields and returns: Yields are yield to maturity for government bonds and yield to worst for corporate bonds. All returns represent total returns. AusBond Comp is the AusBond Composite 0+ Yr, AusBond IG is the AusBond Credit 0+ Yr both provided by Bloomberg.
Currencies: All cross rates are against the Australian dollar. An appreciation of the foreign currency against the Australian dollar would be positive and a depreciation of the foreign currency against the Australian dollar would be negative.
0903c02a82467ab5