Weekly Market Recap
Are we there yet?
18/07/2022
Week in review
Australian consumer confidence declines to 83.8
Australian unemployment rate falls to 3.5%
U.S. CPI inflation exceeds expectations at 9.1% y/y
Week ahead
RBA monetary policy meeting minutes
Eurozone and U.S. PMI manufacturing and service PMIs
ECB policy meeting
Thought of the week
One question gripping markets is are we there yet when it comes to rates and inflation. The strong June inflation print from the U.S. last week may be the peak in inflation given signs of softening in core rates of inflation and the impact of falling energy prices on next months release. But the elevated figure means an increased chance that the Federal Reserve (Fed) will raise rates by 100bps when it meets later this month. Even with stronger inflation and expectations of a more aggressive policy path, the movement in bond yields has been subdued. The yield on the 10-year U.S. Treasury is nowhere near the peak set-in mid-June. This captures the market view that the Fed is prone to overtightening and forcing the economy into recession. However, if history is a guide the peak in yields usually comes much later in the rate hiking cycle (see chart) so there may still be some upside to U.S. bond yields. Even so, adding duration seems prudent given the risks to the growth outlook.
Peak in yields may be yet to come
U.S. Fed funds rate and U.S. 10-year Treasury yield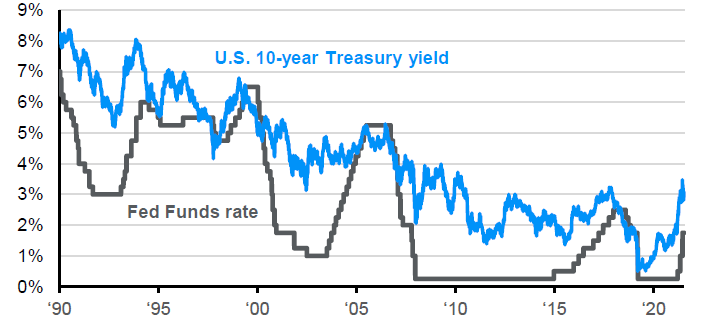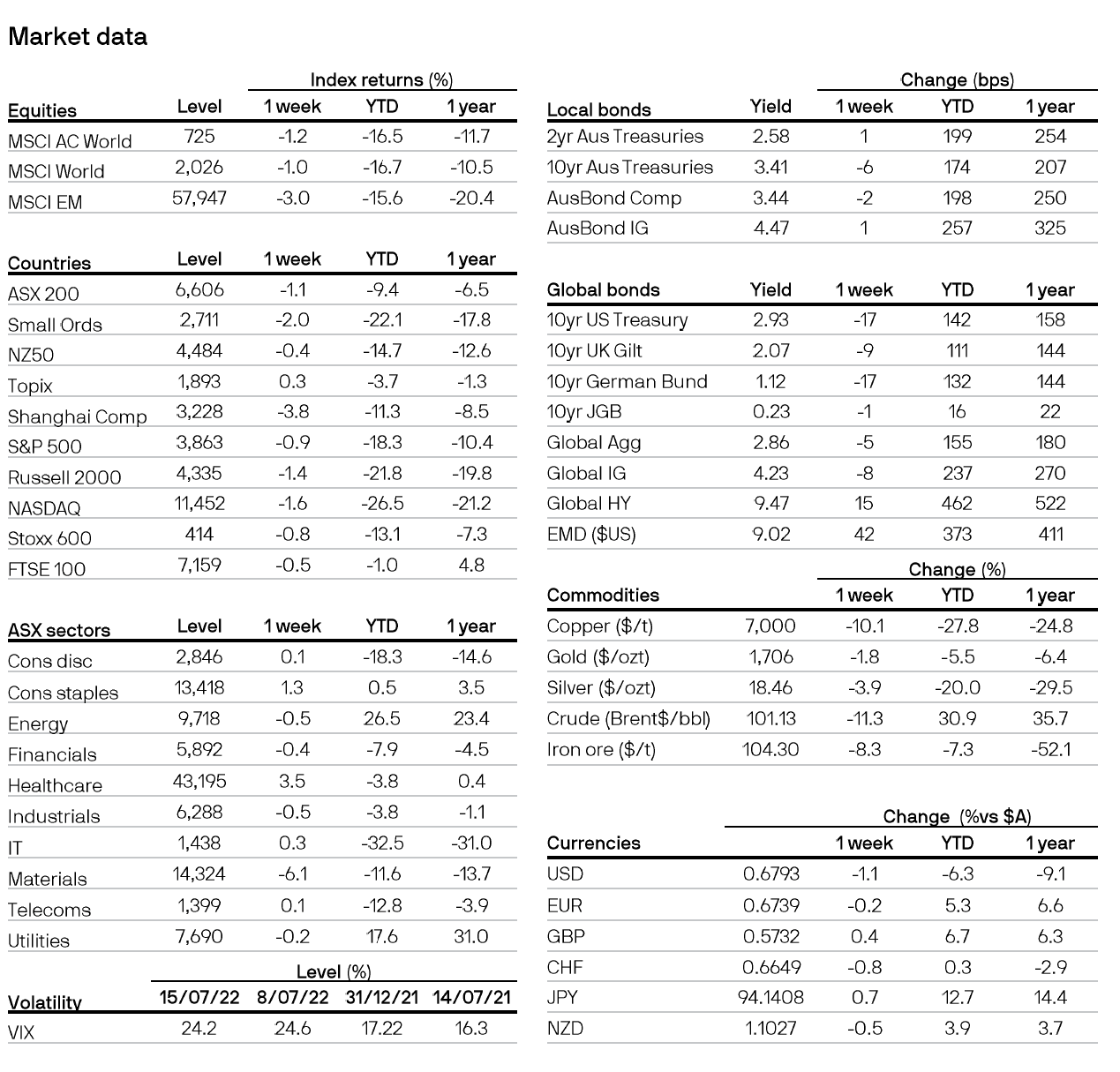 Source: Minack, Tullet Prebon, FactSet, U.S. Federal Reserve, J.P. Morgan Asset Management.
Data reflect most recently available as of 15/07/22.
All returns in local currency unless otherwise stated.
Equity price levels and returns: Levels are prices and returns represent total returns for stated period.
Bond yields and returns: Yields are yield to maturity for government bonds and yield to worst for corporate bonds. All returns represent total returns. AusBond Comp is the AusBond Composite 0+ Yr, AusBond IG is the AusBond Credit 0+ Yr both provided by Bloomberg.
Currencies: All cross rates are against the Australian dollar. An appreciation of the foreign currency against the Australian dollar would be positive and a depreciation of the foreign currency against the Australian dollar would be negative.
0903c02a82467ab5