Weekly Market Recap
When the spending stops
04/07/2022
Week in review
Australia retail sales better than expected at 0.9% m/m
Eurozone consumer confidence falls to -23.6
China PMI manufacturing rose to 51.7
Week ahead
RBA official cash rate
U.S. Federal Reserve policy meeting minutes
U.S. nonfarm payrolls
Thought of the week
Consumer confidence has collapsed around the globe as high inflation and uncertainty weigh heavily on households attitude towards spending. Consumers are also likely reacting to the sharp slide in equity markets and broader concerns over where the economy is headed. Unsurprisingly the shock to confidence is greatest in western European nations given the economic impacts from Russian invasion of Ukraine reverberating across the continent. Closer to home, confidence in Australia has also plummeted, but unlike in other countries consumers have managed to cushion the blow to their purchasing power from the inflation surge by drawing down on their savings. Retail sales in May continued to rise and spending was broad-based despite the impacts of high inflation and rising interest rates. The savings rate can fall further, and wages rise given the tight labour market. This will go some way to compensate the negative wealth effects from housing price declines. But this cannot last indefinitely.
Retail spending holding up despite plummeting confidence
Consumer confidence and retail sales (3-month moving average)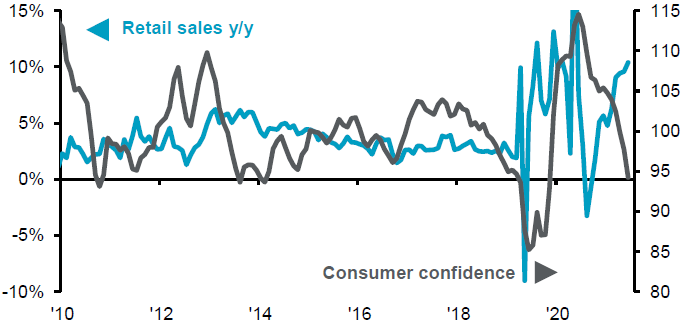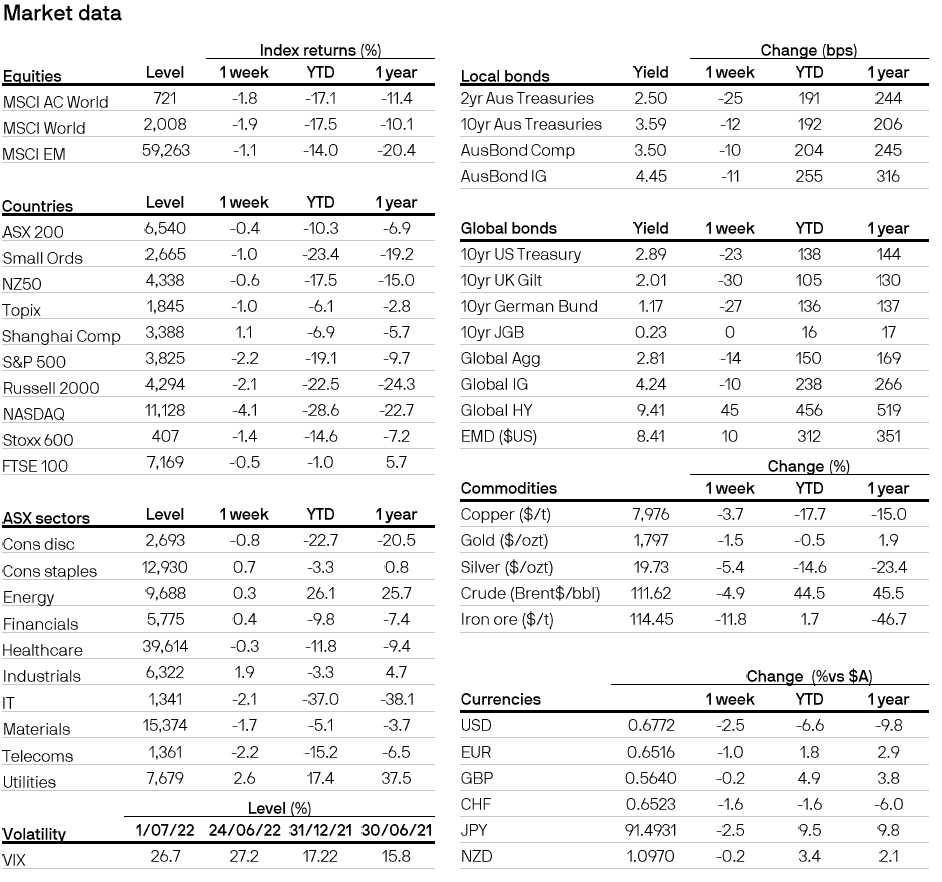 Source: ABS, FactSet, Westpac, J.P. Morgan Asset Management.
Data reflect most recently available as of 01/07/22.
All returns in local currency unless otherwise stated.
Equity price levels and returns: Levels are prices and returns represent total returns for stated period.
Bond yields and returns: Yields are yield to maturity for government bonds and yield to worst for corporate bonds. All returns represent total returns. AusBond Comp is the AusBond Composite 0+ Yr, AusBond IG is the AusBond Credit 0+ Yr both provided by Bloomberg.
Currencies: All cross rates are against the Australian dollar. An appreciation of the foreign currency against the Australian dollar would be positive and a depreciation of the foreign currency against the Australian dollar would be negative.
0903c02a82467ab5