Weekly Market Recap
Rumour has it
20/06/2022
Week in review
U.S. Federal Reserve hikes rates 0.75%
Australia unemployment rate 3.9% in May
Australia business confidence drops to 6.0
Week ahead
Eurozone consumer confidence
Eurozone composite PMI
U.S. composite PMI
Thought of the week
The rumour mill went into overdrive ahead of last weeks U.S. Federal Reserve meeting as markets repriced for the prospect of an outsized 75bps rate hike. The rumours ended up being founded with little market reaction after the actual meeting. However, the reaction in the market was severe as the Fed outlined a policy path that is increasingly aggressive given the persistent inflation pressures facing the U.S. economy. This week's chart illustrates just how dramatic the market reaction was. The policy sensitive 2-year U.S. Treasury yield increased by the most in two days since the default of Lehmans in late 2008. The uncertainty about just how fast the Fed will go will likely keep the market on edge and we expect that the chance of another 75bps rise at the next Fed meeting is high, before the pace of hikes slows into year end. The commitment to restraining inflation will come with an economic cost, and while we don't see a recession this year, the probability of one occurring in 2023 has increased.
The sharpest repricing in the rate outlook since Lehmans
Two day move in the U.S. 2-year Treasury yield, bps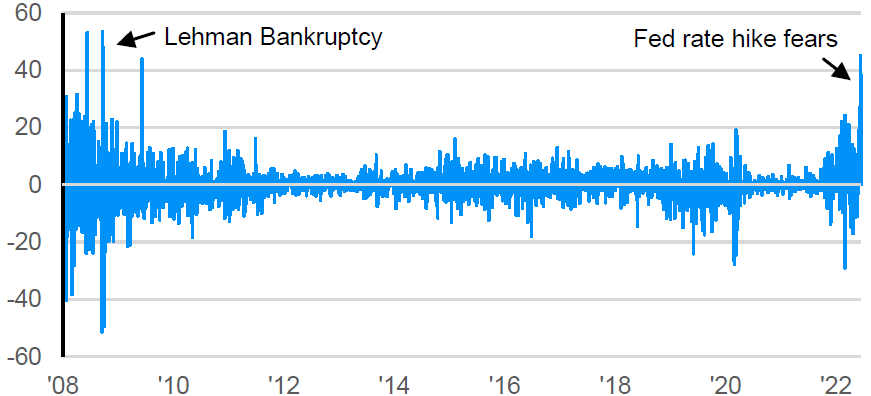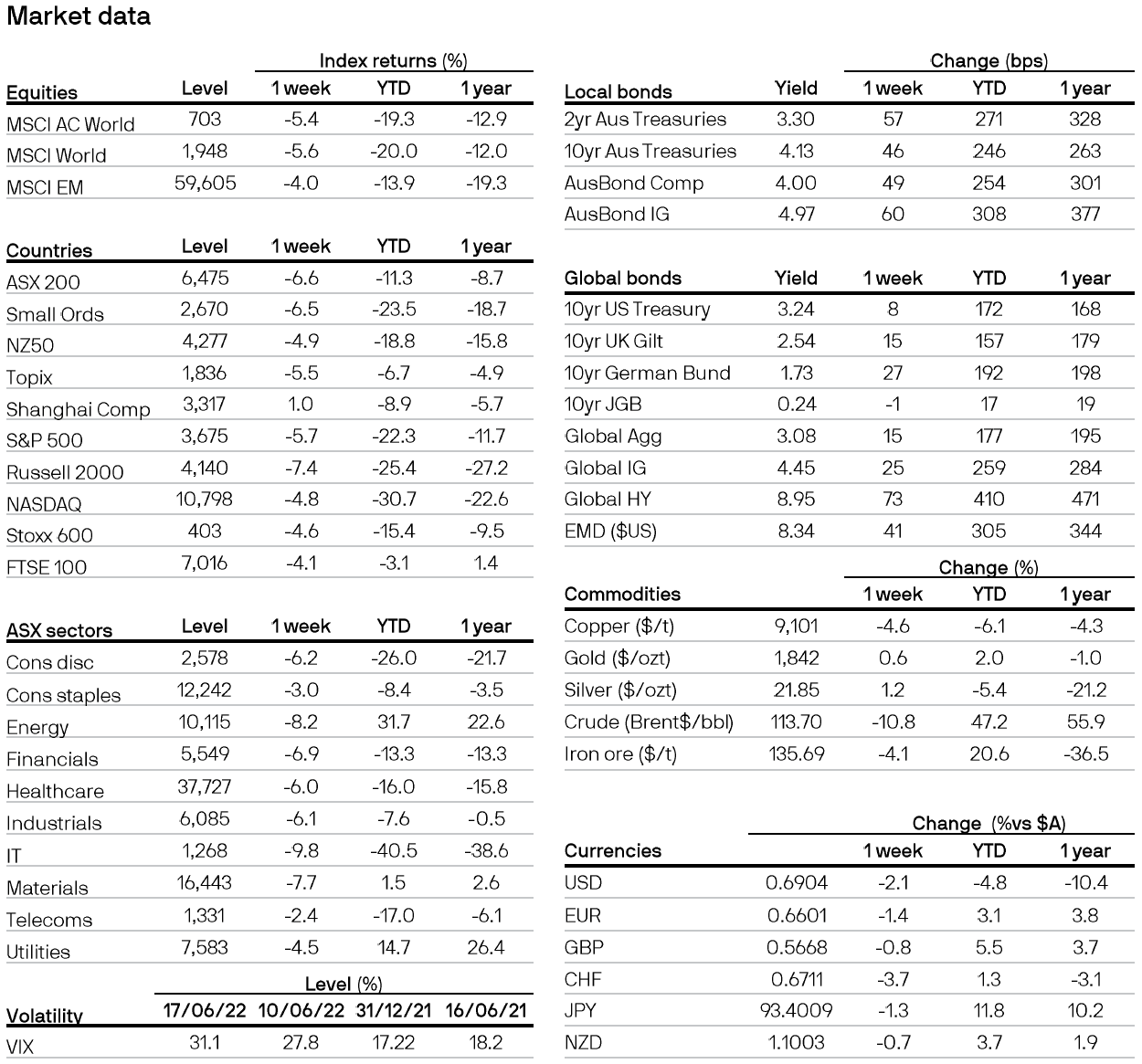 Source: FactSet, Tullett Prebon, J.P. Morgan Asset Management.
Data reflect most recently available as of 19/06/22.
All returns in local currency unless otherwise stated.
Equity price levels and returns: Levels are prices and returns represent total returns for stated period.
Bond yields and returns: Yields are yield to maturity for government bonds and yield to worst for corporate bonds. All returns represent total returns. AusBond Comp is the AusBond Composite 0+ Yr, AusBond IG is the AusBond Credit 0+ Yr both provided by Bloomberg.
Currencies: All cross rates are against the Australian dollar. An appreciation of the foreign currency against the Australian dollar would be positive and a depreciation of the foreign currency against the Australian dollar would be negative.
0903c02a82467ab5