Weekly Market Recap
A show of wealth
13/06/2022
Week in review
RBA hikes rates by a larger than expected 0.50%
U.S. CPI inflation 8.6% y/y
Chinese PMI for services rose to 41.4
Week ahead
U.S. Federal Reserve Rate decision
Australia business and consumer confidence
Australia labour market report
Thought of the week
The RBA increased the hawkish messaging last week and upped the official cash rate by 0.50% which was greater than expected. The pace of inflation has been running faster than the RBA estimated back in May and they anticipate that the peak is still to come. This has brought forward expectations for further rate hikes, with another 0.50% increase in July likely to be on the cards. The RBA, like other central banks, is in a hurry to get back to neutral given the inflationary pressures but beyond that there are bigger questions given the economic outlook and how both companies and consumers will react to higher costs. An added complication for Australia is the high degree of household leverage. The common view is that households are in a position of strength and balance sheets robust. Much of the increase in net wealth has been driven by rising house prices and with the market cooling, households may suddenly tighten their belts. However, we have a positive view that consumers will have the ability to adapt to higher rates.
Housing has driven the increase in net wealth
AUD trillions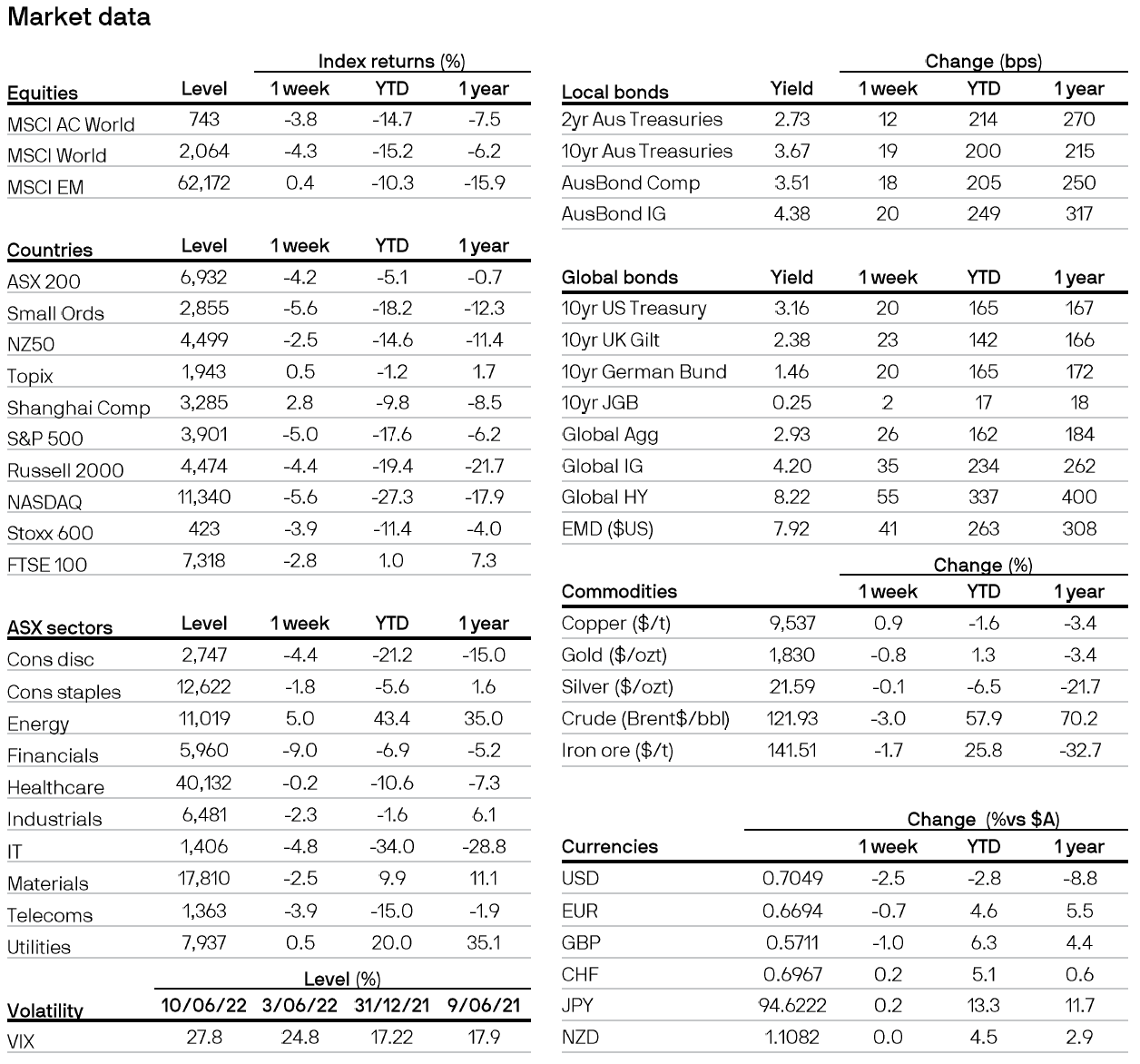 Source: ABS, J.P. Morgan Asset Management.
Data reflect most recently available as of 10/06/22.
All returns in local currency unless otherwise stated.
Equity price levels and returns: Levels are prices and returns represent total returns for stated period.
Bond yields and returns: Yields are yield to maturity for government bonds and yield to worst for corporate bonds. All returns represent total returns. AusBond Comp is the AusBond Composite 0+ Yr, AusBond IG is the AusBond Credit 0+ Yr both provided by Bloomberg.
Currencies: All cross rates are against the Australian dollar. An appreciation of the foreign currency against the Australian dollar would be positive and a depreciation of the foreign currency against the Australian dollar would be negative.
0903c02a82467ab5