Weekly Market Recap
Rocky mountain high
16/05/2022
Week in review
Australian consumer confidence index falls to 90.4
Australia business conditions index rises 20.1
U.S. CPI inflation hotter at 8.3% y/y
Week ahead
Australia wage growth
U.S. CPI inflation
China CPI inflation
Thought of the week
Inflation is still running hot in the U.S. economy. The inflation report for April was higher than consensus and prices rose by 8.3% y/y. The higher inflation was not welcomed by the markets as it suggested that the U.S. Fed may have a bigger inflation challenge to overcome. However, the bigger question is whether the economy is passing the peak of inflation and if things will cool from here. The answer is yes. There was some relief for consumers as energy, car and apparel prices all fell compared to the prior month and is part of the broader trend of a rotation in spending from goods to services. We expect that the base effects from higher prices compared to a year ago will see headline inflation continue to moderate. Inflation is likely to remain above the Fed's 2% target for sometime, but the sequential decline in price rises may see the Fed ease back on its hawkish tone, especially as the economy slows into year end. This should provide some reprieve to battered equity and fixed income markets.
Passing the peak
Contribution of themes to headline U.S. CPI inflation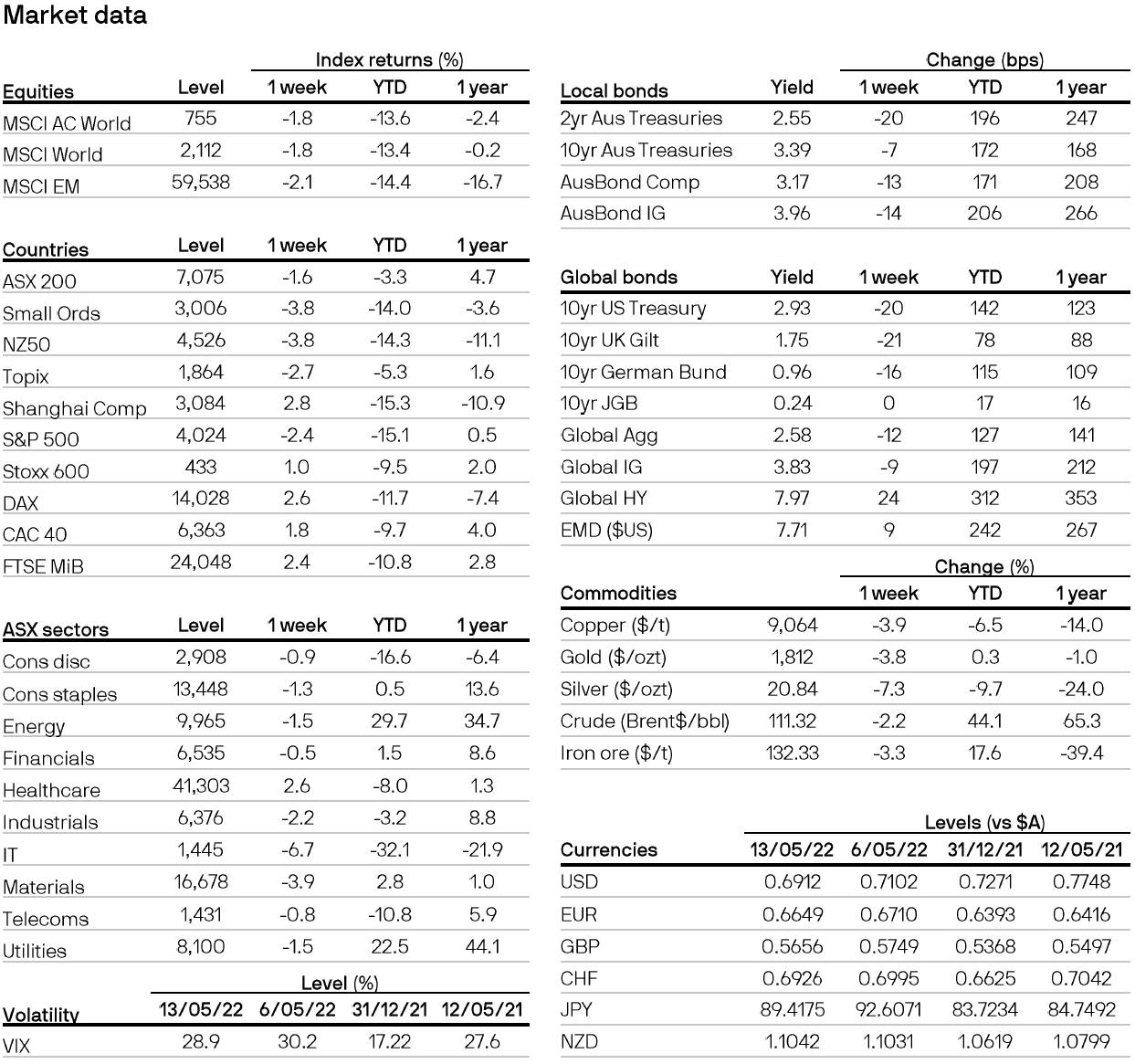 Source: BLS, FactSet, J.P. Morgan Asset Management.
Data reflect most recently available as of 13/05/22.
All returns in local currency unless otherwise stated.
Equity price levels and returns: Levels are prices and returns represent total returns for stated period.
Bond yields and returns: Yields are yield to maturity for government bonds and yield to worst for corporate bonds. All returns represent total returns. AusBond Comp is the AusBond Composite 0+ Yr, AusBond IG is the AusBond Credit 0+ Yr both provided by Bloomberg.
Currencies: All cross rates are against the Australian dollar. An appreciation of the foreign currency against the Australian dollar would be positive and a depreciation of the foreign currency against the Australian dollar would be negative.
0903c02a82467a72