Weekly Market Recap
Higher ground
09/05/2022
Week in review
RBA increases interest rates to 0.35%
Australia retail sales 1.6% m/m in March
China services PMI falls to 36.2
Week ahead
Australia business and consumer confidence
U.S. CPI inflation
China CPI inflation
Thought of the week
Central banks delivered on their promise of higher interest rates as the U.S. Federal Reserve, Bank of England and the RBA all increase the key policy rate last week. The path for rates is clearly higher as the guidance is for more rate hikes in the coming months and an end point which is likely to be far higher than expected just a few months ago. The 50bps rate hike by the Fed will be matched again in the next two meetings and there is a good change the RBA move by 40bps in June to put the incremental policy tightening back on a more traditional trajectory. The frontloading of the rate hike cycle is both an indication of how far central bank have falling behind the inflation curve and how much they are trying to regain their inflation targeting credibility. But it's not just inflation that central banks are focusing on. The continued strength in the labour market gives them scope to raise rates back to a more neutral level more quickly. Even still, the ability to generate a 'soft landing' with such blunt tool as rate hikes remains a question.
Central bank key policy rates
Target rates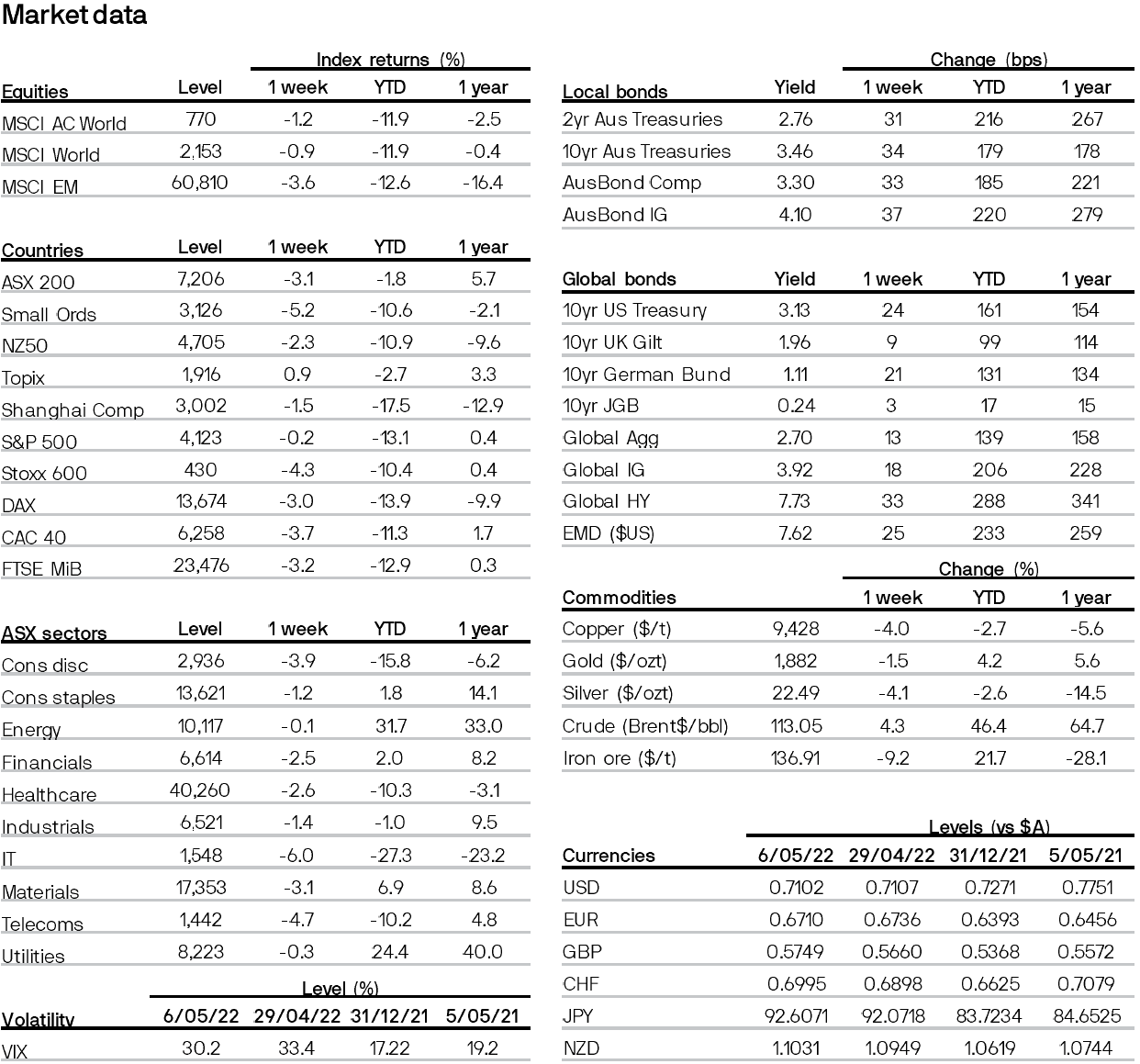 Source: Bank of England, FactSet, Reserve Bank of Australia, U.S. Federal Reserve, J.P. Morgan Asset Management.
Data reflect most recently available as of 6/05/22.
All returns in local currency unless otherwise stated.
Equity price levels and returns: Levels are prices and returns represent total returns for stated period.
Bond yields and returns: Yields are yield to maturity for government bonds and yield to worst for corporate bonds. All returns represent total returns. AusBond Comp is the AusBond Composite 0+ Yr, AusBond IG is the AusBond Credit 0+ Yr both provided by Bloomberg.
Currencies: All cross rates are against the Australian dollar. An appreciation of the foreign currency against the Australian dollar would be positive and a depreciation of the foreign currency against the Australian dollar would be negative.
0903c02a82467a72