Weekly Market Recap
The heat is on
02/05/2022
Week in review
Australia headline inflation rose 5.1% y/y in 1Q
Australia private sector for March
U.S. 1Q real GDP declined by 1.4% on an annualized basis
Week ahead
RBA official cash rate
Australia retail sales and building approvals
U.S nonfarm payrolls and FOMC meeting
Thought of the week
The significant upside surprise in the first quarter inflation figures released last week have raised our expectations that the RBA will increase interest rates at this weeks meeting. The breadth of inflation pressure and momentum in the Australian economy starkly contrasts the current 0.1% interest rate. There may be some expectation that the RBA could follow the lead of other central banks with 50bps increases, however, the RBA is little to step lightly into the rate hiking cycle given the pace of price rises in Australia is not the same as elsewhere in the world. There will also be some concern on global growth and the implications for Australia. China in particular, given the trade-off faced by officials in stimulating the economy while preventing any further increase in leverage in the housing sector or elsewhere. There is also a view that households will not be able to withstand higher rates, but interest rates are some way from being restrictive and we would not expect them to greatly impact consumer behaviour in the near-term.
Australia inflation keeping up with global trend
Headline and core CPI inflation for Australia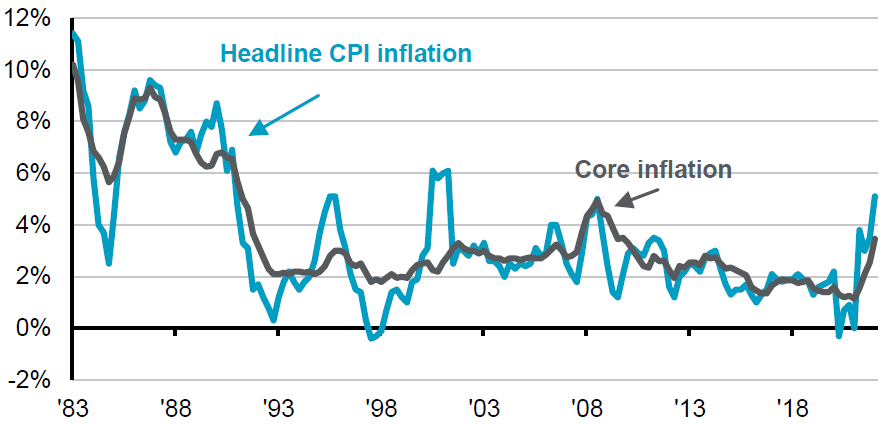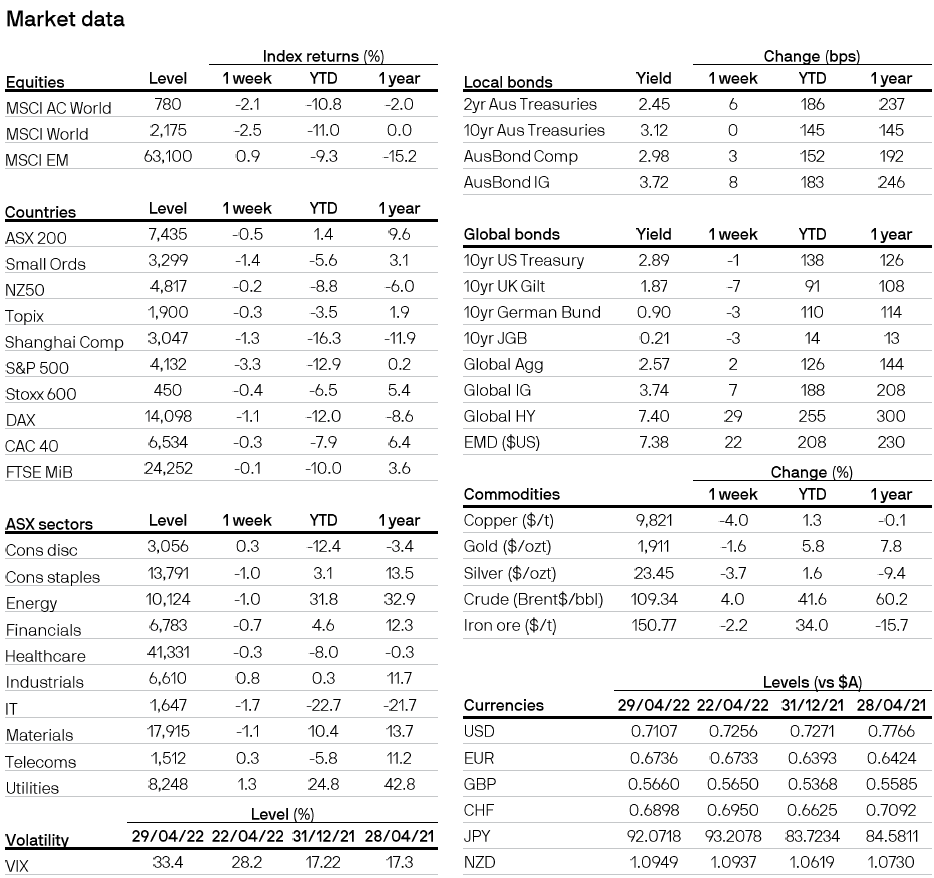 Source: ABS, FactSet, J.P. Morgan Asset Management.
Data reflect most recently available as of 30/04/22.
All returns in local currency unless otherwise stated.
Equity price levels and returns: Levels are prices and returns represent total returns for stated period.
Bond yields and returns: Yields are yield to maturity for government bonds and yield to worst for corporate bonds. All returns represent total returns. AusBond Comp is the AusBond Composite 0+ Yr, AusBond IG is the AusBond Credit 0+ Yr both provided by Bloomberg.
Currencies: All cross rates are against the Australian dollar. An appreciation of the foreign currency against the Australian dollar would be positive and a depreciation of the foreign currency against the Australian dollar would be negative.
0903c02a82467a72