Weekly Market Recap
Off target
25/04/2022
Week in review
China 1Q real GDP 4.8% y/y
RBA policy meeting minutes build case for June rate hike
Eurozone consumer confidence rose to -16.9 in April
Week ahead
Australia 1Q22 CPI inflation
U.S. durable goods orders
U.S 1Q22 real GDP
Thought of the week
Investor attention is keenly focused on the actions of developed market central banks, especially the upcoming meeting of the U.S. Federal Reserve and the size of any rate hike. Inflationary pressures are broadly lower in emerging Asia, but there are signs that pressure is building, and some economies have inflation rates that are above central bank targets. Higher commodity prices are part of the story but increasing levels of consumption may lead to higher rates of services inflation. However, a key reason we don't expect the region to have to brace itself for the multi-decade high inflation rates that have lashed the U.S., is the more muted pace of wage growth in many countries. Central banks across Asia, excluding China and Japan, are likely to step up to the inflation outlook, and some have already started on their hiking path, but the pace of tightening will still be relatively gradual. The combination of steady policy normalisation and economic re-opening creates a supportive backdrop for Asian equity markets.
Headline inflation rates are off target in some Asian markets
Headline CPI inflation and central bank target ranges.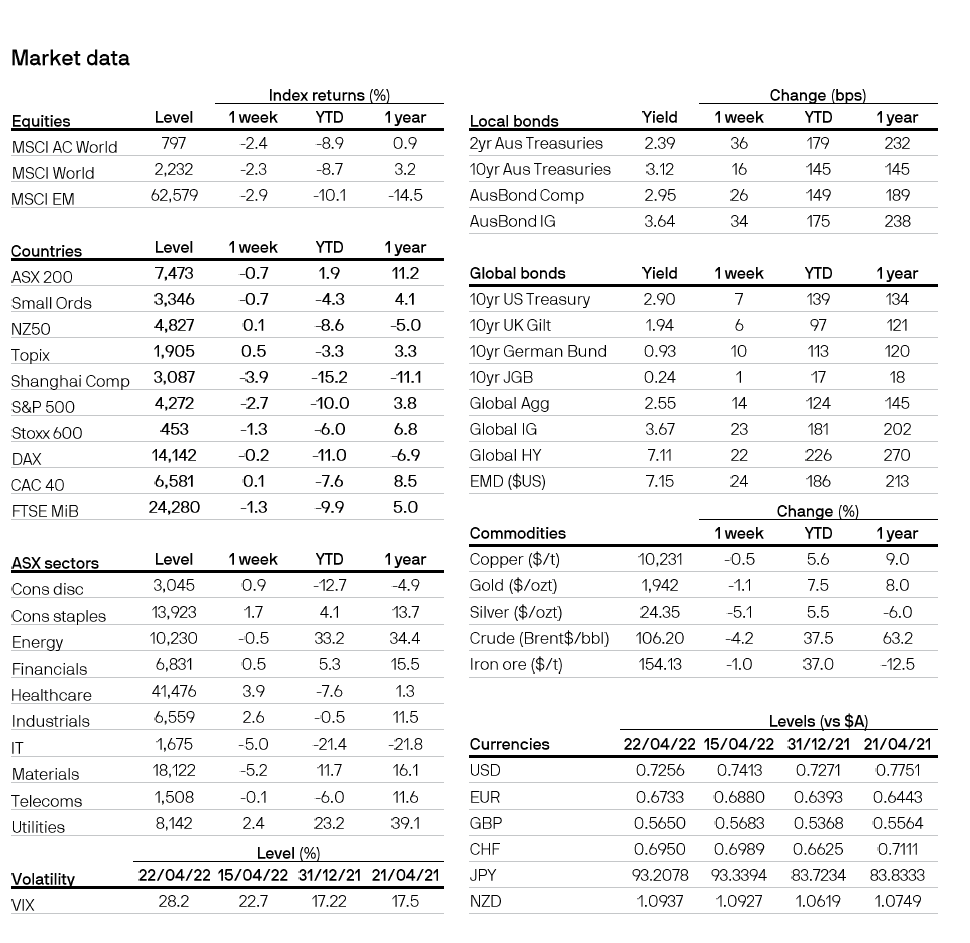 Source: Statists agencies, FactSet, J.P. Morgan Asset Management
Data reflect most recently available as of 26/04/22.
All returns in local currency unless otherwise stated.
Equity price levels and returns: Levels are prices and returns represent total returns for stated period.
Bond yields and returns: Yields are yield to maturity for government bonds and yield to worst for corporate bonds. All returns represent total returns. AusBond Comp is the AusBond Composite 0+ Yr, AusBond IG is the AusBond Credit 0+ Yr both provided by Bloomberg.
Currencies: All cross rates are against the Australian dollar. An appreciation of the foreign currency against the Australian dollar would be positive and a depreciation of the foreign currency against the Australian dollar would be negative.
0903c02a82467a72