Weekly Market Recap
Fighting back with fiscal
28/03/2022
Week in review
U.S. PMI for manufacturing rises to 58.5
Eurozone composite PMI falls to 54.5
Eurozone consumer confidence plunges to -18.7
Week ahead
Australia retail sales for February
Australia housing finance for February
U.S. GDP, employment and payrolls data, consumer confidence
Thought of the week
Surveys of both companies and consumers are starting to capture the impact of the war in Ukraine and rising commodity prices. As expected, Europe will bear the brunt of the economic impact given reliance on Russian energy and proximity to the conflict. Both the eurozone consumer confidence and the PMI for services saw notable declines in March. The fall in the consumer confidence index was very similar in size to that experienced during the COVID pandemic. It's not impossible that the region will avoid a recession but seems highly unlikely given the string of downgrades to growth. The two defining factors are likely to be how long the war drags on, and therefore, how long energy prices are elevated, and the fiscal response to support households. The UK and Italy have announced several new fiscal support measures in recent weeks. However, we may see a pan-European initiative that uses regional debt to fund support measures, rather the smaller ones at the country level. Whatever the case, European governments will have to once again spend their way out of trouble.
European confidence plunges
Corporate and consumer confidence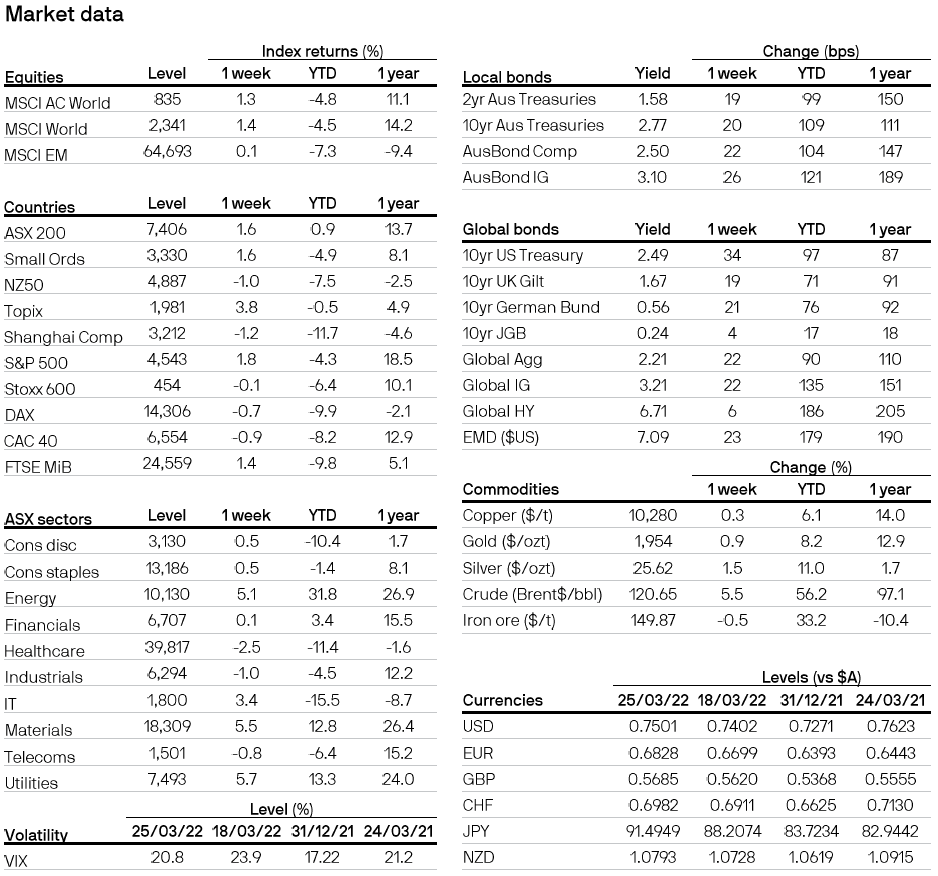 Source: European Commission, J.P. Morgan Asset Management.
Data reflect most recently available as of 25/03/22.
All returns in local currency unless otherwise stated.
Equity price levels and returns: Levels are prices and returns represent total returns for stated period.
Bond yields and returns: Yields are yield to maturity for government bonds and yield to worst for corporate bonds. All returns represent total returns. AusBond Comp is the AusBond Composite 0+ Yr, AusBond IG is the AusBond Credit 0+ Yr both provided by Bloomberg.
Currencies: All cross rates are against the Australian dollar. An appreciation of the foreign currency against the Australian dollar would be positive and a depreciation of the foreign currency against the Australian dollar would be negative.
0903c02a82467a72