J.P. Morgan Asset Management is pleased to present the latest edition of Quarterly Perspectives. This piece explores key themes from our Guide to the Markets, providing timely economic and investment insights.
THIS QUARTER'S THEMES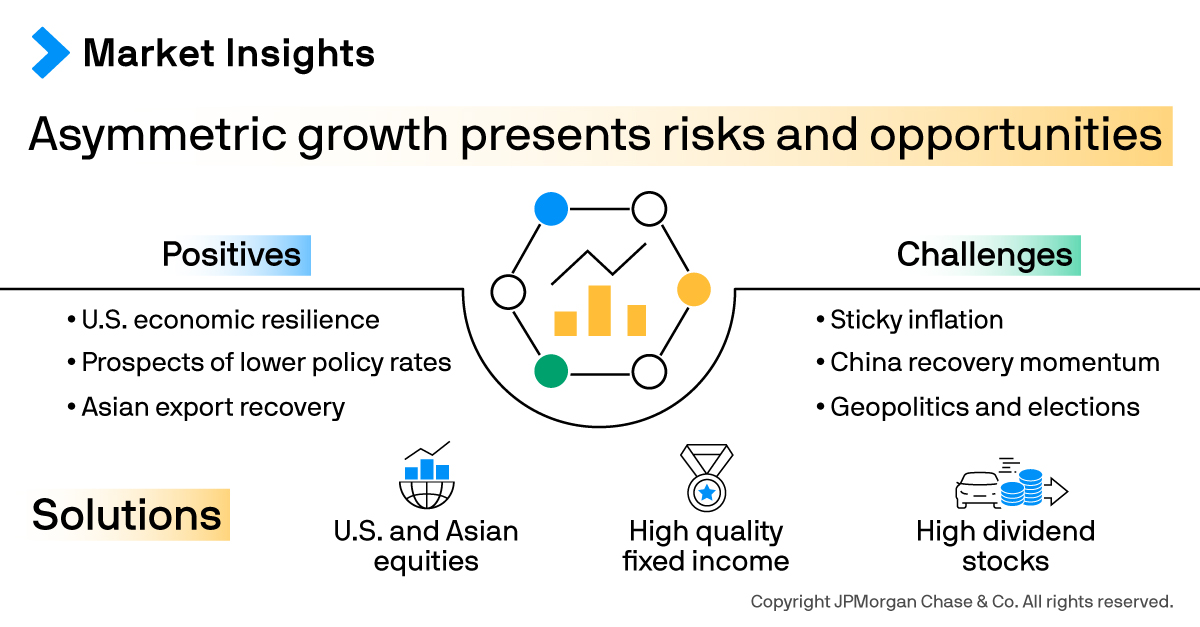 A partial return to normality
Overview
2022 is expected to start with greater emphasis on inflation risk rather than recession risk, despite the emergence of the Omicron COVID-19 variant. Nonetheless, headline inflation should ease in 2022 but remain above the pre-pandemic average. Central banks are also moving away from emergency stimulus settings to a more balanced stance. Meanwhile, China's economic growth is expected to stabilise in 1H 2022, mitigating another source of economic risk.
Ongoing global expansion is pointing towards decent corporate earnings growth in line with long-term averages. Bond yields are expected to shift higher, with the risk of some sharp movements if investors' inflation expectations adjust. Overall, we believe 2022 should feel more normal compared with 2020 and 2021, but still quite different from the pre-COVID-19 world.
Managing the COVID-19 pandemic
The fight against COVID-19 has been aided greatly by vaccines and medications to treat those infected. With lower mortality and hospitalisation rates, governments are increasingly more willing to treat COVID-19 as an endemic rather than a pandemic. The latest variant, Omicron, has raised uncertainties, but this is more likely to be a bump in the recovery path instead of one that could derail growth.
The outcome should be a more robust and sustainable recovery in services, after two years of strong performance in demand for goods, which has led to some stress in the global supply chain and bottlenecks.
In terms of regions, the U.S. and Europe have already enjoyed part of this recovery dividend. The vaccination rates of more Asian economies are approaching 70%, and this could allow greater flexibility in both local disease control and border crossing. China, for now, is still expected to maintain its strict zero-COVID-19 policy measures going into 2Q 2022.
Inflation
Overall, we expect U.S. inflation to ease from the current 5-6% towards a range of between 2-3% later in 2022. A number of factors that are currently driving inflation higher should gradually ease in the coming months. Most notably, higher energy prices are not sustainable given the potential for high-cost producers, such as U.S. shale oil companies, to step up their production and restore the balance between demand and supply.
However, there are two areas where inflationary pressure could be more persistent. U.S. housing costs have risen significantly in the past 12 months, and this is filtering into the shelter component of the inflation basket, which is typically slow to rise but also slow to fall again.
The second potential source of persistent inflation in the U.S. would be wages and the pass through to prices. The U.S. job market is still facing a shortage of workers (a more detailed discussion follows). Given the prevailing level of inflation, workers will be asking for wage increases, while employers are willing to pay more to attract workers. Some companies could pass on the higher costs to consumers in order to protect their profit margins.
Job market
U.S. unemployment fell to to 4.2% in November, from the peak of 14.4% in April 2020, but is still a full percentage point above the pre-pandemic low of 3.3%. The number of job openings has been above 10 million since June 2021, compared with the number of unemployed people at 7.4 million in October 2021. This gap of strong demand for workers suggests the overall unemployment rate should continue to decline in the months ahead.
However, the Federal Reserve (Fed) has also pointed out that the participation rate has declined. Fiscal stimulus and a surge in savings have allowed some workers to retire early or stay home to look after their families. The current participation rate, at 61.8% in October, is below the 2019 average of 63%, or equivalent to around 2.6 million people in the work force.
So even if the unemployment rate falls below 4% in the coming months, the Fed may still want to wait for the participation rate to return to close to the pre-pandemic level as it assesses the need for policy rate lift-off.
Fed policy
Multi-decade high inflation is pressuring the Fed to tighten monetary policy, but this needs to be balanced against uncertainties from setbacks from fresh COVID-19 outbreaks.
The latest economic and policy rate forecasts by the Fed suggest the central bank still expects headline inflation to gradually revert towards its long-term target. Meanwhile, the job market should gradually return to full employment in 2022, giving the central bank more flexibility to move the first rate hike forward if needed.
The timing of the first hike is currently the market focus, but more questions could come on the pace of future rate rises. The Fed's forecasts are suggesting 2-3 hikes each year in 2023 and 2024, which is slow compared with previous hiking cycles. Investors may need to be ready for a more aggressive rate hike path in the coming years.
China
China's growth momentum decelerated in 2H 2021 on the back of policy normalisation, a slowdown in the real estate market, power outages and COVID-19-related shutdowns. Some of these economic headwinds are expected to persist into 1H 2022, but we anticipate more targeted fiscal and monetary policy support to stabilise growth.
Areas of policy support are likely to be the key when identifying investment opportunities in China. This would include de-carbonisation, technology import substitution and the potential income growth acceleration for low to mid income groups under the "common prosperity" policy.
We believe that the risk of escalation in trade tariffs is less likely given the inflationary pressure facing the U.S. economy. Nonetheless, Washington could continue to apply pressure on Beijing to do more on opening trade and services.
Asset allocation
Ongoing economic recovery, elevated inflation and monetary policy normalisation in the medium term are all pointing towards a more favourable environment for equities relative to fixed income. Provided that corporate earnings can continue to expand, and we believe they will, then global equities should continue to generate return for investors. However, the magnitude of return could be more modest compared with the past two years and greater variation among different sectors.
The relatively attractive valuations in Asia and China, along with the possible acceleration in recovery momentum due to higher vaccination rates, should facilitate a catch-up in Asian equities relative to developed markets.
The prospects of higher government bond yields continue to point towards a combination of short duration and high yield. Given relatively rich valuations in developed market high yield corporate debt, investors may wish to expand into emerging market debt. However, the uncertainty around the outlook for monetary policy, inflation and the virus means that a flexible approach to the bond market is best.
Corporate earnings
2021 may mark the peak of corporate earnings growth, following the COVID-19-induced earnings recession in 2020. Even if the pace of earnings expansion is expected to slow in 2022, earnings per share (EPS) are still expected to grow 5-10% around the world. In the U.S., an EPS growth of 9% would be broadly in line with the pre-pandemic long-term average. For Asia Pacific ex-Japan, EPS growth could actually come in higher than the long-term trend.
That said, we would expect significant variation in earnings performance across different sectors. The ongoing recovery from COVID-19 should support earnings recovery in consumer services. Supply-chain disruptions should gradually ease over time. This could reduce the cost pressure for downstream businesses. The financial sector should continue to benefit from rising interest rates and recovery in broad economic activities.
A key to solid earnings growth would be the ability for companies to protect their profit margins. In the U.S., margin expansion played a key role in the 2021 earnings turnaround. Historically, it would be very challenging for the S&P 500 to produce positive earnings growth without positive contribution from profit margins.
Fixed income investment
A combination of economic recovery and elevated inflation point towards rising bond yields. Central banks need to carefully manage inflation expectations and prevent a spike in interest rates. Overall, duration risk is still the key challenge for fixed income investors in the near term.
The mixture of short duration and high yield is arguably still a high-conviction strategy for fixed income investors. Developed market high yield corporate debt should still generate steady income for investors, but rich valuations limit potential return from price appreciation.
Asian and emerging market fixed income valuations have been undermined by concerns over Chinese high yield corporate debt, especially among real estate developers. Potential policy easing in China could offer opportunities, but active management and company selection are critical in maximising this opportunity.
Role of income
Most investors face the prospect of another year of negative real cash returns in 2022, or possibly longer. This means staying invested and looking for assets that generate income will be important to ensure the overall portfolio's purchasing power is not eroded by inflation.
In addition to traditional fixed income, investors can also consider global equity markets. Earnings recovery typically coincides with stronger dividend growth.
Alternative assets, such as real estate, infrastructure and transport, also provide stable income opportunities. Their correlations with risk assets also tend to be low, and hence offer diversification benefits when constructing portfolios. Historically, real estate also performs well in a high-inflation environment, and this can be a source of inflation hedge.
Investment Implications
Ongoing economic recovery, elevated inflation and monetary policy normalisation are all pointing towards a more favourable environment for equities relative to fixed income. If corporate earnings can continue to expand, and we believe that they will, investors should have a constructive view on global equity returns. However, the magnitude of these returns could be more modest compared with the past two years, with greater variation among sectors.
The prospects of higher government bond yields continue to point towards a combination of short duration and high yield. Given relatively rich valuations in developed market high yield corporate debt, investors may need to extend further into emerging market fixed income.
NEXT STEPS
Please contact your J.P. Morgan representative to learn more about the Market Insights program or click here.