Private Credit Outlook
Opportunities exist where the central banks missed
14/01/2021
Meg McClellan
Candace Chao
Leander Christofides
Brad Demong
Brian Coleman
Jay DeWaltoff
Bill Eigen
Jason Hempel
Jonathan Segal
Ashley Potter
As we enter 2021, investors are fleeing low yield public credit markets in favor of private debt. We expect this to be an accelerating trend due to an outlook for persistently low public market yields (EXHIBIT 1). Between new capital to deploy, a rebound in economic data and optimism for post-vaccine business prospects, lenders are gaining confidence and offering gradually improving terms to borrowers. In certain markets, this is starting to push spreads in from crisis highs, but yields remain well above pre-pandemic levels. And, we continue to see especially compelling income and total return opportunities in a number of private debt and credit markets where this phenomenon is not yet occurring.
Simply put, opportunity persists where the central banks missed. This includes a few spots in less-trafficked public markets, such as mid cap convertible debt. We also see a wide array of opportunities in private debt markets.
With higher yields hard to find elsewhere, two thirds of investors surveyed intend to increase investment in private credit
EXHIBIT 1: HOW SURVEYED INVESTORS SAID THEY PLAN TO ALLOCATE TO PRIVATE DEBT BY 2025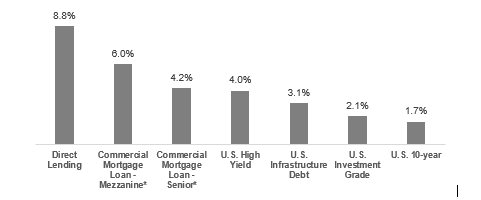 Source: Preqin Investor Survey, August 2020.
While returns will be highly dispersed across diverse economies, geographies, industries and individual assets, we see consistently wider spreads and higher yields in private credit than in public credit, along with more protective covenants for lenders than a year ago. Additionally, private credit can potentially lower portfolio volatility while adding diversification.
Across asset-backed and corporate lending, two themes dominate our views this year:
Disruption doesn't mean destruction. Disruption is temporary. We're finding assets and companies that should return to normal (or bounce back stronger) as the world normalizes after COVID-19. We will be especially selective, looking to steer clear or sell companies and assets whose long-term decline has been accelerated by new trends or shifts in behavior.


Defaults aren't done but delayed. Heroic central bank actions successfully rescued public credit markets from a tidal wave of distress in 2020. But those policy actions did not eliminate defaults1 —they dispersed a giant wave into smaller future ripples, creating several years of distressed investing opportunities.
Asset-backed lending, especially mortgages, takes the income spotlight,
We like asset-backed property lending for income and expect to continue to originate loans at better spreads and terms than pre-pandemic—and given the low cost of borrowing, we like using modest leverage to enhance income. Our asset-backed investing should be strengthened by the stability of the underlying assets, which, beyond mostly core commercial properties, include critical new digital and green infrastructure.
Commercial real estate debt
Commercial mortgage loans (CMLs) and mezzanine debt are areas of extremely high conviction. Since the onset of COVID-19, CMLs and mezzanine debt on top-tier U.S. properties have yielded more than traditional investment grade credit equivalents with comparable duration. While our investors may have varying targets for returns and loan-to-value levels, the high quality of the collateral and our ability to properly structure the loans—with lender-friendly covenants, strong underwriting metrics and lower leverage—should drive value. We also expect higher spreads. Since the pandemic, fewer lenders are active in the space2 and many borrowers' liquidity and capital market access has dried up. In 2021, the normal capital needs of commercial real estate—a levered asset class that requires continuous flows of financing—may be unmet. We expect to selectively fill the void.
Though office demand has waned during the pandemic, we continue to believe in the asset class; we expect a rebound in select markets as early as 2H 2021. We like mezzanine debt backed by stabilized (long-term leased) office buildings in primary and secondary markets and with solid collection from tenants, as spreads have widened disproportionately in this sector and leverage has remained modest. We are also enthusiastic about loans lower in the capital stack, with returns enhanced by selectively employing leverage.
U.S. housing continues to be a bright spot, with some consumer balance sheets in better shape than the average U.S. company following the corporate debt binge. We favor U.S. multifamily housing commercial lending because occupancy and rent have held up despite the pandemic. While many younger renters fled some cities to move back in with their families, we expect that trend to reverse in 2H 2021. Other residential mortgage debt strategies include investing in loans and pools of securitized loans.
One strategy, targeting 5.0%–6.0% gross returns, mostly from income, involves primarily floating-rate U.S. mortgage loans to expert, well-capitalized sponsors. Another strategy, aiming for 7.0%–9.0% gross returns on lower leverage subordinate and mezzanine debt, targets institutional grade real estate and sponsors. Short duration should limit the impact of interest rate moves, and our deal structures provide equity cushions3. We also expect many opportunities in retail and lodging properties, the sectors most impacted by COVID-19.
Residential mortgage debt
Home prices, a leading driver of performance, have been buoyed by low interest rates, limited supply, strong household formation despite the hardships, and people moving from cities to suburbs. Buyers and renters who came through 2020 strong have been making payments, and mortgage forbearance measures reduced delinquencies, helping stem defaults, both commercial and residential.
Other favored strategies include credit risk transfer (CRT) deals—CRTs are niche but liquid publicly traded securities that assume the credit risk of agency mortgages originally held by Fannie Mae and Freddie Mac. We also like nonqualified mortgages and new issue nonagency mortgage-backed securities. We may also acquire loans in the private market and exit via the public credit markets through securitizations.
Infrastructure debt
Infrastructure assets provide essential services and are characterized by stable, long-term cash flows, often from contracts with premier-tier counterparties, including governments. Senior secured infrastructure debt, an implicitly investment grade asset class, offers another income opportunity, targeting yields of 200 to 300 basis points over risk-free rates.
Investment highlights are renewable solar and wind power generation and evolving energy efficiency. For example, we favor green energy credits in the U.S., particularly up-and-running solar power purchase agreements with investment grade counterparties where there is a high degree of cash flow visibility and attractive pricing. We also like conservation projects (smart grids, smart metering, smart storage), which are driven by government policy to combat climate change4. Digital infrastructure will also attract a larger investment allocation: The COVID-19 crisis has revealed the internet's centrality as an essential service. New investment will include the build-out of super-fast broadband networks and construction of new data storage.
Corporate lending offers pockets of yield, compelling total return opportunities
Corporate credit has been on a roller coaster the past year. Many direct lenders stepped out of the market in 1Q 2020 when the outlook was at its worst. Since then, the market's recovery, through stimulus capital, has allowed many loans to begin performing again and some lenders to return. Still, a shortage of capital remains, though rescue lending programs make our opportunity set smaller than was originally expected, and dispersed more through time.
Direct lending
COVID-19 burst a years-long bubble in direct lending, making the area an interesting one for us again. We now see better terms for lenders, including stronger covenants and lower leverage. We particularly like sectors insulated from the pandemic or with a greater disconnect between supply and demand, such as health care, renewable energy and software as a service. The opportunities in areas such as airlines and healthcare are enriched due the specialist skills needed to analyze them. The uncertainty of the pandemic outlook means caution is still required and underlines the importance of manager selection.
Stressed, distressed and special situations
The temporary disappearance of revenue for very high quality companies has dramatically broadened the investment universe for our special situation investment teams. Many loans are still performing, but companies are finding revenue loss challenging; post-default recovery rates are close to an all-time low in both high yield and leveraged loans.
Many travel and leisure, transportation (e.g., airlines), hospitality and consumer discretionary companies—otherwise great long-term credits—will likely need short-term help. An example of a typical transaction would be a sale leaseback or a secured loan against an aircraft for an airline with liquidity constraints. We will continue providing customized capital market solutions, likely with more lender-friendly terms than previously achievable.
We see high levels of idiosyncratic, stressed and distressed credit opportunities in the U.S. and Europe. We believe longer-duration capital will allow investment in much higher returning opportunities compared with public markets over the next several years.
We expect to originate opportunities at deep discounts to intrinsic value and transact bespoke secondary market deals with smaller, off-the-beaten-path private companies. In many cases, these borrowers are overleveraged. These circumstances can create opportunities to negotiate high coupon rescue loans or negotiate term loans for refinances, debt consolidation or M&A.
Public and secondary markets
While we've spoken at length about how private yields are compelling vs. comparable public market yields, some areas in public markets offer interesting opportunities. We see value in less trafficked public markets, such as mid cap convertible debt, where spreads remain wide vs. the prior year, and high yield bonds. We also like another less followed area of public markets: the now-discounted "orphaned" credits of underserved, overlooked or misunderstood middle-market publicly traded companies. We also expect to see opportunities in purchasing whole portfolios of downgraded high yield credits and direct loans5 whose owners are forced sellers for regulatory reasons6. Another increasingly attractive option with public market spreads so tight: shorting public credit, particularly by using credit default swaps.
Risks
Risks to private credit investments broadly include limited stimulus measures that hamper economic recovery, delays in widespread vaccination and/or tighter lockdowns. The rapid tightening of spreads in a market would also make a private credit investment relatively less attractive.
Our investors will continue relying on long-standing partnerships with companies, asset owners, lenders, sponsors and other stakeholders, and differentiated deal-sourcing capabilities. Our experience and expertise in fundamental analysis should serve us well. We will also lean into the insights of our broad alternatives investing platform. Outside the firm, we will turn to proprietary information networks to aid underwriting, access quality transactions and reduce execution risk.
---
1 Defaults as of November 30, 2020, were at a 10-year high of 6.2%, according to J.P. Morgan Asset Management.
2 Banks adjusting to meet risk-weighted capital regulations, many participants in the commercial mortgage-backed securities market, mortgage REITs, hedge funds and other levered debt funds have all retrenched.
3 Loans made at below replacement (construction) cost mean that if a building must be taken back, it could be run more competitively than new construction.
4 For example, the European Green Deal aims for a climate-neutral Continent by 2050. The European Commission has proposed cutting greenhouse gas emissions by at least 55% by 2030 vs. 1990 levels, mainly through clean energy and energy efficiency, according to the European Union's Climate Target Plan 2030 (as of September 2020).
5 Through Q320, USD 748 billion of outstanding high yield debt, and USD 493 billion of leveraged loans, have been downgraded. Source: Fitch Ratings, Moody's Investors Services, S&P Global Ratings, J.P. Morgan Securities LLC; data as of October 31, 2020.
6 Some structured corporate credit investors, including collateralized loan obligations (CLOs) and some trusts, have limited ability to hold distressed credits.

OVERVIEWS AND OUTLOOKS BY ASSET CLASS