Hedge Funds Outlook
Momentum for growth, despite COVID-19
14/01/2021
Jamie Kramer
Yazann Romahi
Shrenick Shah
Paul Zummo
Our hedge fund investors see strong opportunities in 2021. We expect a rich environment for growth, even with most pandemic-related dislocation behind us and generally elevated valuations. The macro backdrop is broadly supportive, with continuing fiscal stimulus, expected above-trend growth and, most of all, rebounding economies. Given ultra-low interest rates, we believe hedge funds can serve as a quite valuable portfolio complement.

We'll be investing in global megatrends—sustainability, emerging market consumers and technology (including health care tech, such as telemedicine). We believe consumer and corporate technology adoption is at an inflection point, creating opportunities in cloud computing, software, cybersecurity, payments, semiconductors and biotech. We also see opportunities in special purpose acquisition companies (SPACs), where transaction volume is mushrooming. We also favor undervalued high quality and value equities, which should benefit as vaccination campaigns help economies normalize.
Special purpose acquisition companies
Issuance in SPACs, which have proven to be a more efficient means for some companies to go public, boomed in 2020. (At publication time, 282 SPACs were seeking a deal or had a deal in progress. The amount raised through SPACs surged from USD 13.6 billion in 59 SPACs in 2019 to USD 82.8 billion raised by 248 SPACs in 2020.) Over time, the quality of sponsors, stakeholders and deal structure has improved. Yet from an investment standpoint, SPACs remain quite inefficient, providing strong investment opportunities for us. Strategies include participation in SPAC sponsor shares, initial unit formation, late-stage SPACs and volatility trading.
A revival of fundamental factors
Many stocks were hurt by pandemic-driven market volatility, which reflected shifts in sentiment more than company fundamentals.1 Cheap, high quality companies' stocks look inexpensive on a forward-looking basis and may well fare better in 2021 if economies and markets normalize. We could see a rewarding recovery of value and quality stocks, underpinned by strong fundamentals, as companies begin to trade relative to one another rather than on broader shocks and trends. Value's temporary pickup when vaccine approvals were first announced was one sign of this potential tailwind.
Our other hedge fund teams expect to find opportunities in securities that display strong value and growth characteristics.
In sustainable investing, social advances and the carbon transition get underway
We called sustainability a driver of growth in last year's outlook; today, that momentum is picking up speed. We are well positioned to identify and take advantage of hedge funds, and the other companies in which we invest, becoming more aware of advancing environmental, social and governance (ESG) issues. We see the focus broadening in a healthy way from the environment and governance to social issues, accelerated by the racial and socioeconomic disparities in COVID-19's impact on society—in health, income and educational access—and the revitalized civil rights movement in the U.S. Many companies, and hedge funds themselves, have begun to understand the importance of a diverse workforce.
We will use proprietary metrics to track and rank target investments' staff diversity, and a raft of other ESG factors,2 to help us invest in ESG winners and avoid or short the losers. The proliferation of relevant data should make the process more reliable than ever.
Profitable and climate-friendly
The carbon transition—away from fossil fuels to mitigate climate change—should also create investment opportunities, among them renewable power, transport and energy efficiency. Over time, we expect the set to expand as more companies find profitable climate-friendly business models. European firms are today's leaders, but the U.S. should move forward under the Biden administration. Meanwhile, China recently adopted aggressive decarbonization targets (Exhibits 1A and 1B). Across regions, we will look for sustainable companies poised to gain market share. Quantitative investors will access and analyze Big Data to help design and enhance these strategies in 2021.
As governments worldwide seek to mitigate climate change, there are opportunities in the shift to renewable energy sources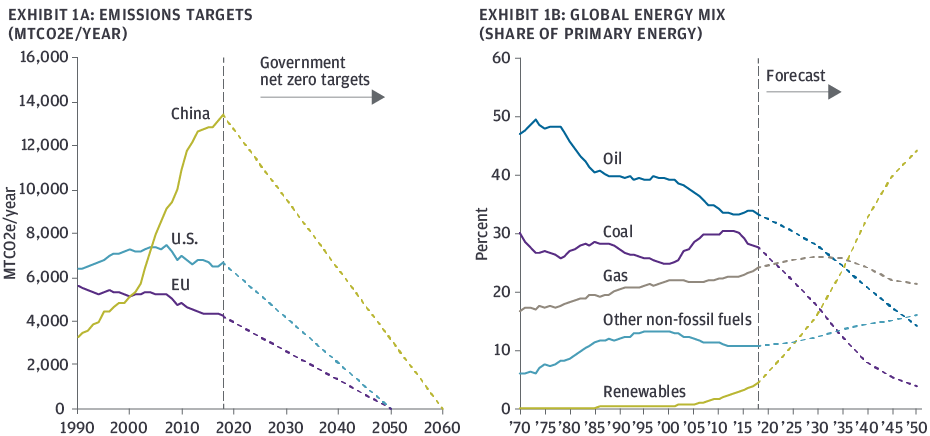 Source: (Left) ClimateActionTracker, J.P. Morgan Asset Management. MTCO2e is metric tons of carbon dioxide equivalent, a standard emissions measure. (Right) Past performance and forecasts are not reliable indicators of current and future results. Data as of October 31, 2020.
The emerging market consumer
Middle-class consumers in emerging markets are key drivers of global demand. We favor, for example, consumer discretionary and financial services in India and Indonesia, where working-age urban populations are growing in size and wealth, and businesses and consumers are taking on more credit. We're searching for tech opportunities in Asia, particularly China, and Latin America, where consumers are adopting technology at accelerated rates. We also like health care in China—biotech, generics, innovative therapeutics and pharmacy networks.
Our investors also like:
Shareholder activist-oriented strategies, underappreciated especially in Japan, where corporate managers are being encouraged to enact shareholder-friendly change, such as lifting dividends.
The potential for volatility to be a friend to many hedge fund styles. While volatility should subside moderately in 2021, we continue to believe periodic spikes will be supportive, creating a robust alpha environment for hedge fund strategies such as statistical arbitrage, convertible bond arbitrage and volatility arbitrage.
The wide dispersion of performance we expect—among sectors, strategies, stocks and hedge fund managers—should help us generate alpha and allow hedge funds to complement traditional stock and bond holdings at a time of ultra-low rates. Hedge funds' volatility profiles are in some cases similar to fixed income portfolios' yet have the potential, we believe, for far more upside.
---
1 Value companies' plunge followed several down years, during which a massive gap arose between value stocks and expensive growth stocks, amid a surge in growth stocks on investor exuberance.
2 These include whether a company has sexual harassment policies and gender pay equality; whether it is doing carbon offsetting and has LEED facilities; and under the governance umbrella, various measures of corporate operational due diligence, such as an official audit policy.
OVERVIEWS AND OUTLOOKS BY ASSET CLASS