Quarterly Perspectives 4Q 2021
Dr. Jasslyn Yeo
J.P. Morgan Asset Management is pleased to present the latest edition of Quarterly Perspectives. This piece explores key themes from our Guide to the Markets, providing timely economic and investment insights.
THIS QUARTER'S THEMES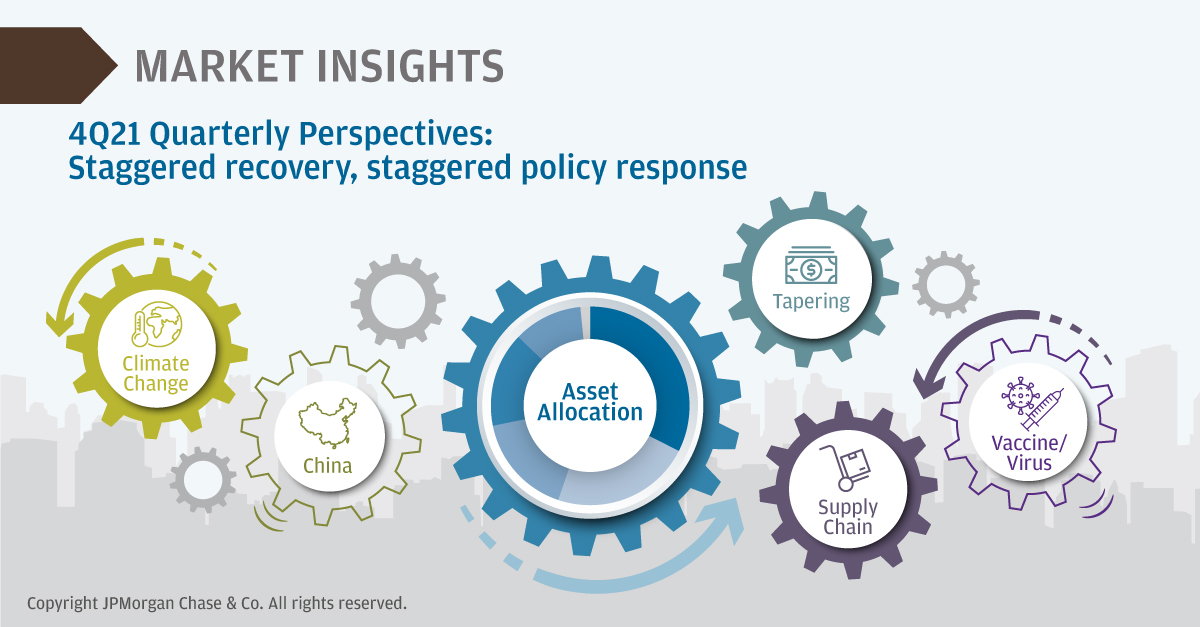 Recovery bright spots still rotating
Overview
The global economic recovery continues but the bright spots are now the U.S. and Europe. Asia could be next if vaccination rates increase, facilitating the reopening of economies and borders.
The Fed is on track to begin winding down its asset purchase program by the end of 2021. Other central banks could also consider reining back emergency measures.
China's regulatory environment, the United Nations Climate Change Conference (COP26) and supply chain bottlenecks are risk factors to be mindful of in 4Q 2021.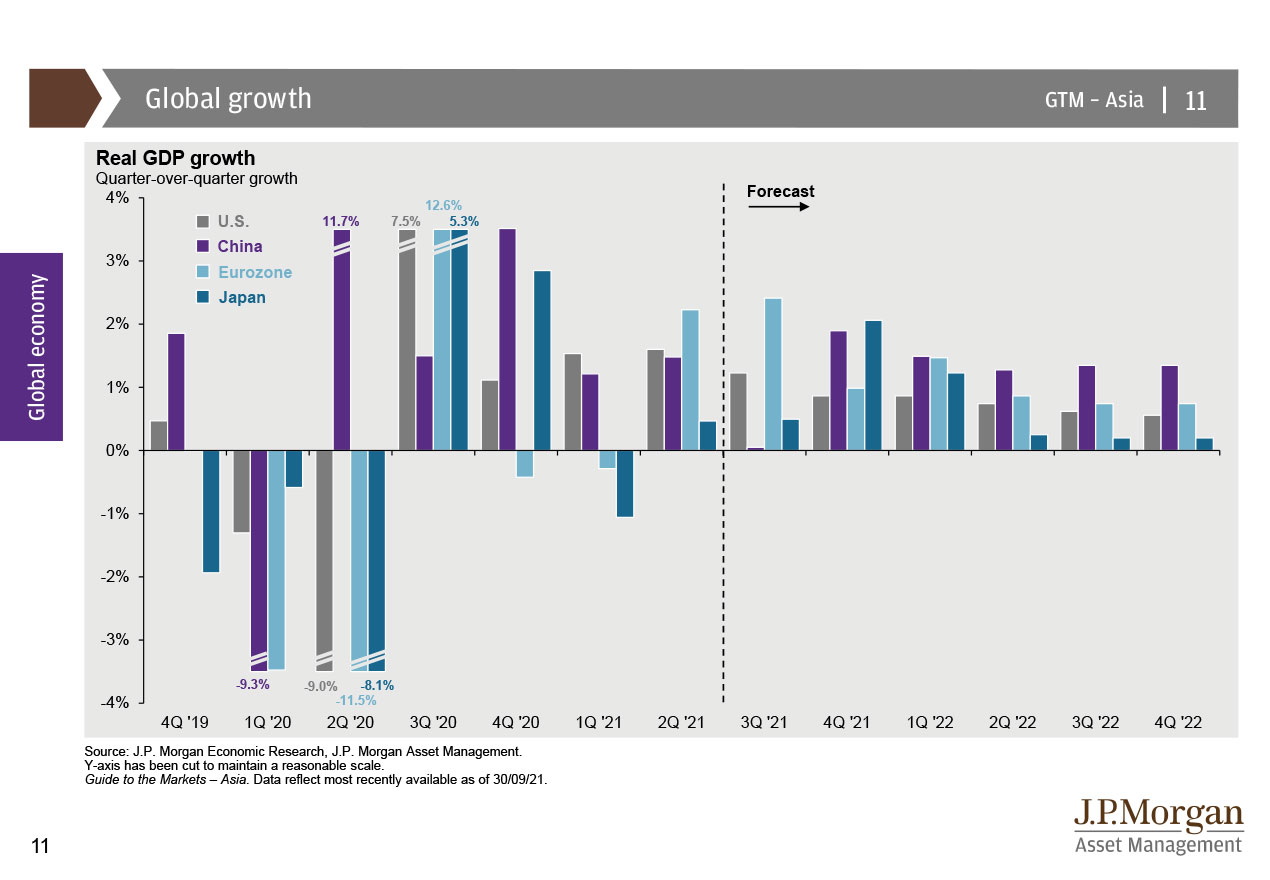 This chart shows the quarter-on-quarter gross domestic product (GDP) growth of China, eurozone, Japan and the U.S. In addition to the historical growth data since the COVID-19 pandemic began, forecasts from J.P. Morgan Economic Research are also included to show the projection of expansion in the quarters ahead.
Essentially, this illustrates the rotation of recovery bright spots over the past few quarters. China was one of the first major economies to contain the pandemic in 2020. This was followed by the U.S. and the eurozone. Asian recovery could be more sustained in 2022, if vaccination rates increase in the coming months.
Recovery spotlight shifting back to Asia?
The global recovery is still on track albeit at a varying pace, driven by the fallout from the pandemic and vaccination progress.
China was one of the first major economies to recover, but its economic momentum has slowed due to policy normalization and sporadic outbreaks, which have cooled consumer sentiment. China's economic momentum should stabilize as fiscal policy becomes more supportive and monetary policy shifts from tightening to neutral.
Europe and the U.S. have enjoyed a summer of firm rebounds as their economies reopen. The latest outbreak in the U.S. has put some temporary pressure on services, and the winter months could be more testing.
Vaccination rates are increasing in Asia. Several economies, especially in Northeast Asia, should reach a 60%-70% vaccination rate by the end of 2021. This would allow for a more sustained recovery of domestic demand.
This chart shows the size of G4 central banks' (Bank of England, Bank of Japan, European Central Bank and the Fed) balance sheets over time and our projections for the next 12 months.
While the Fed could look to reduce its asset purchases before the end of 2021, other G4 central banks are likely to maintain their asset purchase programs to reach their inflation targets and policy objectives.
Rolling back the emergency measures
The Fed is expected to start winding down its asset purchase program before the end of 2021. Other central banks could also selectively rein back their ultra-loose monetary policies.
The Fed has strongly hinted that QE will be reduced in 2021. We expect the process to take place over 8 to 10 months.
Other developed market central banks are also normalizing policy, but at a more gradual pace considering their fiscal stimulus has been less aggressive and the immediate inflation pressure is more benign.
Select emerging market central banks have already started to raise interest rates. In Asia, the Bank of Korea was the first to raise its policy rate in August 2021. The rest of the Asian central banks could be more patient. China has already reached the peak of its tightening cycle.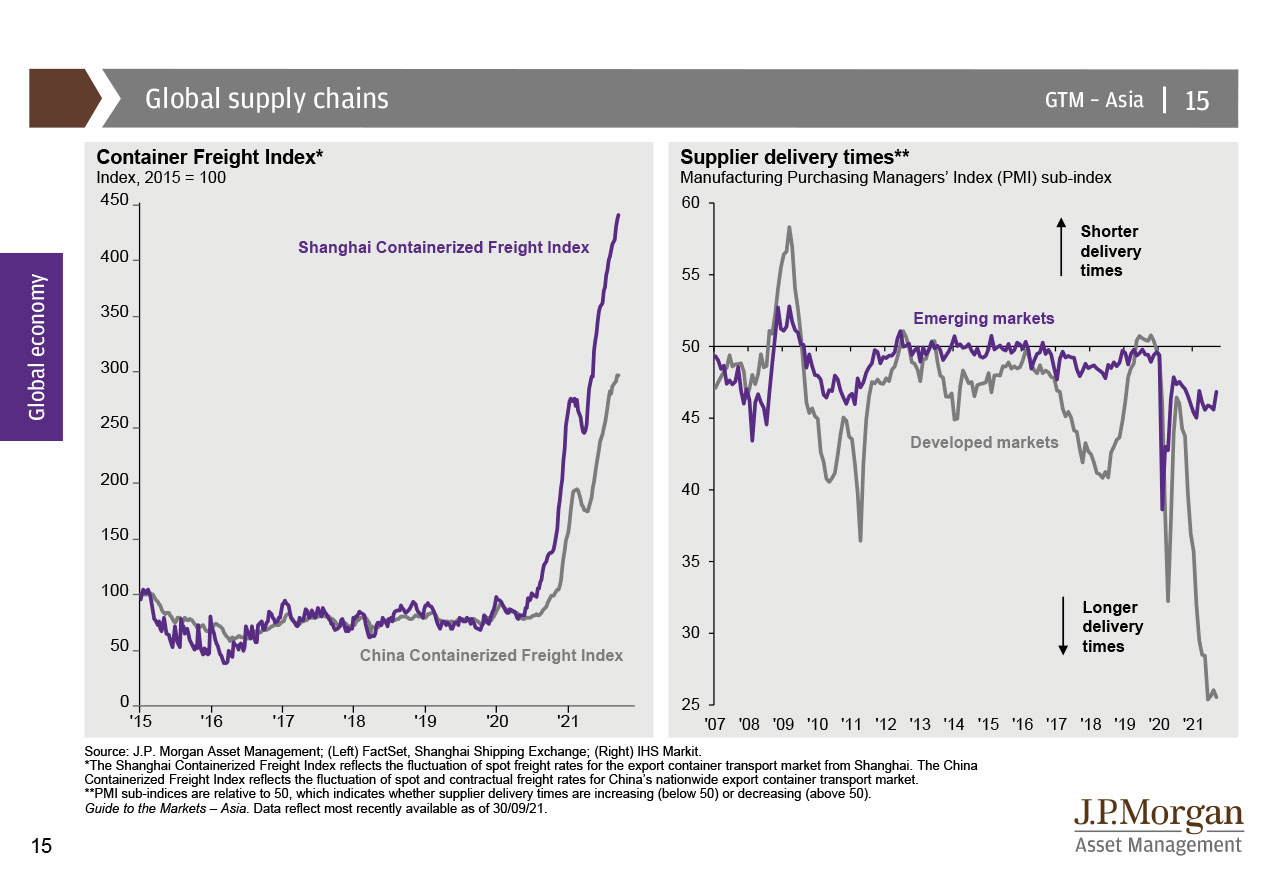 This chart shows the cost of shipping globally, which has been rising due to pandemic-related disruptions. This additional cost would be absorbed by the supply chain or end-consumers.
In addition to higher shipping costs, delivery times have also become longer, adding to the cost of doing business.
China regulations, climate change and supply chain bottlenecks
In addition to economic recovery and monetary policy normalization, a few market events could continue to influence sentiment.
China regulatory changes and a drive to improve income equality could continue to affect investor sentiment. We see policy tailwinds for some sectors, such as carbon neutrality and import substitution in technology.
COP26 should refocus market attention on policies to reduce greenhouse gas emissions, while raising the risk of new trade barriers for products that fail to meet emission standards.
Logistics and supply-side bottlenecks, especially for semiconductors, are hindering the global economic recovery and potentially introducing more inflation pressure. The general expectation is for this to tame over time, but so far it is taking longer than expected.
Investment Implications
The global economic recovery continues to support risk assets, including equities, corporate credit and emerging market debt.
The tapering of central bank bond purchases is important, but not the only factor dictating investment returns. The COVID-19 pandemic, inflation outlook and earnings growth are still key considerations for asset allocation. Asian central banks are likely to keep interest rates low for an extended period of time, implying the continuing need for income.
Thinking beyond tapering
Overview
The Fed's tapering of its QE program is expected to dominate market sentiment in the near term, but investors should note that economic and market backdrops are different now compared to the taper episode in 2013.
Rich valuations in equities and fixed income imply investors would need to further diversify their allocations, both by asset class and geography.

Despite policy normalization by select central banks, cash rates in Asia remain low, and Asian investors' demand for income and yield remains robust.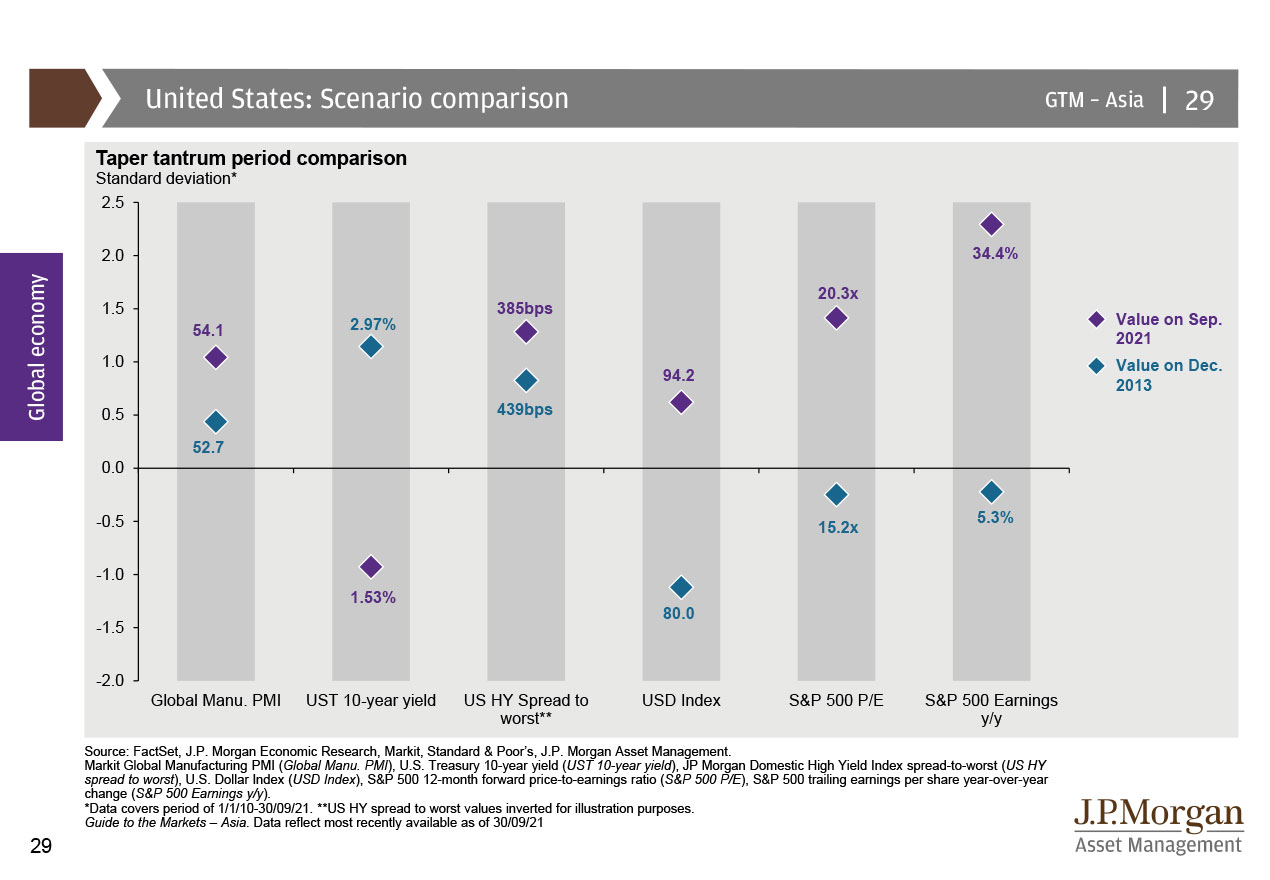 This chart illustrates the latest level of several market and economic indicators, compared with the level seen at the start of the 2013 QE tapering and their 10-year ranges.
It is important to recognize that the economic and market backdrops now and in 2013 are significantly different. Investors would need to take these factors into account when building their portfolios.
QE tapering is not the only game in town
As the Fed begins to wind down its asset purchases in the months ahead, we should take note of some of the differences between 2013 and 2021.
Equity valuations, especially in the U.S., are higher now with 20.3x price-to-earnings (P/E) for S&P500, than in 2013 (15x P/E). Corporate earnings are still enjoying strong momentum from the recovery.
Bond yields were significantly higher at the start of the 2013 QE tapering at 3%. The "Taper Tantrum" earlier in 2013 meant bonds had already repriced. U.S. Treasury yields are now at 1.3% and risk remains on the upside.
The USD is now 17% higher than when the Fed last cut bond buying. While the USD could strengthen in the near term, the risk remains on the downside in the medium term.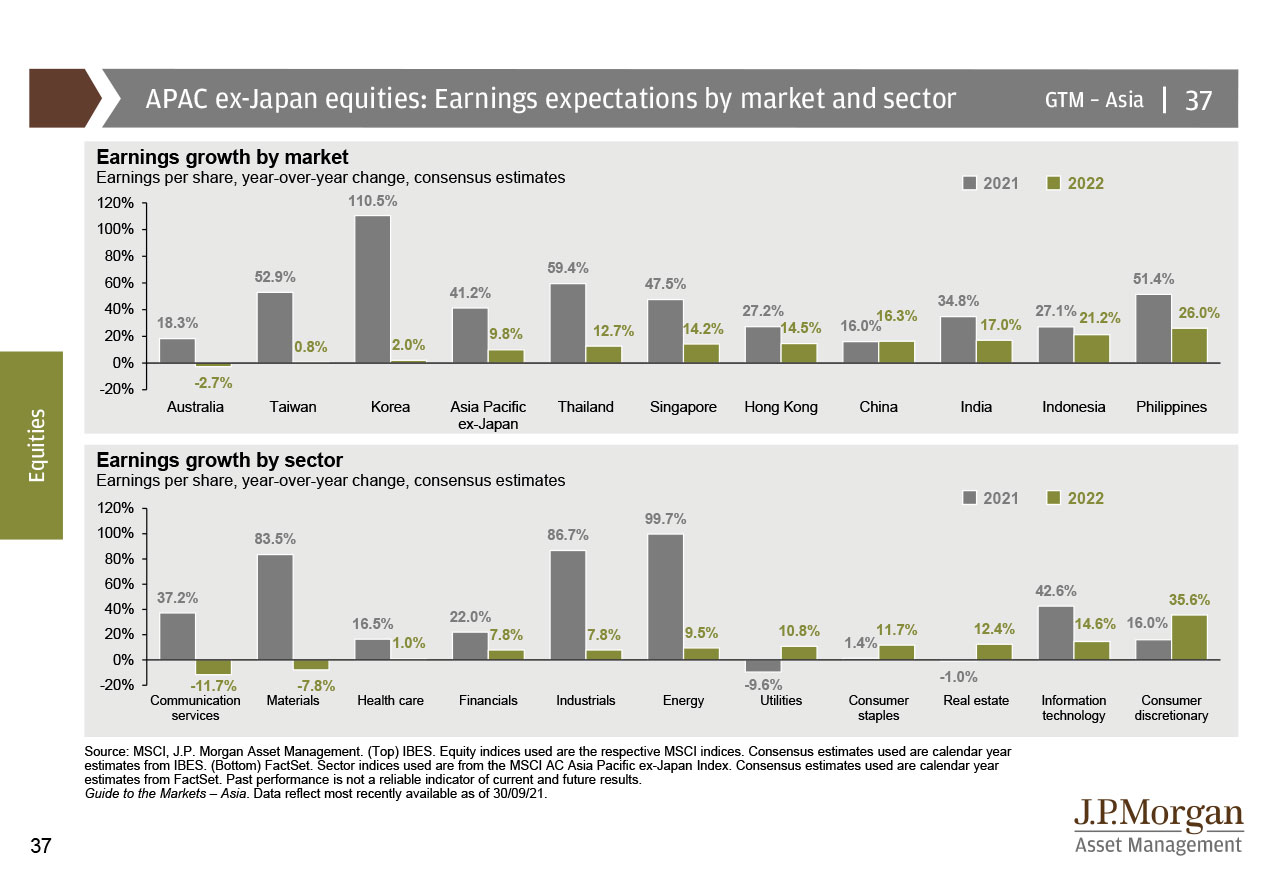 This page illustrates the earnings expectations for Asia Pacific ex-Japan by market and by sector.
Strong exports and a low base from 2020 helped boost earnings recovery in Asia, especially in Northeast Asia. Domestic demand and the services sector could see a boost in earnings outlook if Asian governments are able to better contain the pandemic.
Waiting to reopen
Asian and EM equities deserve more attention as vaccination progress accelerates.
The U.S. and Europe are entering the mid-cycle, which is consistent with positive, but more moderate, equity returns.
Asian earnings have been supported by exports so far. Rising vaccination rates should help bring back domestic demand, thus boosting corporate profitability. Northeast Asia should benefit first, followed by ASEAN.
Rotation toward value and cyclical sectors still has more room to grow, especially in Asia and emerging markets, which have been laggards in economic recovery. China's regulatory reforms, plans to reduce greenhouse gas emissions and supply-chain bottlenecks should continue to influence market sentiment going into 2022.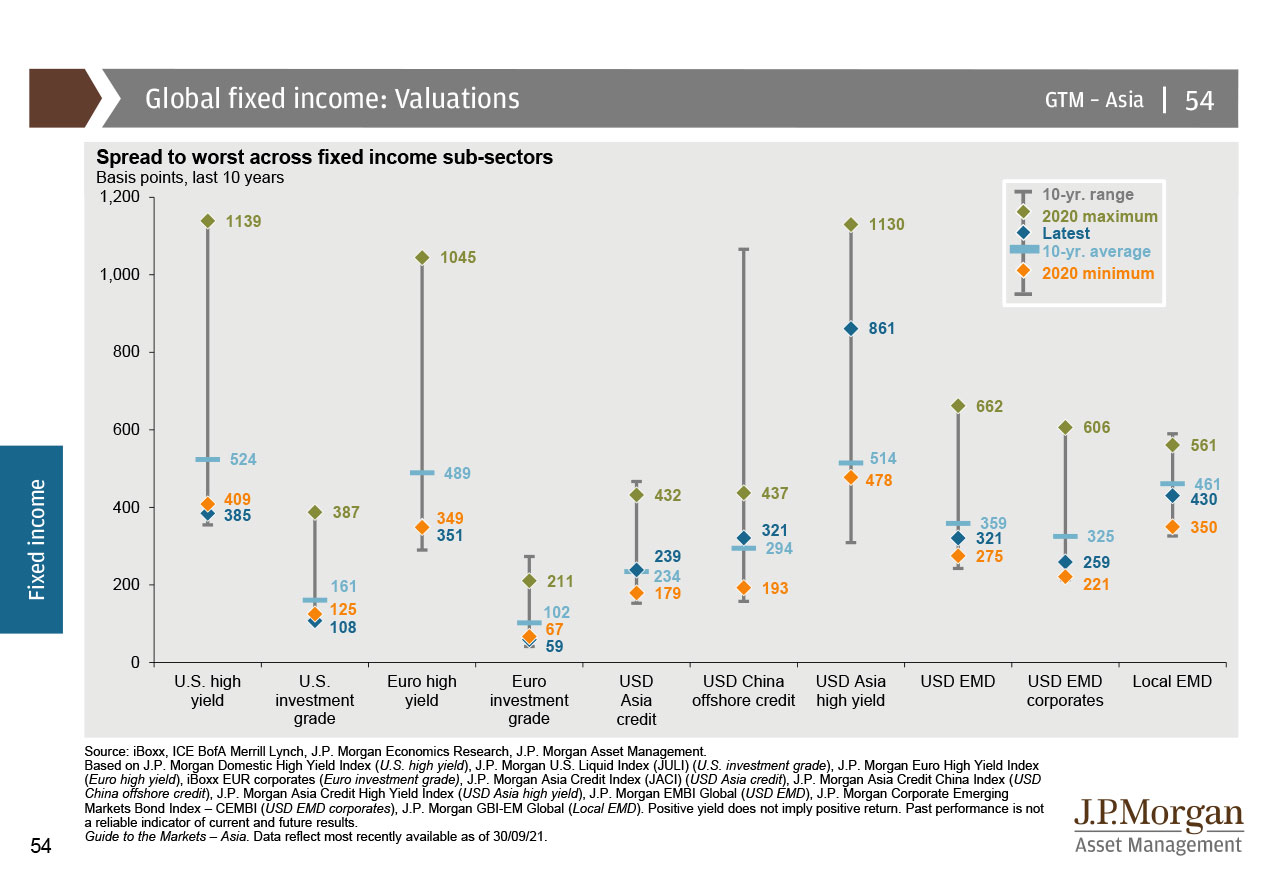 This page shows the spread-to-worst across fixed income sub-sectors, a measure of valuation.
Credit spreads of U.S. and European corporate debt have already fallen below pre-COVID-19 levels. For Asian and EM debt, there is still modest room for spread compression, delivering return to investors.
Seeking income in EM fixed income
Growth momentum and relative valuations still put equities in a brighter spot compared with fixed income, but we still see opportunities in high yield (HY) and EM debt.
Coupons continue to be a key source of return for U.S. and European HY corporate debt given tight credit spreads and rich valuations.
EM debt has underperformed in 2021 partly due to a stronger USD, EM central bank tightening and China corporate default concerns.
Broader recovery in the next 12-18 months should reverse USD strength. China's monetary policy normalization is coming to an end. These factors should prompt yield seekers to take a closer look at EM fixed income, especially considering its valuation and corporate credit spreads are less demanding compared to U.S. HY corporate bonds.
Investment Implications
The global recovery, upside risks to government bond yields and relative valuations are underpinning our preference for equities over fixed income.
The U.S. and Europe are currently the bright spots for earnings recovery. Still, the underperformance of Asian equity markets could turn if vaccination rates increase and governments are able to reopen their economies and borders. Northeast Asia, including Japan, could kick off this process first, followed by the Association of Southeast Asian Nations (ASEAN).
Although the U.S. dollar (USD) should strengthen with the Fed's policy normalization in the near term, the broader global recovery and America's twin deficits should reverse this trend in the long run. This would benefit Asian and EM fixed income. China's greater support for growth should also benefit its fixed income market.
China: Awaiting clearer policy signals
Overview
The latest resurgence and the implementation of strict lockdowns point to the Chinese government's determination in pursuing the zero-COVID-19 strategy.
This implies potentially a more volatile growth outlook for China as economic activities may act as the shock absorber to prevent any resurgence in infections.
Regulatory reforms also remain on the cards for some of the "new economy" industries where the Chinese authorities see the need to achieve better social outcomes.
We remain cautious on the earnings growth of these sectors until there are clearer signals of a more stable regulatory regime.
The left chart demonstrates the progress of COVID-19 vaccinations across the world, illustrating the percentage of populations that have received at least one dose of vaccine. Many economies have accelerated their vaccination rollouts compared to August, helping to control the virus transmission and allowing for slow resumption of economic activity.
China is among economies with high vaccination rates. In addition, social distancing measures, border controls and lockdown measures are maintained, thus keeping new case numbers low.
Effective control of the pandemic comes at a cost
China is one of the economies with the high vaccination rates. Together with stringent control measures aimed at achieving zero-COVID-19, reported domestic infection cases have been kept at low levels. However, this might imply higher economic and social costs than the other economies.
China has accelerated its vaccine distribution program since 2Q 2021. As of September 18, 76.2% of the population have received at least one dose of vaccine. China also began vaccinating children in 3Q 2021.
To suppress the virus, social distancing measures have been maintained even as infection rates stay low. Partial lockdowns and large-scale virus screening are launched whenever new cases are discovered. These measures are aimed at curbing widespread transmissions.
However, the current strategy comes at a high cost to the government, as well as unexpected disruption to economic activities.
Policymakers aim to boost China's long-term growth potential and achieve better social outcomes through a series of regulatory campaigns.
Property, internet and education are the major sectors subject to pressures. Policy uncertainties will likely persist until there are clearer signals of a shift to a more stable regulatory regime.
Short-term headwinds from escalating regulation
With gradual recovery from COVID-19, Chinese policymakers are introducing various schemes to address the challenges of long-term growth.
To curb the downward trend in the birth rate, property market controls have been ramped up to lower housing cost and off-school tutoring services have been restricted to relieve the education burden on families.
Internet-related sectors are under continuous pressure from anti-trust investigations, which are deemed as a necessity to improve competition and support small and medium-sized enterprises.
These measures are necessary to achieve sustainable growth in the long run. However, short-term uncertainties are rising, particularly in terms of consumption and private investment.
Credit impulse on the left-hand side measures the year-over-year change in the credit flow within China. The chart shows that China started policy normalization in mid-2020 when the economy was recovering from the COVID-19 pandemic. Credit conditions continue to tighten in 2021, thereby affecting China's external demand in the global market.
The People's Bank of China (PBoC), its central bank, adopted a mechanism of interest rate corridor to realize its control on financing cost in the market. The market rate was guided down significantly by the PBoC during the pandemic. It then rebounded when the central bank adopted a neutral stance recently.
Structural fine-tuning expected
When policymakers adhere to their long-term reform plans, the fine-tuning of monetary and fiscal policies is also necessary to offset the shocks so as to smoothen the short-term growth trajectory.
The PBoC announced a 50 basis point (bps) reserve requirement ratio (RRR) cut on July 9, 2021, which released about RMB 1trillion long-term funds to replace the outstanding medium-term lending facility (MLF). One or two more such measures could occur before the end of 2021, alongside structural interest rate cuts to support small businesses.
In addition, fiscal policy may do more of the heavy lifting to support growth, especially as the 2021 government bond issuance is running below this year's quota and could be stepped up.
These operations may help improve liquidity conditions and provide some tailwind to the manufacturing sector.
Investment Implications
Given the economic cost and difficulty in eradicating COVID-19 within the community, especially as more Asian governments start to reopen their economies, we believe Chinese policymakers may also evaluate their zero-COVID-19 strategy in the near term.
The loss of momentum in the economic recovery simply strengthens policymakers' case to act in a timely manner to stabilize growth. Fiscal policy will likely take the lead as monetary easing may remain targeted.
This should help buffer some of the short-term reform shocks. A marginal improvement in liquidity conditions for the rest of this year would be a policy tailwind for the manufacturing sector. Meanwhile, after a prolonged correction, the consumer sector could also benefit from policy easing and more resilient sentiment.
We still believe China remains an integral part of any investor's portfolio, both in equities and fixed income. However, flexibility and selectivity are crucial.
Emerging markets stumble on
Overview
So far this year, EM equities have underperformed developed markets as emerging economies (ex-China) have lagged the broader global recovery. We expect this to reverse in the near future as the U.S. lead in economic growth and virus recovery starts to moderate.
The EM outlook is mixed, but we will still see positive drivers that will support performance against developed markets. Growth should no longer be as relatively weak, valuations are rich but still favorable against developed markets, USD headwinds will fade and the prospect of a recovering commodity market also brings tailwinds.
COVID-19 concerns underpin worries over the recovery prospects of many economies and the performance of their respective equity markets. The possibility of new waves of infections causing disruption through mobility and activity restrictions has not disappeared. The rise in cases caused by the Delta variant has been the latest concern.
The pace of vaccinations has been a key indicator in how well observers rate recovery prospects. From the chart, many EM economies have lagged but have begun to catch up. Still, some emerging markets should experience a pick-up in vaccination rates in the next 12-18 months, and that would allow for a more comprehensive recovery.
The U.S. is no longer clearly ahead
Emerging markets have lagged developed markets, especially the U.S., in vaccination rollouts and growth prospects. But this is beginning to turn.
The highly infectious Delta variant caused a new wave of infections across economies in recent months. Asia, in particular, was hit hard. Recent global activity and sentiment have softened as a result, but significant improvements have been made in vaccinations.
COVID-19 risks will ease as vaccination progresses, although new variants will always be of some concern. We expect above-trend growth as pent-up domestic demand is unleashed. EM growth will accelerate more relative to the U.S. as the American economy transitions from early- to mid-cycle. This improvement in EM to DM growth differential has historically been positive for relative performance of EM equities.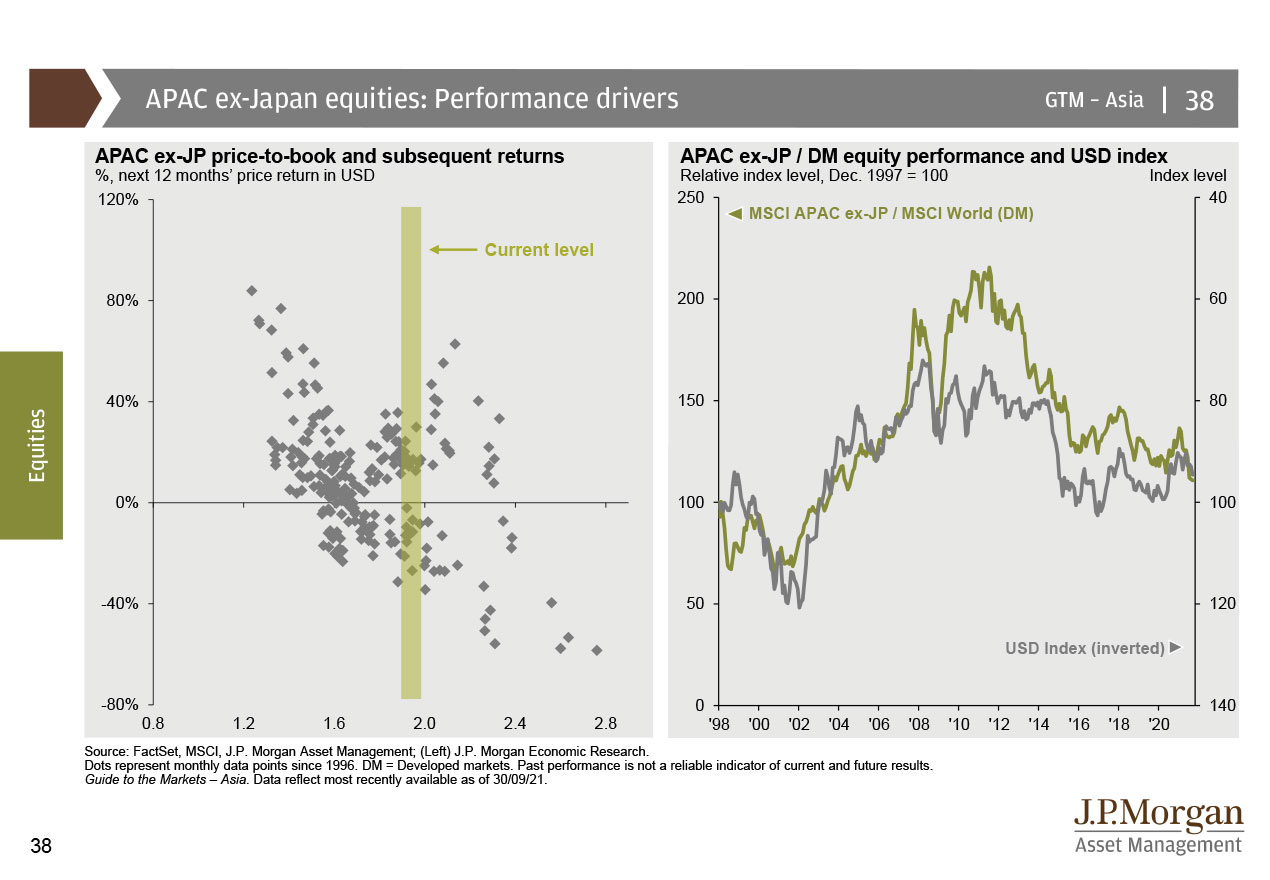 Low price-to-book (P/B) ratios have usually resulted in positive returns in the subsequent 12 months. The higher the P/B ratios become, the less likely this appears to occur. The APAC ex-Japan index has still historically tended to provide positive returns at current P/B ratios. Compared to valuations in developed markets, EM and Asia valuations are still favorable.
Historically, we can see that APAC ex-Japan equities tend to outperform DM equities when the USD weakens. Our longer-term outlook is for the USD to weaken, with the U.S. government expected to run very large fiscal deficits as they roll out new spending plans.
USD movements could turn more favorable while valuations are still relatively attractive
The case for EM equities still has support in the form of relative valuations and USD movements.
Valuations across emerging markets are not cheap. Both the MSCI EM and MSCI APAC ex-Japan 12-month forward P/E and trailing P/B ratios are above their 15-year averages. However, valuations for the U.S. and Europe are even higher, being very close to their 15-year highs. In such a scenario, this makes emerging markets relatively more attractive.
A stronger USD has historically been a headwind for EM and Asia equity performance. Market expectations for tapering and eventual interest rate hikes in the U.S. may support the USD in the short term, but our longer-term view is that the USD will weaken owing to the structural weights of the twin deficits.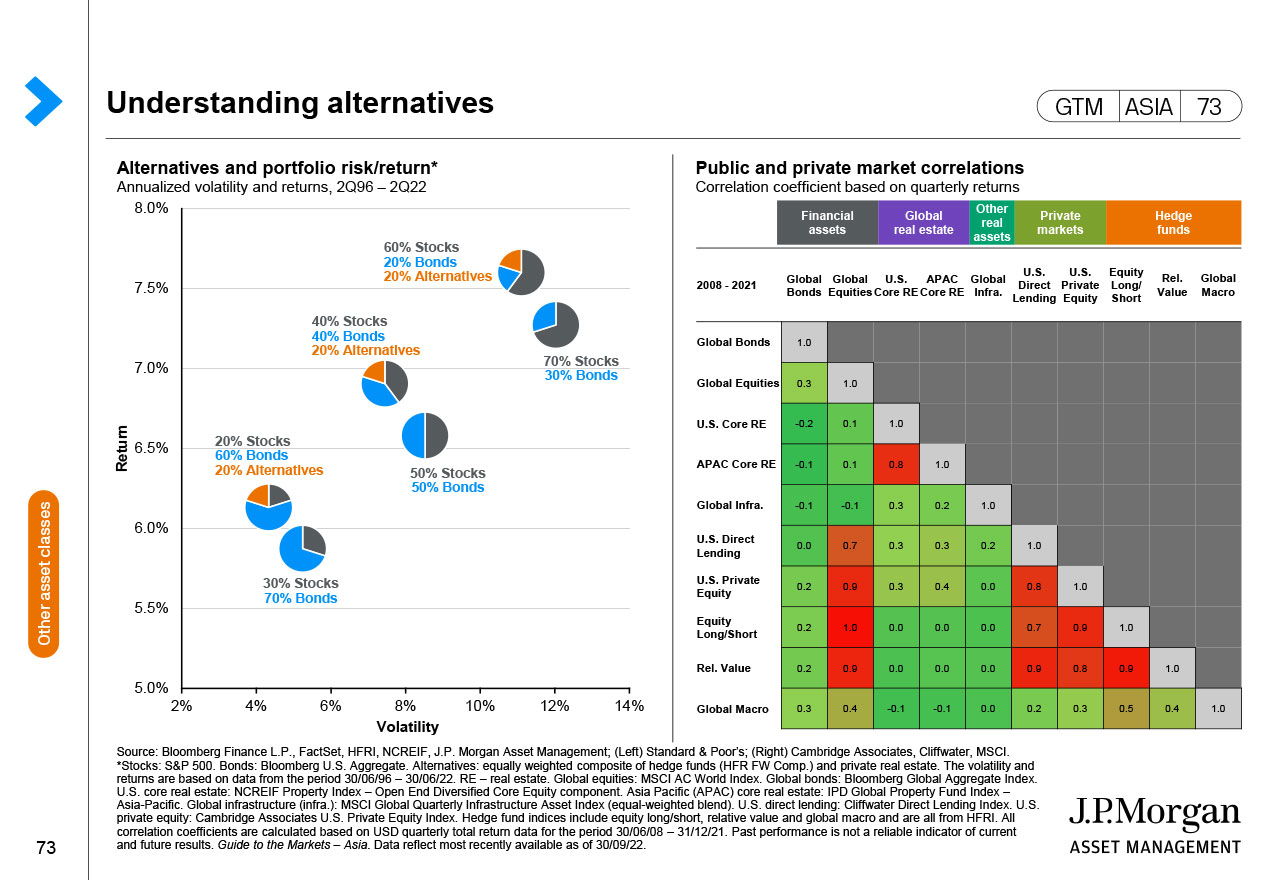 Chinese activity has a lot of influence on commodity prices. Industrial metals' prices have moved closely with China's credit impulse. Hence, we observe that Chinese credit growth, such as in 2020, coincided with strong metal price performance. In contrast, credit tightening, which is expected for China this year, tends to lower industrial metals' prices.
Commodity prices and emerging market performance tend to go hand in hand. If commodities perform well, commodity-reliant markets like Latin America and EM EMEA (Europe, the Middle East and Africa) will also tend to outperform.
Commodity tailwind
Commodity strength could provide a much-needed tailwind for EM performance, but the story is mixed.
Pent-up demand from re-opening and shipping/supply issues has caused commodity prices to increase during 1H 2021, but there is the possibility that the rally we have seen will fade.
A rollover in the China credit impulse suggests less price support as many commodities — particularly industrial metals — are tied to China's activity cycle. Our expectation here is for the credit impulse to stabilize as China adjusts policy from weighing too much on growth.
Supply bottlenecks may soon ease, but in our long-term view, the shift away from oil to meet green energy targets will benefit metal prices.
Investment Implications
The prospects for EM performance are improving. For investors looking to re-engage in these markets, EM performance could benefit from a shift in relative growth levels, more attractive valuations and a positive commodity outlook.
There are short-term risks from the strength of the USD and a slowdown in China's credit impulse, but emerging markets are able to offer diversification benefits and good long-term growth prospects.
NEXT STEPS
Please contact your J.P. Morgan representative to learn more about the Market Insights program.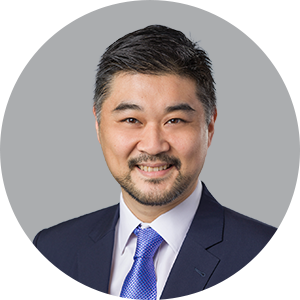 Tai Hui
Managing Director Chief Market Strategist, Asia Pacific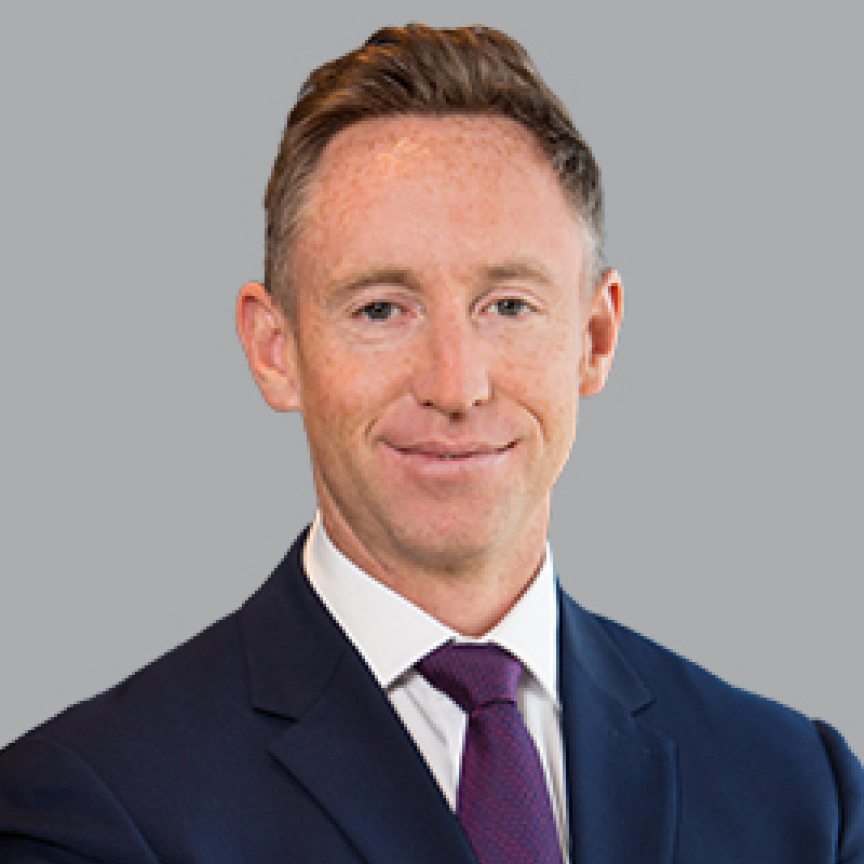 Kerry Craig
Executive Director Global Market Strategist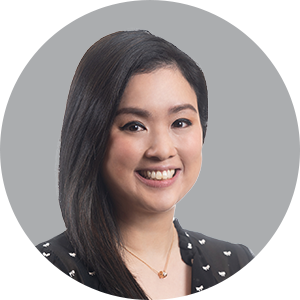 Marcella Chow
Vice President Global Market Strategist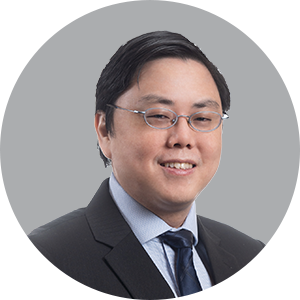 Ian Hui
Vice President Global Market Strategist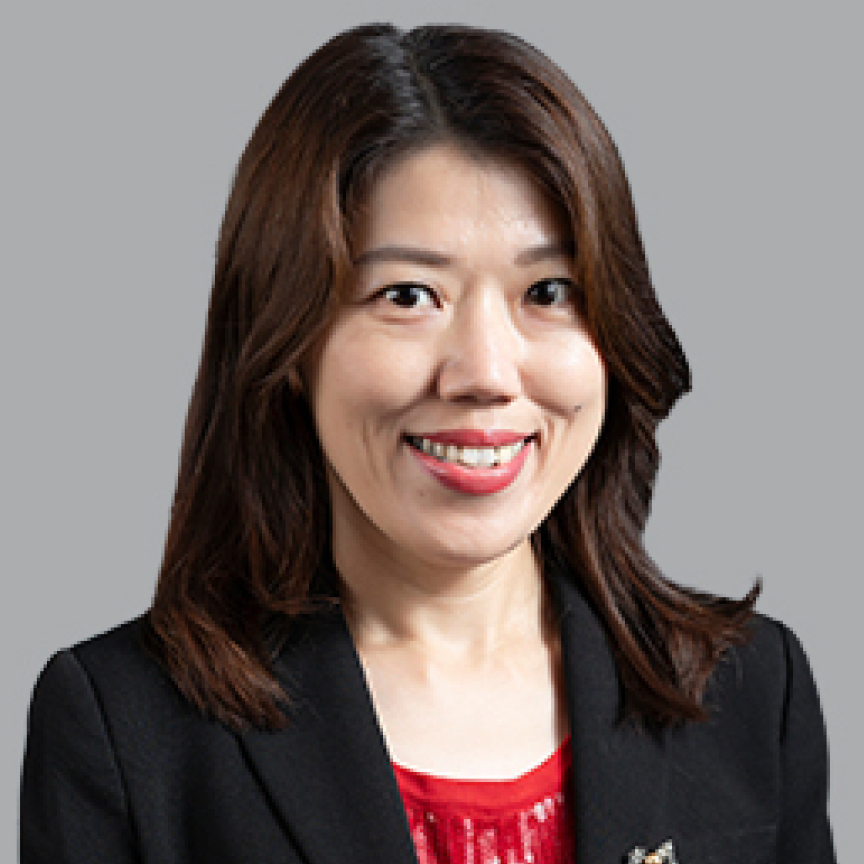 Agnes Lin
Executive Director Global Market Strategist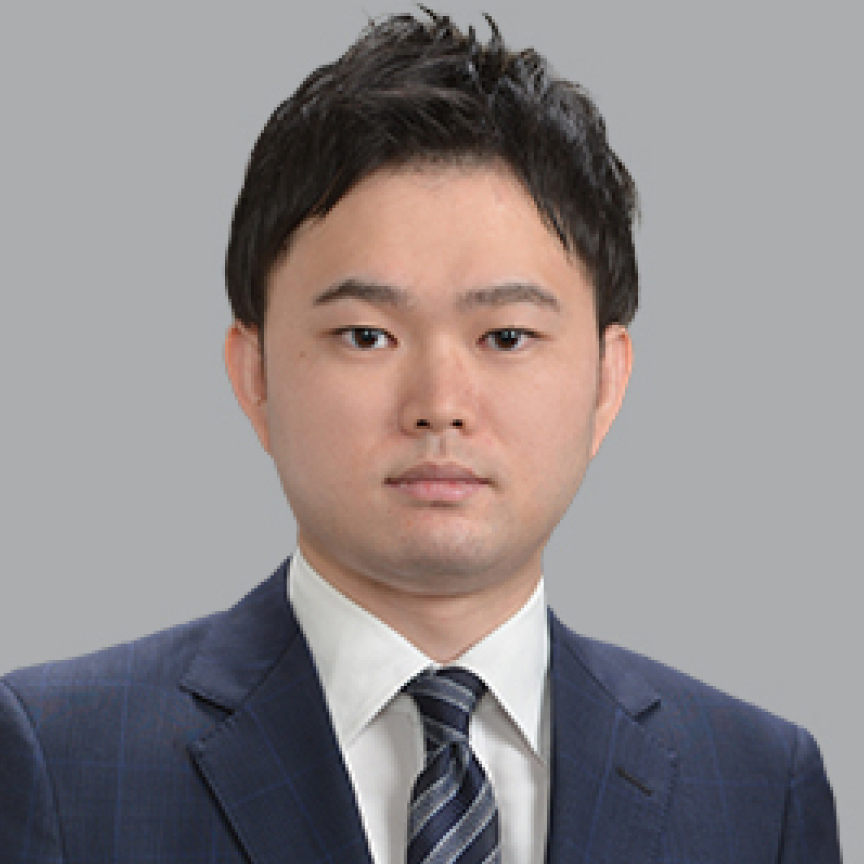 Shogo Maekawa
Vice President Global Market Strategist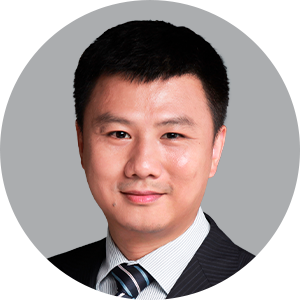 Chaoping Zhu
Executive Director Global Market Strategist