At J.P. Morgan Asset Management, we know that the way companies manage ESG risks and opportunities has consequences for their business results. Across our active investment processes, we incorporate financially material ESG factors in our research and decision making with a single objective: to deliver stronger risk-adjusted returns.
What are ESG factors?
Environmental, social and governance (ESG) factors are a set of metrics - not always systematically reported in the past - that can affect the performance of companies and other security issuers.

---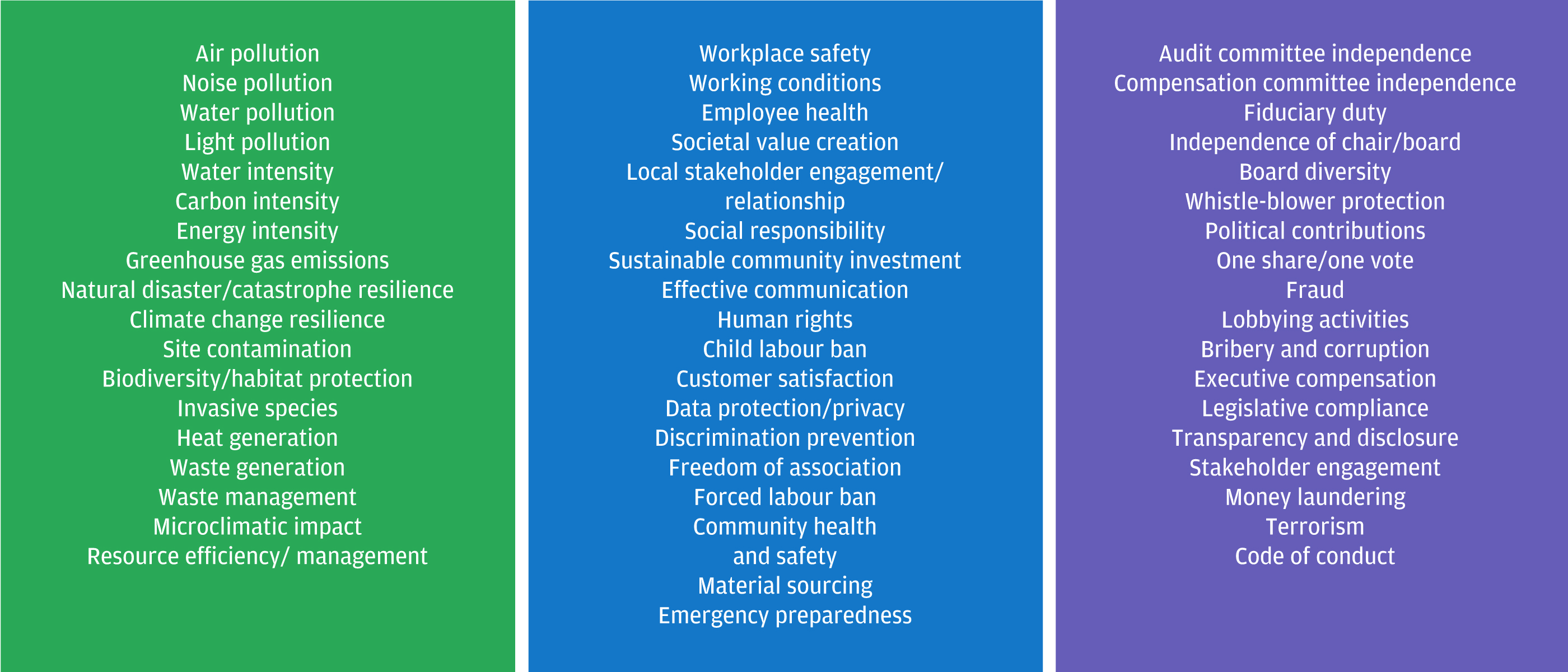 ---
ESG integration matters
Our belief that ESG integration can help us build stronger portfolios for our clients is supported by a large and growing body of evidence. Sustainable business practices are no longer optional for companies, but are becoming necessary to keep them from falling behind.
Source: Gunnar Friede, Timo Busch and Alexander Bassen, "ESG and financial performance: Aggregated evidence from more than 2000 empiricalstudies," Journal of Sustainable Finance & Investment, 5:4 (2015), 210-233, https://www.tandfonline.com/doi/pdf/10.1080/20430795.20 15.1118917.
89%
of empirical studies find a positive link between ESG factors and the financial performance of companies.
Evaluating ESG integration
ESG factors are integrated into each investment process in a manner consistent with the underlying investment style. However, the Sustainable Investing team use the same 10-point framework and assessment process to evaluate integration across strategies.
Metrics
Research & investment management
1. Research analyst/ investment due diligence

2. Consideration at portfolio management / investment decision level
3. Breadth of third-party ESG data
4. Level of proprietary research conducted
5. Company / Sector coverage
Documentation
6. Documentation of integration methodology
7. Documentation of proprietary data and research methods
Monitoring
8. Risk management and oversight
9. Systemisation
10. Ongoing monitoring and maintenance
Case study
SILT is Sustainable Investing Leadership Team.
Asset class approach to ESG integration
Since 2016, we have been working to integrate material, relevant ESG factors in our active investment processes. Today, we have formalised our approaches to ESG integration across asset classes.