Workers are looking to employers for answers
Our research found that a majority of DC plan sponsors appear willing to provide the post-retirement assistance people seek. Employees know and trust their employers, and more are staying in plan beyond their working years. Adding retirement income strategies to the menu gives retirees ongoing professional management at a reasonable cost when they need it most. It also makes the plan more attractive when recruiting and retaining talent.
More retirees than ever are remaining in plan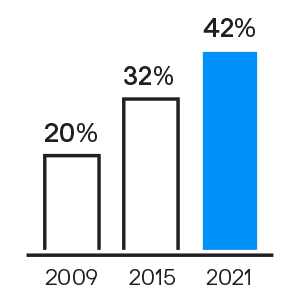 The number of participants with plan balances three years after retirement has more than doubled since 2009.1
Employers are answering the call
More than half of sponsors believe they have a responsibility to offer retirement income solutions.2
Income strategies make plans more attractive
More than four in five participants (85%) would likely stay in plan if there were a retirement income option.3
Using real-life data to better understand American workers' behaviors and create more effective retirement income solutions
1.4
million
DC participants
across 4,500 plans1
23
million
DC and IRA accounts
through collaboration
with EBRI4
63
million
Chase banking
households5
J.P. Morgan Asset Management's unique access to DC participant data and Chase consumer spending data as well as a research collaboration with the Employee Benefit Research Institute (EBRI) provides the industry's first holistic view of retirees' saving and spending behaviors and how their habits change over time. This view allows us to go beyond conventional industry assumptions to more deeply understand income needs and more effectively design solutions around those needs to help you and your clients meet their goals in retirement.
Featured retirement income solutions

SmartRetirement® Blend Funds
An all-in-one target date fund solution for any point of a participant's retirement journey – from maximizing savings during working years to making those assets last throughout retirement.
SmartRetirement® Plus
A solution that pairs the JPMorgan SmartRetirement target date funds with AIG Life & Retirement's IncomEdge Control annuity, a protected lifetime income product, issued by The Variable Annuity Life Insurance Company.6 To learn more, contact your J.P. Morgan representative.7
1 J.P. Morgan retirement research. 2 J.P. Morgan Plan Sponsor Research, 2019. 3 J.P. Morgan Plan Participant Research, 2021. 4 In 2020, J.P. Morgan Asset Management formed a research collaboration with the Employee Benefit Research Institute (EBRI). This research draws on their joint database of IRA and 401(k) accounts that is maintained in partnership with the Investment Company Institute (ICI). In an ongoing collaborative effort, EBRI and ICI maintain the EBRI/ICI Participant-Directed Retirement Plan Data Collection Project, which is the largest, most representative repository of information about individual 401(k) plan participant accounts. 5 JPMorgan Chase Bank, N.A. (Chase) is proud to serve nearly half of America's households with a broad range of financial services. For more information, visit our website: https://www.chase.com/digital/resources/about-chase. 6 The IncomEdge Control annuity is a fixed annuity issued by the Variable Annuity Life Insurance Company (VALIC), Houston TX. Policy form number VG-224. VALIC is responsible for financial obligations of its protected lifetime income products, and guarantees are backed by the claims-paying ability of VALIC. VALIC is a member of American International Group, Inc, (AIG).7 J.P. Morgan Asset Management is not an insurance company and makes no representations or recommendations whatsoever about any specific annuity product. Any questions relating to the annuity must, and will, be directed to the insurance company.
09py222505003206