What our Long-Term Capital Market Assumptions mean for defined contribution plans
02/14/2022
Jared Gross
Emily Cao
The rise of defined contribution (DC) plans in the U.S. over the past four decades occurred in an environment of secular disinflation and falling interest rates. That environment has come to an end. Strategies that worked for DC plans in the past may be less successful in the future. More than ever, the ability to incorporate forward-looking views on markets will be critical to keeping participants on the path to a secure retirement.
Flexibility in DC investing is now essential
While saving adequately will always be the first step toward a secure retirement, over the course of this 40-year-long disinflationary era the single most important investment choice was simply to have a fully invested portfolio: Stocks and bonds both did better than almost anyone might have expected. Asset allocation, manager selection, performance, fees—these factors were less meaningful in a period of sustained strong investment returns. We shouldn't be surprised, therefore, that simplistic allocation models and passive strategies were able to thrive in an era when their lack of sophistication made little difference.
No more. Stocks and bonds are unlikely to deliver the same level of returns going forward, and DC plan investment strategies need to adapt. The continued use of static allocation models that are biased toward historical market performance will likely miss out on opportunities. Similarly, implementing these allocation models with a heavy reliance on passive investment vehicles—which can magnify current valuation imbalances and serve as poor substitutes for actively managing risk—is likely to result in less resilient portfolios.
Adapting DC plans to this low return environment will require flexibility and a greater use of thoughtful risk management and forward-looking insights—at all levels of the investment process.
Flexibility and forecasting go hand in hand
How can DC plans enhance their investment flexibility as market environments evolve? One approach is to make room for disciplined, strategic allocation changes based on long-term forecasts. There are two primary pathways for implementing such changes:
Within the target date glide path, through its structure and execution
Through the selection of the core menu options—including any white label options.1
Combining this strategic flexibility with active management at the funds level, where appropriate, would allow for a nimble response to changing markets. That combination may be critical to maintaining returns at levels that would support the future retirement of today's participant population.
For a strategic asset allocation process to be effective, it should be grounded in a proven long-term capital market return estimation process—not simple guesswork or reliance on historical averages of returns.
There is evidence to suggest that a rigorous process, such as that used for our Long-Term Capital Market Assumptions (LTCMAs), can produce estimates for future market returns that are sufficiently robust to guide asset allocation (Exhibit 1).
Our LTCMAs have generally tracked the realized long-term (10- to 15-year) performance of a 60/40 portfolio
EXHIBIT 1: LTCMA RETURN PROJECTIONS VS. REALIZED RETURNS FOR A 60/40 PORTFOLIO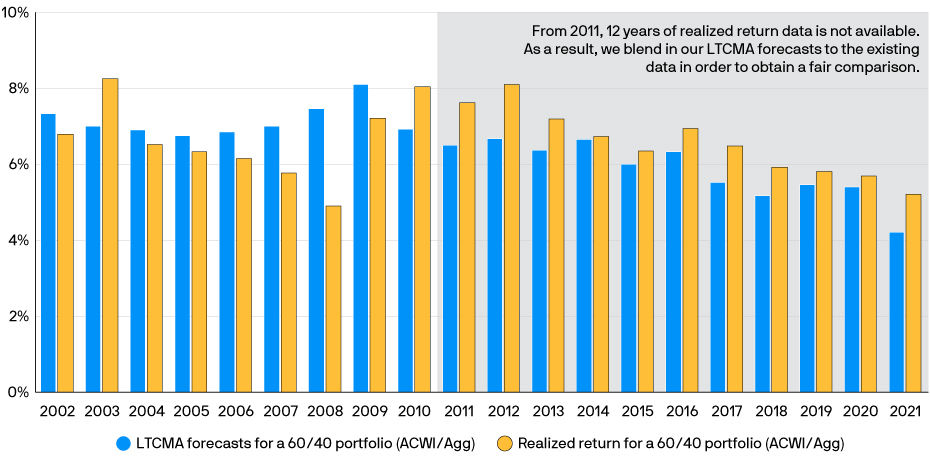 Source: Barclays, Bloomberg, J.P. Morgan Asset Management; data as of September 2021.

A balanced portfolio is 60% MSCI AC World Equity, 40% US Bloomberg Barclays Aggregate Bonds. Forecasts, projections and other forward-looking statements are based upon current beliefs and expectations. They are for illustrative purposes only and serve as an indication of what may occur. Given the inherent uncertainties and risks associated with forecasts, projections and other forward statements, actual events, results or performance may differ materially from those reflected or contemplated. Past performance is not necessarily a reliable indicator for current and future performance. LTCMA naming convention means that data is as of the September of the year before the headline year. For example, our 2014 assumptions are as of the end of September 2013.
A key part of these estimation processes is the potential to provide accurate projections of relative returns across the broader investment opportunity set. It is here that the strategic allocation process can add significant value for participants by identifying asset classes that are likely to deliver higher absolute and risk-adjusted returns over the medium- and long-term horizons that are most relevant to those investing for retirement.
The value of this forward-looking insight can be realized via adjustments to the plan's target date glide paths, adjustments to the underlying composition of its target date funds or through a more complete set of offerings on its core menu.
Next, we explore how DC plans can use the insights from our Long-Term Capital Market Assumptions to guide specific, actionable changes that are likely to benefit participants.
Drawing valuable insights from our 2022 Long-Term Capital Market Assumptions
Our LTCMA process projects market returns over a 10- to 15-year horizon without considering the impact of active management. Our most recent LTCMAs suggest that relying on more static and passive strategies is likely to produce lower returns and higher volatility relative to historical levels—not just in the short term but over a far longer horizon that could materially affect participant outcomes (Exhibit 2).
Stock-bond frontiers based on our 2008, 2021 and 2022 LTCMAs illustrate how dramatically long-term market expectations have changed
EXHIBIT 2: LTCMA STOCK-BOND FRONTIERS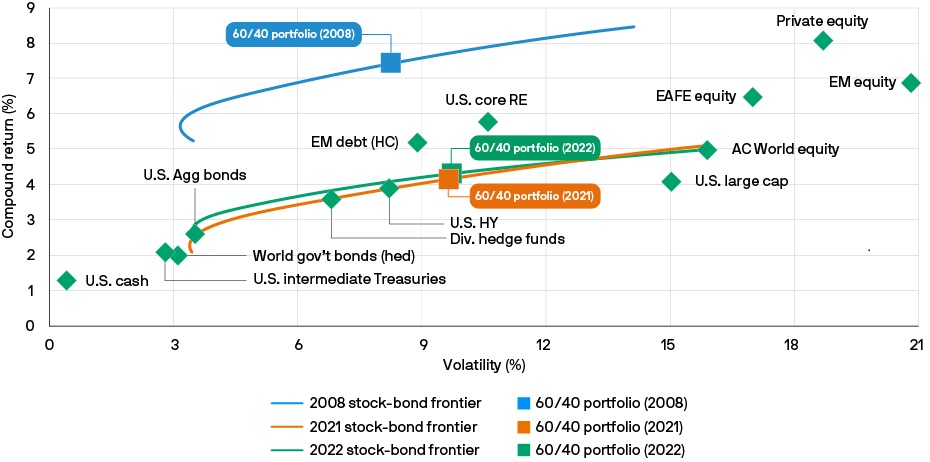 Source: J.P. Morgan Asset Management; estimates based on data as of September 2007, 2020 and 2021.
Key 2022 LTCMA insights:
Public market return expectations are lower and their range more compressed. This is one of the defining characteristics of the investment landscape over the next 10 to 15 years, based on our 2022 LTCMAs. Core bonds, for example, are expected to return approximately 2.6% (vs. 5.3% in our 2008 LTCMAs). Large cap U.S. equities are expected to return approximately 4% (vs. 8% in our 2008 LTCMAs).
Higher expected returns are available elsewhere in the public markets. In particular, global and emerging market (EM) equities offer stronger return prospects, as do diversified credit sectors. Real estate, whether through REITs or private vehicles, is also compelling on a relative value basis. Few passive strategies invest in these types of opportunities, leaving investors in danger of missing out on potential performance.
Bonds are unlikely to deliver returns on par with those of recent decades, as low initial yields, tight credit spreads and the expectation of rising rates indicate near-term negative performance. Over the longer horizon, nominal returns will likely reach positive levels but even then may not exceed the rate of inflation.
The investment opportunity set continues to expand, providing greater opportunities in nontraditional investments and also for asset allocation strategies that are able to capitalize on forward-looking views across traditional benchmarks.
The benefits of active management are likely to be magnified in a low return environment in which we expect a greater degree of index concentration, value dispersion and overall volatility. This is true across all asset classes, not just fixed income—where active management has traditionally been favored among DC plans.
Responding to a long-term lower return outlook
Aligning DC plans with this anticipated lower return environment should involve all elements of the plan. We offer a handful of specific steps plan sponsors can take, implemented through their plans' target date funds and/or core menus. These forward-looking actions have the potential to improve participant outcomes in the challenging market environment our LTCMAs project.
Steps for plan sponsors to consider:
Target date funds
Replace static passive target date funds with hybrid or active strategies that incorporate flexibility in glide path implementation and active management.
Evaluate equity exposure in target date funds designed for older participants who are closer to retirement, while diversifying fixed income and embracing active management to increase yield and avoid unattractive risks.
Seek diversification in active equity across cap-weighted market benchmarks (e.g., international, emerging markets) as well as sectors with high concentration (e.g., growth).
Where possible, introduce exposure to additional asset classes that provide higher return expectations, such as real estate.
Core Menu
Offer active options across key market sectors within the core menu to provide participants with choices beyond passive cap-weighted strategies.
Within white label options, explore:

Equity: Adding EM strategies to international equity sleeves.
Fixed income: Diversifying away from traditional core and toward active core-plus, multi-sector and unconstrained strategies.
Inflation protection: Shift away from TIPS and diversify toward real assets, given the risk from rising rates.

Add environmental, social and governance (ESG)-focused strategies to serve participants who want to be purpose-driven in their investments.

1 "White label options" refers to customized strategies that represent specific asset classes or sectors. When available, they are found in a DC plan's core menu.
NOT FOR RETAIL DISTRIBUTION: This communication has been prepared exclusively for institutional, wholesale, professional clients and qualified investors only, as defined by local laws and regulations.
Long-Term Capital Market Assumptions: Given the complex risk-reward trade-offs involved, we advise clients to rely on judgment as well as quantitative optimization approaches in setting strategic allocations. Please note that all information shown is based on qualitative analysis. Exclusive reliance on the above is not advised. This information is not intended as a recommendation to invest in any particular asset class or strategy or as a promise of future performance. References to future returns for either asset allocation strategies or asset classes are not promises of actual returns a client portfolio may achieve. Because of the inherent limitations of all models, potential investors should not rely exclusively on the model when making a decision. A manager's ability to achieve similar outcomes is subject to risk factors over which the manager may have no or limited control.
09vl220802221931