Equity research in-depth: How the disruptive power of technology can remake the economy
11/05/2020
Joe Wilson
There's a lot of talk about the disruptive power of technology, but what does that mean, exactly? We think of technology less as a sector and more as a secular force that will affect every corner of the economy, spurring shifts in market share and market capitalization, and generating opportunities for wealth creation (and destruction).
Over the last four decades, waves of innovation have transformed the power of technology, with each wave building on the previous one, creating a new crop of corporate winners and losers (Exhibit 1).Across sectors and industries, more businesses have become more effective in leveraging new technologies to disrupt their markets. What's more, these disruptors are blurring the lines between sector classifications. As we enter a new era defined by artificial intelligence (AI), we see these trends accelerating as companies build proprietary platforms to target each sector by drawing on more powerful and unique data collection, computing infrastructure and software.
The roster of winners has changed dramatically over the past 40 years
Exhibit 1: Leading technology companies, 1980–2020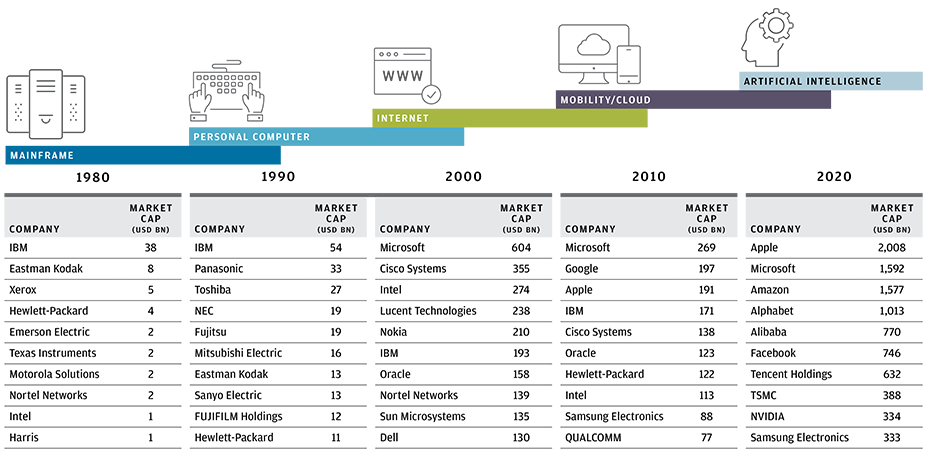 Source: Bloomberg, FactSet, J.P. Morgan Asset Management; data as of September 30, 2020. Market capitalization in USD billions. The companies/securities above are shown for illustrative purposes only. Their inclusion should not be interpreted as a recommendation to buy or sell. J.P. Morgan Asset Management may or may not hold positions on behalf of its clients in any or all of the aforementioned securities. Past performance is not necessarily a reliable indicator for current and future performance.
In many ways, Amazon is the poster child for this tech-enabled industry assault, but it's hardly alone. Square builds platforms that are disrupting services historically provided by financial institutions. Electric vehicle (EV) maker Tesla deploys a massive fleet advantage to create a data moat in autonomous driving. And medical device maker Dexcom uses massive datasets in glucose monitoring to position for new health care offerings. We envision a future where virtually every company uses significantly more software and technology infrastructure, leading to greater efficiencies, competitive advantages and enhanced consumer relationships.
We are reminded of a theory pioneered by Ray Kurzweil, a futurist and inventor, called the law of accelerating returns. Essentially, the theory states that society advances technologically at an accelerating rate over time. Consistent with this exponential path of advancement, the 21st century may see 1,000 times greater technological advancement than the previous century.
As we examine the disruptive power of technology, here are some areas of our focus.
Secular shift: Artificial intelligence and machine learning
Without question, machine learning is spurring an acceleration of innovation across sectors and businesses. An application of AI, machine learning draws on extensive sets of data and large-scale cloud computing infrastructure to produce innovations like the Alexa voice assistant and Tesla's autonomous driving software. Simply put, machine learning is software writing software, with a level of complexity that humans cannot achieve. As we see it, the long-term success of disruptive businesses will likely be fueled by the same key ingredients driving machine learning: big data, computing ability and software (Exhibit 2).
Machine learning is software writing software, with a level of complexity that humans cannot achieve
Exhibit 2: Drivers of artificial intelligence

Source: J.P. Morgan Asset Management; as of September 30, 2020

With much of the technology in place to solve for the computing and software elements of AI, we see a ripe opportunity for accelerating innovation. Already, hyperscale cloud vendors including Amazon Web Services, Google Cloud Platform and Microsoft Azure offer their customers greater computing efficiency. Additionally, many enterprises across all industries have built data repositories at these hyperscalers or are shifting to a cloud/hybrid model. This provides more agility to accelerate the implementation of more AI workloads. For example, imagine a retailer that has moved its call centers to the cloud, unlocking the value of natural language processing to more quickly direct callers, reduce fraud, prompt agents with the best course of action and even score consumer sentiment. Not only would this allow a company to potentially increase the efficiency of its agents, but it could increase customer satisfaction as well.
Secular shift: Artificial intelligence changing the global economy
The disruptive power of technology is vividly on display in the auto industry. Auto companies that are able to collect and harness data to build autonomous driving software and deploy it on hardware will have the greatest opportunity, we believe. Today we see Google and Tesla leading the way in this secular shift. We think the business models that emerge from here will be analogous to Apple's vertical integration of software and hardware or the Microsoft Windows (or Google Android) model of licensing software to a large ecosystem of hardware manufacturers. Semiconductor companies will also benefit from this secular shift, given the significant demand for sensing, collecting and processing required for 90 million cars annually (Exhibit 3).
Merging software and hardware is a game changer
Exhibit 3: Semiconductor content in automobiles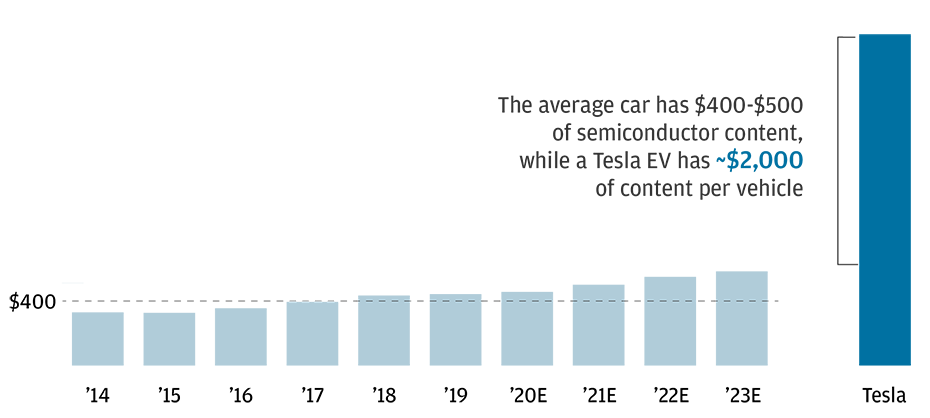 Sources: Gartner, J.P. Morgan Asset Management, company reports. The security highlighted above has been selected based on its significance and is shown for illustrative purposes only. It should not be interpreted as a recommendation to buy or sell. This should not be assumed that other securities in the portfolio have performed in a similar manner. Past performance is not indicative of future returns. Forecasts, projections and other forward looking statements are based upon current beliefs and expectations. They are for illustrative purposes only and serve as an indication of what may occur. Given the inherent uncertainties and risks associated with forecasts, projections and other forward statements, actual events, results or performance may differ materially from those reflected or contemplated.
In the financial services sector, payment companies are making effective use of the disruptive power of technology. Think of a merchant that approaches its bank regarding a new loan. The bank has to assess risk based on limited information flow from the merchant, data that is often spotty and incomplete. Compare that with a merchant's transactional accounting system, operated by a payment company, that may have years of data about the merchant's business. The system may even be smart enough to "coach" a business owner to more clearly see the benefits of taking out a loan to invest for growth. This is what we are seeing from Square, which is building new models to identify merchants that would most benefit from small business loans by scoring them across specific industry metrics, geography and capabilities.
In the consumer discretionary sector, many companies have embraced AI. For example, Wayfair uses AI capabilities joined with augmented reality on a mobile device to help consumers visualize how merchandise would look in their homes. Netflix leverages AI to improve recommendation engines and natural language processing to instantly produce closed captions and voice-over in multiple languages.
In the health care sector, the disruptive power of AI is enabling more efficient drug discovery. Indeed, this year we saw the first AI-designed drug-initiated clinical trials. Elsewhere, Google's sophisticated image recognition technology can detect metastatic breast cancer and diabetic retinopathy with greater accuracy than existing tools and technology. Lastly, Dexcom has leveraged its data advantage and leading sensor technology to build a competitive moat in continuous glucose monitoring. We see the development of a security system for our body (like the security systems that protect our homes and cars) as Dexcom expands to monitor more vitals over the coming years.
Investment implications of disruptive technology innovations
Looking ahead, we think the disruptive power of technology will continue to spur shifts in market share within industries, as well as shifts in market capitalization among companies. Over time, it will pave the way for new market leadership. For investors, it will be critical to understand how market leadership might evolve and who the major long-term winners could be. This will require an open mind and the ability to imagine how different an industry or consumer experience might be if technological advancement were to progress at an accelerating pace. Here we believe an active investment approach can be especially useful in identifying which companies are best positioned to benefit from powerful secular shifts.
0903c02a82a63074
The companies mentioned in this article are for illustrative purposes only. Their inclusion should not be interpreted as a recommendation to buy or sell. The use of the companies mentioned herein is in no way an endorsement for J.P.Morgan Asset Management investment management services.