Diminished pandemic impacts should push the U.S. economy to its capacity limits
U.S. economic outlook
While government aid has diminished, consumer spending should be supported by massive gains in household net worth and lower debt service costs.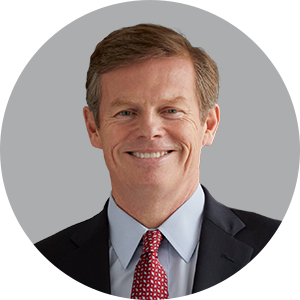 On the pandemic itself, there are reasons for cautious optimism. The death toll has been horrific with over 800,000 Americans now having perished from the disease. However, we estimate that a combination of vaccinations and infections has left close to 90% of the country with some immunity to Covid-19 and daily fatalities have fallen to roughly 1,000 as the Delta wave has subsided. New variants threaten the world with a further resurgence in cases. However, the history of prior pandemics suggests that, even without widespread vaccinations, viruses tend to mutate to become more contagious but less deadly, which should allow society to slowly return to normal. In addition, from an economic perspective, much of the economy has adapted to a pandemic environment, allowing certain industries to thrive even as some remain depressed due to health concerns.
Exhibit 1: Fatalities from Covid-19 should fade in 2022, helping society move on from the pandemic
7-day moving average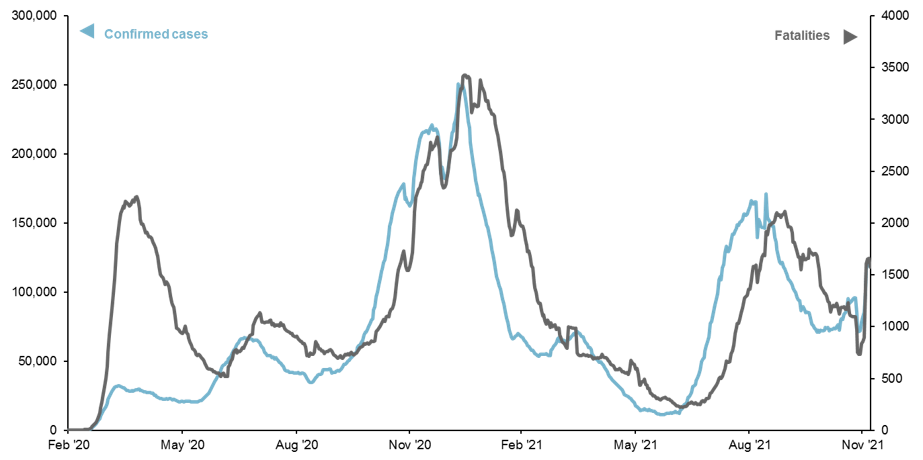 Source: Centers for Disease Control and Prevention, Johns Hopkins CSSE, J.P. Morgan Asset Management. Data are as of December 7, 2021.
As the pandemic fades, the extraordinary fiscal support provided by the federal government is also diminishing. As this is being written, the Infrastructure Bill has been signed into law while the House has passed a version of a reconciliation bill that contains an extension of various tax credits, funding for many climate change initiatives and tax increases on corporations and wealthy families. The details of the final act will have to be negotiated between the House and the Senate. However, even if a bill close to the House bill is passed, the net impact of these two pieces of legislation would likely boost the budget deficit in fiscal 2022 by less than $200 billion compared to the $5.3 trillion added to federal deficits by previous coronavirus relief measures over the past two years.
Following a better than 6% annualized gain in the first half of the year, real GDP growth slumped to just 2.1% in the third quarter, as supply-chain issues impeded both production and consumer spending. This was particularly notable in light vehicle sales, which fell from an annualized 16.9 million units in the second quarter to just 13.3 million units in the third. However, the fourth quarter has seen signs of improvement in supply chains with rising auto production, smaller backlogs at ports, increased hiring of truck drivers and fewer purchasing managers reporting slower deliveries. This should allow pentup demand to boost spending over the next few months. In addition, while government aid has diminished, consumer spending should be supported by massive gains in household net worth and lower debt service costs. Capital spending and inventory rebuilding should also contribute to growth, financed by strong profits and low interest rates and motivated by labor shortages and high margins. Because of this, we expect real GDP growth to exceed 5% annualized over the fourth and first quarters combined before subsiding to a near 2% pace by the end of 2022, as labor constraints act as a more significant drag on economic momentum.
The labor market saw huge improvement over the course of 2021, with the unemployment rate falling from 6.7% in December 2020 to 4.2% by November 2021 with the addition of 6.1 million non-farm payroll jobs. However, even with this, payroll employment remains 3.9 million below its peak in February 2020. Equally significantly, the labor force is 2.4 million people smaller than it was in February 2020, with the labor force participation rate falling from 63.3% to 61.8%. This statistic needs to be treated with some caution however, as it partly reflects the continued retirement of baby boomers. A more serious issue from an economic perspective is that the U.S. population aged 16-64 has fallen by 465,000 since February 2020 and is likely to fall further in 2022 due to the aging of the baby boom cohort and very limited immigration.
This lack of labor supply combined with strong economic growth should allow unemployment to decline rapidly in the year ahead, with the unemployment rate falling below 4% by the middle of the year. This should be accompanied by strongly rising wages as companies compete to hire and retain a limited supply of workers.
Rising wages, in turn, should continue to add to inflation pressures in the year ahead. However, CPI inflation, having exceeded 6% for the first time in over 30 years in the fourth quarter of 2021, should ease on average in 2022 as oil prices recede, supply chain difficulties diminish and government aid to low- and middle-income households dries up. Still, with strong wage growth, high inflation expectations and the lagged effect of higher home prices on rents, we expect inflation as measured by the core consumption deflator to remain solidly above 2% by the end of 2023.
Exhibit 2: Very strong labor demand should continue to reduce unemployment and boost wages
seasonally adjusted, percent
Source: BLS, FactSet, J.P. Morgan Asset Management. Data are as of December 7, 2021.