Public markets sold off aggressively in 2022, but private market valuations have been slower to adjust. This has left many investors overallocated to alternatives and wondering when asset values will be written down. Our work suggests a two- to-three quarter lag between public equity market drawdowns and markdowns of private equity assets. Furthermore, transaction markets have begun to soften, supporting the idea that write-downs are coming. On the other hand, declining valuations suggest that opportunity may begin to emerge in 2023.
The U.S. real estate market is looking somewhat expensive in aggregate, but beneath the surface we continue to observe significant dispersion. Industrial assets remain expensive, whereas vacancy rates in the office and retail sectors are near all-time highs. As we look ahead, private real estate assets seem well positioned to deliver stable cash flows and public market diversification, even if capital values decline. Looking across real assets more broadly, infrastructure can help hedge against inflation, and transportation assets should benefit as global trade continues to normalize.
Within financial alternatives, the coming adjustment in private equity valuations should create an opportunity for funds that are in the process of raising capital. Meanwhile, middle market direct lending continues to look well positioned in the current environment given higher underwriting quality and the ability of lenders to renegotiate terms if the economic backdrop becomes increasingly challenging. Furthermore, a potential recession and higher interest rates have increased the probability of a default cycle in 2023, suggesting that distressed and special situation investors may find themselves with a more robust opportunity set than they have seen in some time. Finally, given the lack of resolution on the Fed, geopolitics and inflation, it seems reasonable to expect volatility will persist; this, coupled with higher base rates, should support hedge fund performance.
Alternatives have benefited from an environment of easy money for the better part of the past decade, which has now come to an end. The new combination of higher rates and demand for capital will allow for more differentiation between winners and losers, and potentially support active management going forward. We still see value in adding alternatives to a portfolio for the long run; the reality, however, is that taking an outcome-oriented approach and focusing on manager selection will be more important than ever in the years ahead.
Changes in private asset valuations tend to lag the public markets
Year-over-year % change, quarterly, last 30 years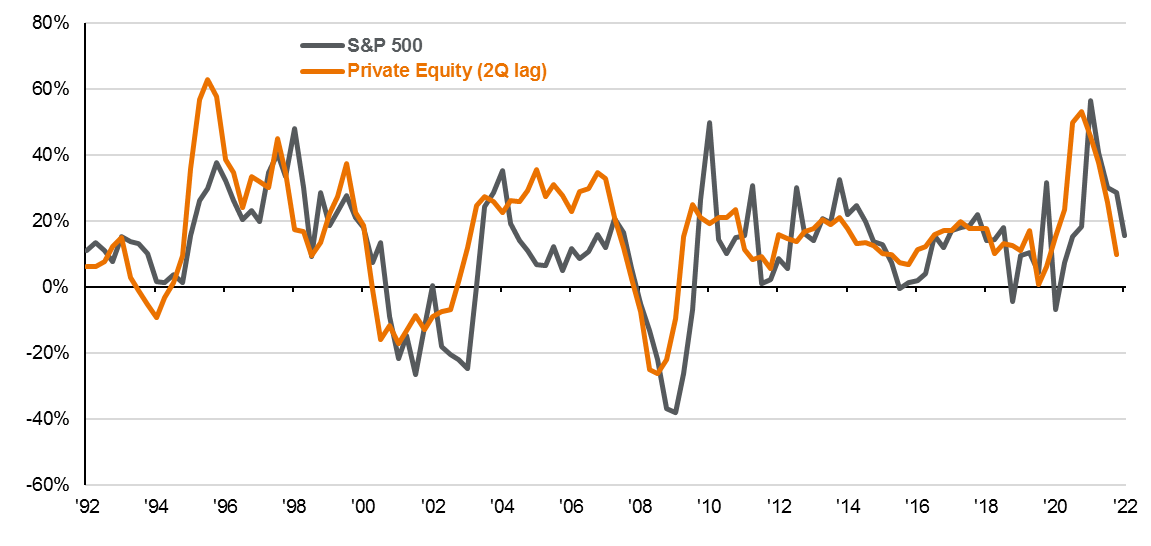 Source: Burgiss, FactSet, J.P. Morgan Asset Management. Data are as of December 5, 2022.