20 May 2022
Sowing the seeds of future inflation
The rising cost of fertilizer means that the seeds of future inflation may already be in the ground, posing yet another inflation-driven headache for both governments and central bankers.
Fundamentals
Russia's invasion of Ukraine has caused widespread disruption in commodity markets and is the primary culprit behind the rally in global food prices this year (see chart). Prior to the war, output from Russia and Ukraine represented nearly 30% of global wheat production. The United Nations estimates that at least 20% of Ukraine's arable land is now no longer viable for agricultural use. In addition, disruption to shipping ports has caused the country's wheat exports to fall by over 60% compared to a year ago. The outlook for wheat production is further complicated by rising prices for fertilizer, which plays a key role in boosting crop yields. Fertilizer production costs are rising in part due to higher natural gas prices, which have spiked on the back of Russian sanctions. In turn, the cost of planting seeds increases and could ultimately create further upside pressure on food prices. Rising food prices present a particular challenge to the emerging world where the sensitivity of domestic households to food inflation is most acute. Increasing concerns over food security have already prompted some governments into action; for example, India has banned wheat exports in an effort to secure domestic food supplies. Further government intervention is likely in vulnerable parts of the world, such as Asia and the Middle East, in order to prevent political unrest; however, additional fiscal spending could potentially add further inflationary pressure, particularly in emerging market economies.
Quantitative valuations
The possibility of higher food prices, combined with subsequent fiscal stimulus in the form of government food subsidies, has knock-on effects for central bankers around the world. In order to quell inflationary pressure many of the central banks (with the notable exception of China) have already sought to tighten monetary policy in 2022. Increased debt issuance by governments looking to appease their struggling populations could force central banks to tighten even further, pressuring bond yields higher. Currency valuations may also impact commodities markets and emerging markets. In recent weeks, the US dollar hit a 19-year high, compounding the pressure on emerging economies with higher costs for both foreign debt servicing and domestic businesses purchasing commodities from overseas.
Food prices have surged to the highest level in over a decade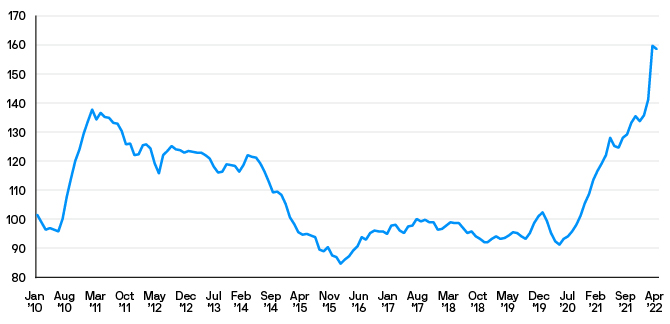 Source: United Nations, J.P. Morgan Asset Management. Data as of 6 May 2022.
Technicals
While policymakers are still battling rising prices, investors have been given some respite over the week as traditional market relationships have begun to re-establish themselves. Historically, risk assets are negatively correlated with duration positioning. This relationship meant that in the event of a significant risk-off move in markets, a diversified portfolio would receive some protection from a rally in duration. However, throughout much of 2022, this dynamic has turned positive, resulting in a painful double blow to returns year to date. Fortunately, there are tentative signs that the negative relationship is returning, providing some diversification to portfolios and perhaps signalling that stability is beginning to return to fixed income markets. (Data as of 18 May 2022).
What does this mean for fixed income investors?
Ongoing commodity market disruption caused by the Russia-Ukraine conflict is potentially sowing the seeds of future inflation. Any extension of the conflict is likely to result in an upside surprise in wheat prices with knock-on effects for global inflation. Investors must watch the developments of policymakers carefully as they attempt to balance supporting already struggling populations with quelling ongoing inflationary pressure. Market volatility is likely to be elevated as this theme plays out; however, the re-establishment of the negative relationship between duration and risk assets suggests that markets might be stabilising.
About the Bond Bulletin
Each week J.P. Morgan Asset Management's Global Fixed Income, Currency and Commodities group reviews key issues for bond investors through the lens of its common Fundamental, Quantitative Valuation and Technical (FQT) research framework.
Our common research language based on Fundamental, Quantitative Valuation and Technical analysis provides a framework for comparing research across fixed income sectors and allows for the global integration of investment ideas.

Fundamental factors
include macroeconomic data (such as growth and inflation) as well as corporate health figures (such as default rates, earnings and leverage metrics)

Quantitative valuations
is a measure of the extent to which a sector or security is rich or cheap (on both an absolute basis as well as versus history and relative to other sectors)

Technical factors
are primarily supply and demand dynamics (issuance and flows), as well as investor positioning and momentum