In Brief
While easier monetary policy helped investors in 2019, it sets up a challenging investment environment for 2020. Historically, an investor's starting yields tends to be a reliable indicator for subsequent five year returns.


If this precedent holds with a lack of yield curve steepness, investors will likely be tempted to shorten duration and take a lower quality focus to maintain the status quo of their historical fixed income returns.


At this late stage in the cycle, investors should focus on higher quality areas of the fixed income market. Areas of opportunity include long duration U.S. Treasuries as well as mortgage-backed securities and asset-backed securities, which benefit from their exposure to the sturdy U.S. consumer.


While intermediate-term bond styles have historically been considered a safe haven asset class, often ticking most boxes in the above mentioned point, stringent manager due diligence should not be neglected.
---
2020 investment outlook: Low yields, low returns
After a challenging 2018, fixed income investors caught a break in 2019 with the U.S. Barclays Aggregate returning 8.7%, its best year since 2002. Easy monetary policy from the global central banks also helped boost returns last year as 41 central banks cut interest rates 66 times between them. While this has helped stabilize economic growth and boost fixed income returns in 2019, it creates a low-yielding environment for fixed income investors in 2020.
As we highlight in Exhibit 1, historically, investors' starting yield explains a significant proportion of investors' subsequent five-year returns. Should this relationship hold going forward, today's starting yield implies a subsequent return of 2-3% per year for the next five years. This is considerably below what investors have received from their U.S. fixed income holdings in recent years. The U.S. Barclays Aggregate has returned 4% per year since 2009.
While past performance is not indicative of future results, loose monetary policy and subsequently low yields within fixed income creates a difficult investment environment for fixed income in 2020.
EXHIBIT 1: Bloomberg Barclays U.S. Aggregate index
Relationship between bond yields and subsequent five-year returns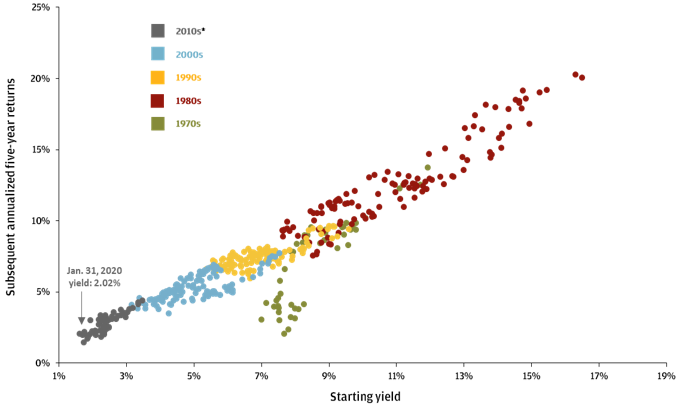 Source: Bloomberg Barclays, FactSet, J.P. Morgan Asset Management. Period is from January 1976 to January 2020. *2010s is periods from January 2010 through January 2015. Past performance is not indicative of comparable future results. Data are as of February 17, 2020.
---
0903c02a828168a4