Factor Views 3Q 2022
Themes from the quarterly Quantitative Solutions Research Summit
16-08-2022
Yazann Romahi
Garrett Norman
Gareth Turner
In brief
Most factors maintained their strong performance from the previous quarter during a volatile second quarter, continuing to provide diversification benefits to traditional asset classes.
Equity factors in aggregate were positive in 2Q 2022, despite negative performance in June. Value continued to be the best-performing factor year-to-date and still appears attractive from a valuation perspective.
The merger arbitrage factor sold off in May and June as deal spreads widened, but deal failure rates remain contained, presenting opportunities.
Macro factors were mixed as momentum-based factors benefited from fairly persistent trends while carry-based factors lagged.


We maintain our positive outlook for equity factors, underpinned by wide spreads, and we believe that macro-based strategies also still have scope to perform well.
---
Overview
Financial markets had an eventful start to 2022 and the second quarter brought no respite. Persistently elevated inflation sharpened investors' focus on the implications of central bank hawkishness. An anticipated slowdown in global growth and the rising risk of recession provided a challenging backdrop for asset markets.
The potential for economic growth to slow sent global equity markets (MSCI World Index in local currency) down 14% over Q2, with much of the weakness occurring in June. As yields continued to climb, government bonds ended the quarter down 5% (JPM GBI Global Index), following a similar loss in Q1. Commodity prices, which spiked across the board in the first quarter, experienced greater dispersion in 2Q: Brent crude oil was up 9% while agricultural commodities and gold lost 8%.
Despite the challenging environment for stocks and bonds, the majority of factors that we favor performed strongly: equity value led for another quarter, with equity quality and equity momentum also posting gains and macro momentum positive across asset classes. Macro carry in commodities and fixed income however softened somewhat under the volatile conditions (Exhibit 1).
Equity factors performed strongly in 2Q 2022 despite turbulent markets
Exhibit 1: Quantitative Solutions long/short factor returns

Source: J.P. Morgan Asset Management; data as of June 30, 2022. Note: Factors presented are long/short in nature. Equity factors are represented as 100% long notional exposure, macro factors as an aggregation of 5% volatility subcomponents.
We expect subtrend growth for the remainder of 2022 as central banks tighten policy to bring inflation under control. We believe this could continue to be a difficult period for risk assets, particularly equities, as margins come under pressure. Market volatility is likely to remain elevated, and this may be reflected in factor performance as well. We leave our core factor views relatively unchanged.
Equity factors broadly continue to appear extremely cheap, while the quality factor offers a measure of defensiveness. Wider spreads may present some opportunities for the merger arbitrage factor. Macro factors may face the greatest level of uncertainty, although we believe that the environment may become increasingly interesting for macro carry. In general, we continue to argue that factors may be an effective way for investors to capture current market opportunities, potentially benefiting from factor-specific tailwinds that are less sensitive to particular macroeconomic regimes.
Factors in focus
Equity factors: Strong performance, with value at the forefront
After stalling late in the first quarter, the equity value factor resumed its upward path in Q2 and once again led equity factors, with consistently positive performance across the globe. Positive returns from both the quality and momentum factors complemented the strength of the equity value factor, though mostly in the U.S. market; returns in other regions were lackluster.
Over the past year, the value, momentum and quality factors each achieved double-digit returns, surpassing their long-term historical averages. While the value factor's strong returns have received a lot of attention, other factors have also continued to produce solid gains. Indeed, the quality factor's recent return has completely lifted its performance out of a two-year drawdown that was its worst in 40 years, similar to the experience of equity value (Exhibit 2). Given the simultaneous recovery of value and quality, their prior drawdowns perhaps reflected market sentiment that was detached from economic fundamentals.
The quality factor has fully recovered from its recent drawdown, and value nears recovery
Exhibit 2: Drawdowns of equity value and quality factors

Source: J.P. Morgan Asset Management; data as of June 30, 2022.
Multi-factor strategies posted another strong quarter and are now enjoying their best 12-month return since the dot-com bubble burst in 2000. As we noted last quarter, despite positive performance across equity factors, from a valuation spread perspective valuations remain historically cheap—and this continues following another quarter of positive returns. Our value, quality and momentum factors in aggregate remain cheaper than during the dot-com bubble (Exhibit 3). We have historically observed a linkage between starting factor valuations and subsequent factor returns that strengthens with longer time horizons; we see the current spreads indicating the potential for continued strong performance across equity factors.
Factors in aggregate continue to appear attractively priced
Exhibit 3: Global equity multi-factor valuation spreads
Source: J.P. Morgan Asset Management; data as of June 30, 2022. Valuation spread is a z-score between the median P/E ratio of top-quartile stocks and bottom-quartile stocks as ranked by the respective factor.
While we believe that the return potential for equity value, quality and momentum warrants a positive outlook, we also acknowledge the risks and note that recent returns have been accompanied by elevated factor volatility. Investors should expect short-term reversals in factor performance, given the uncertainties in the macro environment. For example, value factor performance reversed in June when softening economic growth expectations raised the possibility that monetary policy tightening might not be as extreme as initially feared—a shift that could potentially benefit more expensive, long-duration equities.
Beta dynamics within factors may also add volatility to factor performance. Low quality stocks, for example, are trading with the highest equity market beta that we have seen in our data. The quality factor is typically expressed by underweighting or shorting these stocks, raising the possibility that this factor could lag during short-term equity market rallies.
Overall, we believe it is important that investors look through any periods of short-term volatility and consider the fundamental drivers of the quality and value factors. First, both factors appear historically cheap. Second, we believe the second half of 2022 may see pressure on corporate margins that could benefit high quality companies and those not reliant on outsize earnings growth to justify their prices, such as value stocks.
Merger arbitrage factor relatively resilient
The merger arbitrage factor suffered its first negative quarterly return since the COVID-19 crisis. The strategy typically displays modest positive correlation with equities during sharp market declines—as it did in May and June, when we saw broad-based spread widening on deals.
Deal failure rates have remained contained, despite idiosyncratic risks, such as concern about the legitimacy of Elon Musk's pursuit of Twitter, and, indeed, we are still seeing some improved offers on existing deals. We therefore expect spread widening to be temporary—unwinding as deals progress toward completion—a development that should boost the performance of the merger arbitrage factor.
We will continue to monitor the level of deal activity. At the beginning of the year, the number of investible deals hovered around 70, but deal activity moderated over the second quarter as deals were completed and fewer new deals were announced. While the summer months tend to be quieter, we will be looking for any indication that market volatility has soured companies on merger activity; should that occur, it would dampen prospects for the merger arb strategy. On balance, we believe that attractive spreads and low deal failure rates could drive positive returns in the second half.
Macro factor: Momentum fared better than carry
Macro momentum factors performed well in 2Q amid the persistence of many major asset class trends. The fixed income trend factor, which had been consistently short duration since the beginning of the year, was well positioned to benefit from upward pressure in rates. The equity trend factor switched from a net long exposure to a net short exposure in Q1 and was able to capture the sharp decline in equity markets in Q2. Currency momentum performed well, helped by short exposures in the yen, euro and Swedish krona, as well as a modest long U.S. dollar tilt. While certain commodity market trends reversed, relative value applications of momentum more than offset these losses.
Over the first half of the year, macro momentum factors in aggregate demonstrated an ability to deliver positive and diversifying return streams in periods of market drawdowns. The outlook is more mixed: With signs that the significant short bias signaled by the fixed income trend factor year-to-date is lessening, and a mixed picture in commodities, the environment through the third quarter may become one of lower risk-taking. In contrast, equity trend signals remain clearly short-biased and will benefit from any further moves down in broad equity indices. They could, however, suffer from reversals or bear market rallies.
While macro momentum has been a bright spot, the environment has proved more challenging for carry. In many ways, this is not surprising: The carry factors are generally better placed to succeed in periods of price stability, when they can effectively earn the implied yield. Over the second quarter, relative value fixed income carry factors remained under pressure, due particularly to the rise in Australian 10-year yields, which hurt long positioning. Currency carry was flat, but commodity carry detracted from performance in June as it was adversely impacted by some of the commodity reversals that month.
Despite performance headwinds for carry in the first half of 2022, we see cause for optimism. Spreads for carry factors look attractive across both commodities and fixed income, where they are generally at one standard deviation or more above the long-term averages. The return environment may be positive if carry investors can collect current higher yields without the same level of volatility we saw in fixed income earlier this year—we may see a strong opportunity for fixed income carry, as the upward pressure on 10-year yields globally diminishes. The U.S. 10-year yield, for example, appears to be settling into a range around the 3% level. However, the downside risk is that inflation dynamics worsen and reaccelerate the upward move in yields.
Concluding remarks
Factor performance was strong through the first half of 2022, and, importantly, returns were positive across a broad range of premia—this has not been a narrow, single-factor story. We see an attractive outlook across a wide range of factors: Equity value, equity quality and equity momentum look particularly good, and we have a positive outlook on merger arbitrage and macro carry.
While some of the leadership may rotate over the second half of the year, the opportunity set remains compelling, particularly for investors able to access factors in a diversified manner. We expect the environment for traditional asset class exposures to remain uncertain and believe that factors can play an important complementary role in a broader portfolio context.
Factor opportunity set
The table below summarizes our outlook for each of the factors accessed by the Quantitative Solutions platform. It does not constitute a recommendation but, rather, indicates our estimate of the attractiveness of factors in the current market environment.
Factor Views Vs. Last quarter: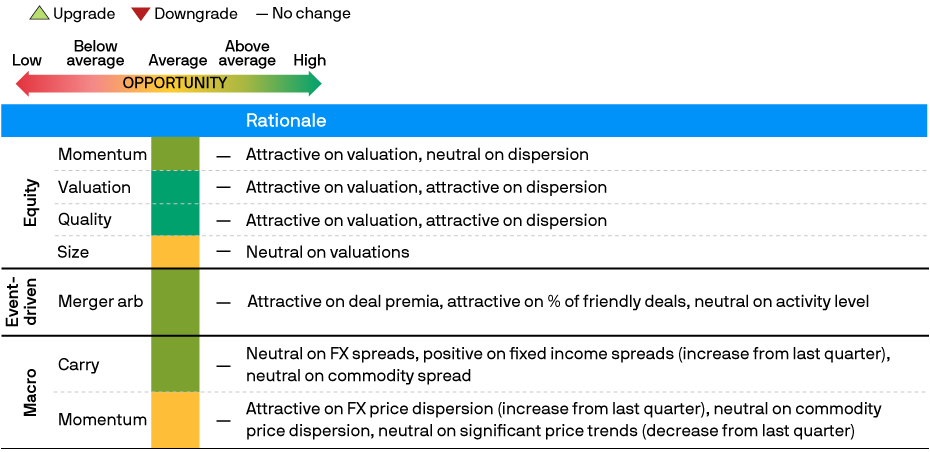 Source: J.P. Morgan Asset Management; for illustrative purposes only.

Our framework for evaluating factor outlooks is centered on the concepts of dispersion, valuation and the opportunity for diversification. For equity factors, we measure dispersion and valuation spreads between top-quartile and bottom-quartile stocks on a market, region and sector-neutral basis. For event-driven factors, we measure implied carry and the level of corporate activity as indicative of the ability to minimize idiosyncratic stock risk. For macro factors, we measure the dispersion or spread between top-ranked and bottom-ranked markets as well as the number of significantly trending markets.
---
Glossary

Equity momentum: Long/short global developed stocks based on price change and earnings revisions; sector and region neutral


Equity value: Long/short global developed stocks based on book-to-price, earnings yield, dividend yield, cash flow yield; sector and region neutral


Equity quality: Long/short global developed stocks based on financial risk, profitability and earnings quality; sector and region neutral


Equity size: Long/short global developed stocks based on market capitalization; sector and region neutral


Merger arb: Long target company and short acquirer (when offer involves stock component) in announced merger deals across global developed markets
Event-driven (other): Conglomerate discount arbitrage, share repurchases, equity index arbitrage, post-reorganization equities and shareholder activism


Macro carry: FX G10 carry, FX emerging market carry, fixed income term premium, fixed income real yield, commodity carry


Macro momentum: FX cross-sectional momentum, commodity cross-sectional momentum and time-series momentum across equity, fixed income and commodity markets
Quantitative research focused on innovation
Harnessing our firm's deep intellectual capital and broad investment capabilities, we provide our clients with a diverse suite of beta strategies to help build stronger portfolios.
Empower better investment decisions through unique insights and proprietary research on strategic and alternative beta.


Deploy the talents of an investment team dedicated to quantitative research and portfolio construction.


Invest across a broad spectrum of strategic and alternative beta strategies, created specifically to address client needs.


Partner with one of the world's leading asset managers and tap into two decades of industry innovation.