Weekly Market Recap
Asia Pacific
01/08/2022
Week in review

U.S. Federal Reserve raised the fed funds rate by 75bps to 2.25%-2.5%
U.S. real GDP shrank 0.9% in 2Q, marking a second quarter of negative growth
Germany, France and Italy consumer confidence readings deteriorated
Week ahead

China Manufacturing and Services PMI
Europe Unemployment Rate, PMI, Retail Sales
Japan PMI, Household Spending
Thought of the week

Amid gloomy headlines, European Union (EU) consumer confidence reached a record low of -27.3 and the S&P Global flash July PMI for the eurozone fell into contraction territory to 49.4 in July. Despite the key Nord Stream 1 pipeline resuming gas flows, Russia will likely continue using gas exports as political pressure, seen by how Russia's Gazprom halved the flows to 20% of capacity last Wednesday. Attempts to collectively reduce gas consumption or ration gas supplies in the EU might not be as easy as it sounds, given infrastructure feasibility and political tensions among a somewhat fragmented EU. Despite the weak economic backdrop, the European Central Bank (ECB) hiked key interest rates by 50bps to rein in record inflation, the first time in 11 years and the largest hike since 2000, further fueling concerns of slowing growth and the sustainability of peripheral countries' debt loads. While the U.S. Federal Reserve can tame inflation by slowing economic growth, the eurozone's inflation largely depends on where natural gas prices are going. That, coupled with an already slowing economy, puts the ECB at a tough spot. This rate hike was also an attempt to support the Euro, which has slid to reach parity with U.S. dollar for the first time in 20 years. Relative to the Euro, European equity markets in local currency terms have yet to reflect recessionary fears to a similar extent. As we brace for increasing recession risks in Europe or, at best, a prolonged period of slow growth, investors are recommended to turn defensive in the positioning of their European investments.
The Euro reflects more heightened recession risks than Europe's equity market
Indexed to 100 as of 07/31/2021

Source: FactSet, J.P. Morgan Asset Management. Data reflect most recently available as of 29/07/22.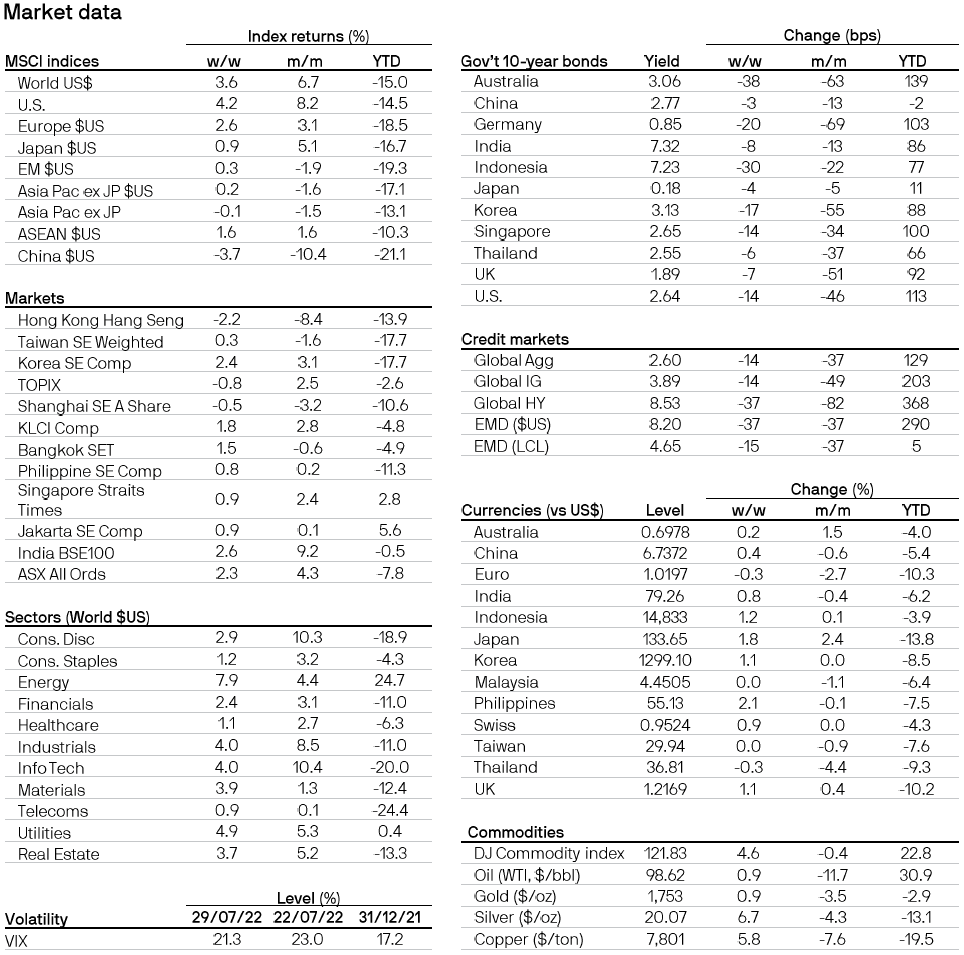 0903c02a82467a72