Strong demand expected for ESG ETFs
The Global ETF Survey 2020 highlights growing demand for sustainable investment strategies, as professional investors increasingly look to incorporate the management of risks associated with environmental, social and governance (ESG) factors into their portfolios.
Demand for ESG ETFs is being further boosted by growing evidence that sustainable investment strategies can enhance long-term returns, while many regulators are also insisting that investors take ESG factors into account.
Europe leads the way
Outside of the US, most investors expect strong growth in demand for ETFs that take account of ESG factors.
European investors lead the way with the adoption of sustainable investment strategies and integration of ESG funds into portfolios. US investors are less enthusiastic, perhaps reflecting scepticism over sustainable investing and the impact on returns.
Percentage of respondents expecting strong growth

Sustainable strategies to drive ETF growth
Investors expect that the strong growth in demand for sustainable investing will be a key future growth driver for ETFs.
The rising demand for ESG strategies is most likely to be considered as very impactful by professional buyers in Europe. Sustainable investing is also expected to strongly impact ETF growth by just over half of non-users of ETFs.
Impact of rising demand for ESG strategies on the ETF market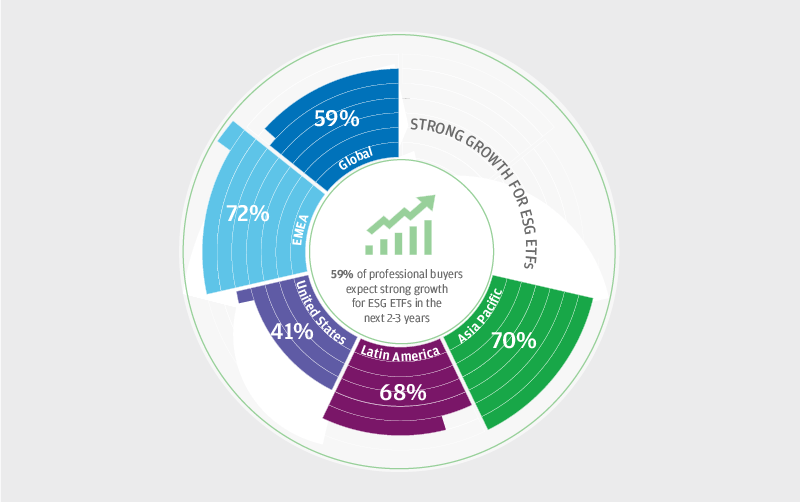 ESG investing and active ETFs
Investors are increasingly using active ETFs because they can help investors with specific objectives. For instance, asked which strategies active ETFs are most suitable for, 58% of professional buyers cited gaining exposure to specific investment criteria, such as ESG factors, as one of the top three.
ESG impact on active and fixed income choices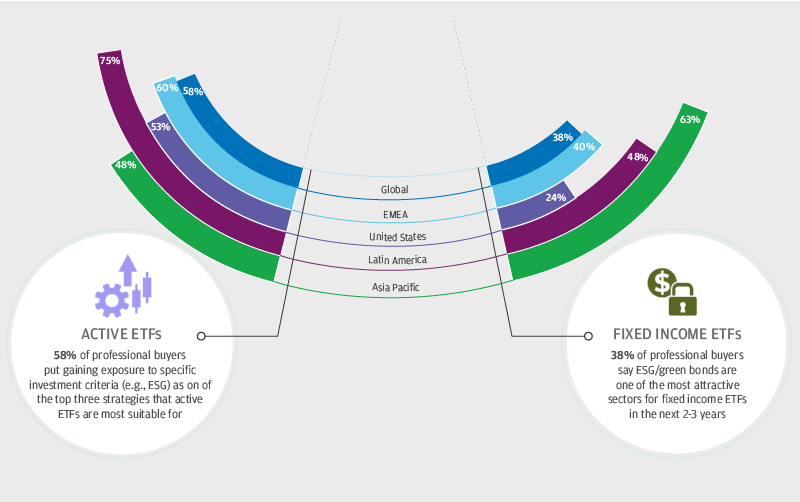 ESG ETFs point to a sustainable future
Investors are increasingly looking to ETF providers to offer ESG strategies, as factors such as climate change drive demand for more sustainable investments.
The Global ETF Survey 2020 provides insights into investor attitudes towards sustainable investing and the link to growth in active ETFs. The findings are analysed in detail by our research partner, Core Data Research.