Weekly Market Recap
Asia Pacific
27/11/2023
Week in review
U.S. University of Michigan consumer sentiment index came in at 61.3
Eurozone composite PMI rose to 47.1
Japan October CPI rose 3.3% y/y, core CPI rose 2.9% y/y
Week ahead
U.S. consumer confidence
Eurozone consumer confidence, CPI, unemployment rate
China Caixin/Markit manufacturing PMI
Thought of the week
The U.S. consumer comes into focus once again as we step into Thanksgiving holiday season. The U.S. economy has been more robust than expectations partially due to the resilience of consumer spending. Consumption accounts for approximately two thirds of U.S. economic activity, and consumption activity has been supported by higher-than-expected levels of excess savings and a resilient labor market. This has helped to maintain consumption levels despite continued pressures from higher prices. For example, October retail sales came in better than expected for the second straight month, even as consumer confidence has declined. Looking forward, there are increasing concerns that higher prices may begin to be a drag on consumption. Excess savings have dwindled particularly amongst lower income households, and third quarter earnings transcripts from companies have suggested consumers are becoming increasingly cautious, with customers trading down to lower priced alternatives. Nonetheless as inflation declines and real wage continues hold up, consumption may slow but may remain at supportive levels.
U.S. consumers are not happy but keep spending anyways
University of Michigan consumer sentiment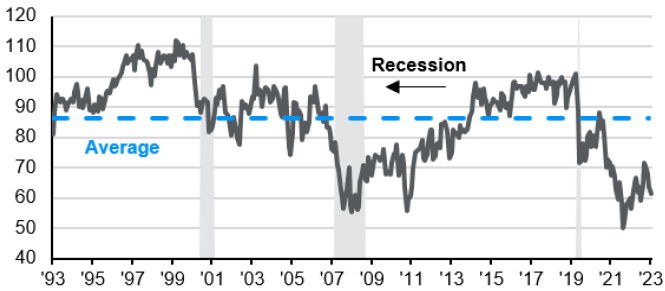 Source: FactSet, J.P. Morgan Asset Management. Data reflect most recently available as of 25/11/23.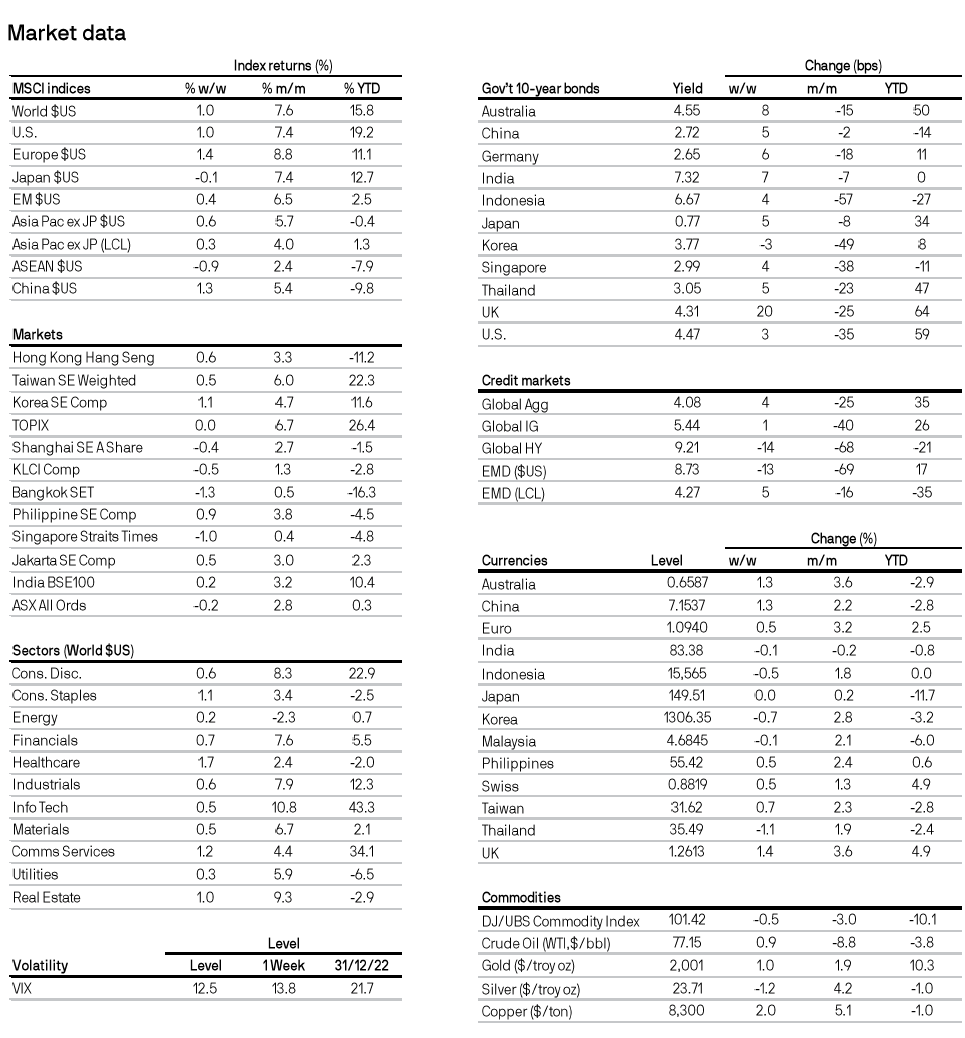 0903c02a82467a72
All returns in local currency unless stated otherwise.
Currencies' return are based on foreign currencies per U.S. dollar. An appreciation of the foreign currency against the U.S. dollar would be positive and a depreciation of the foreign currency against the U.S. dollar would be negative.