13 May 2022
Light at the end of the tunnel?
For much of 2022, investors have been looking for a light at the end of the tunnel. There are now some very tentative signs that prices are moderating, which could provide some breathing room for central banks and the possibility of much needed relief for investors.
Fundamentals
With inflation raging, bonds have lost over 12% so far in 20221 – among the worst starts to a year on record. It is therefore understandable if investors feel like they are stuck in a dark tunnel searching for the light. Fortunately, there are some signs of relief as US Federal Reserve (Fed) officials last week pushed back on market expectations of 75 basis point (bps) rate hikes, suggesting that inflation could be "flattening out" and that they are doing enough to tighten financial conditions. Economic data is also providing tentative signs that supports the Fed's more dovish view. Used car prices and rents are beginning to stabilise and supply chain disruptions are starting to ease despite the ongoing challenges from the Ukraine conflict and Chinese lockdowns. The US labour market remains tight, however wage pressure moderated in April. While inflation prints can be fickle and difficult to predict, the possibility of peak prices would provide central bankers much-needed breathing room over the next few months.
Quantitative valuations
Inflationary pressures and rising rates have taken their toll on overall bond yields. The stock of negative yielding debt has fallen from over $11 trillion a year ago to under $2.5 trillion as of May 2022. The thawing of negative yielding debt has released pressure on various parts of the bond market – the US 10-year currently yields around 2.9% and the German 10-year broke through 1%, trading at its highest yield since mid-2014. Investors continue to expect more rate hikes but the possibility of peak inflation may mean that further hawkish shifts beyond these expectations are unlikely in the near term. In credit markets, the valuation picture is becoming slightly more constructive, with European high yield spreads approaching 500 bps and US spreads at over 400 bps. However, there is still cause for concern amongst lower rated parts of the high yield market in light of the weaker macroeconomic outlook and ongoing pricing pressures. Higher bond yields offer investors a more attractive entry point into fixed income markets and the possibility of peak inflation may be the catalyst to help bring some market stability. (Data as of 10 May 2022).
Interest rate expectations are leveling off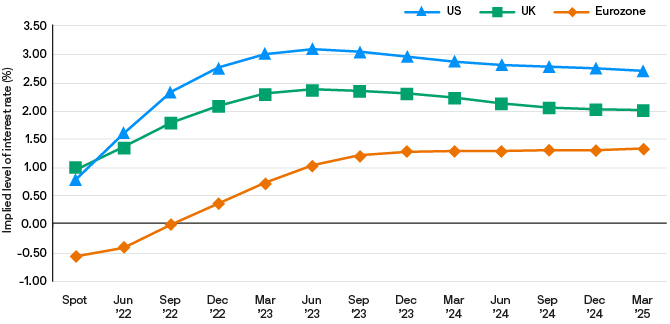 Source: Bloomberg, J.P. Morgan Asset Management. Data as of 10 May 2022.
Technicals
While more enticing valuations are on offer, the technical factors suggest investors remain sceptical of getting back into bond markets just yet. Outflows have continued from longer duration bonds and strategies where waning central bank support and elevated currency hedging costs continue to limit investor demand. Positioning survey data also suggests investors continue to be nervous about inflation and rising rates and therefore remain underweight duration within portfolios. The supply outlook looks challenging as well, particularly in credit markets where weak demand in both investment grade and high yield means that potential deals continue to get cancelled at the last-minute. These delayed issues will likely have to come to the market later in the year.
What does this mean for fixed income investors?
The possibility of peak inflation offers investors a ray of hope that market stability may return and gives central bankers some flexibility in managing monetary policy. Higher interest rates and rising inflation has improved the valuations on offer across both government and corporate credit markets. However, the challenging technical outlook and the portfolio positioning surveys suggest that investors remain sceptical despite higher yields. Overall, the light at the end of the tunnel may need to get a bit brighter before investors begin to jump back into bond markets.
1Measured by the Bloomberg Global Aggregate Index as of 11 May 2022.
About the Bond Bulletin
Each week J.P. Morgan Asset Management's Global Fixed Income, Currency and Commodities group reviews key issues for bond investors through the lens of its common Fundamental, Quantitative Valuation and Technical (FQT) research framework.
Our common research language based on Fundamental, Quantitative Valuation and Technical analysis provides a framework for comparing research across fixed income sectors and allows for the global integration of investment ideas.

Fundamental factors
include macroeconomic data (such as growth and inflation) as well as corporate health figures (such as default rates, earnings and leverage metrics)

Quantitative valuations
is a measure of the extent to which a sector or security is rich or cheap (on both an absolute basis as well as versus history and relative to other sectors)

Technical factors
are primarily supply and demand dynamics (issuance and flows), as well as investor positioning and momentum