Global Fixed Income Views 3Q 2022
Themes and implications from the Global Fixed Income, Currency & Commodities Investment Quarterly meeting
13-06-2022
In Brief
Sub Trend Growth is now our base case, raised to 45% in view of the likelihood that higher rates, quantitative tightening and high inflation will take a bite out of GDP. We increased the probability of Recession to 25%, lowered the probability of Above Trend Growth to 20% and kept Crisis unchanged at 10%.
For now, we expect the Federal Reserve to raise the fed funds rate by 200 basis points over the balance of 2022, bringing the rate to a range of 2.75%–3%.
Can global central banks fight a 40- to 50-year high in inflation by raising rates and reducing balance sheets without pushing economies into recession? We think a soft landing seems very aspirational.
High quality, short-duration bonds are our favorite. Government bonds may be a place to add duration.
Scenario Probabilities (%)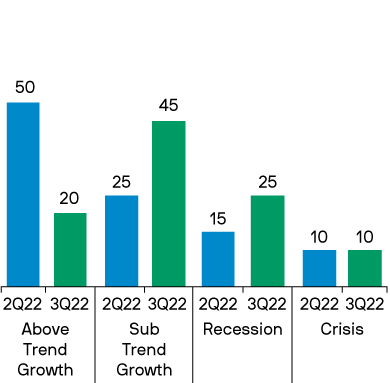 Source: J.P. Morgan Asset Management. Views are as of June 8, 2022.
Aspirational
Fittingly, most participants at our June Investment Quarterly (IQ) had to travel through a storm on their way to Columbus, Ohio. To be fair, the storm wasn't quite the suddenly popular "hurricane" conditions being debated in the market … but it was still a reminder that even a run-of-the-mill storm can create anxiety.
As expected, most of our conversation centered on the probability of the central banks being able to engineer a soft landing. It was not simply a debate about whether a soft landing or a recession was more likely, but also what the markets had already priced in. It was very difficult for us to imagine that global central banks could fight a 40- to 50-year high in inflation by raising rates and reducing balance sheets without pushing economies into recession. A soft landing seems very aspirational. But we also had to appreciate that markets were already pricing in some magnitude of prolonged inflation, central bank tightening and slower growth. The challenge was to assign probabilities to economic scenarios and find opportunities.
Macro backdrop
It was clear to everyone that higher inflation, rising rates, tighter financial conditions and consumer fatigue would weigh on growth. The rise in U.S. mortgage rates from 3% at year-end 2021 to 5.5% today is slowing the housing market. Higher gas and food prices, as well as the shift away from consumer goods to services spending, caught businesses flat-footed, as evidenced by retailers that were piling up unwanted inventory. There seems to be little relief in sight. Supply bottlenecks are expected to persist well into 2023. Commodity and wage inflationary pressures aren't cooling either, meaning that businesses have little choice but to pass a fair percentage of their cost increases on to the consumer. Although some countries in Europe and some states in the U.S. are providing subsidies for the increased energy costs (payment reductions, excise tax holidays, etc.), the consumer will still have to suffer the bulk of the inflation surge.
This is not to say everything looks economically grim. The group appreciated that the U.S. economy was operating at what appears to be full employment, with labor shortages resulting in the highest wage gains in decades. There was still significant structural demand for housing and a shortage of supply. Auto demand exceeded what was being produced. While demand for consumer nondurable goods had slowed, demand for services, travel and leisure was at a very high level. And there was still a summer of pent-up spending ahead, with some parts of Europe and China yet to fully reopen.
The combination of persistently high inflation and slowing growth may be creating an unsolvable riddle for central banks. Will they be forced to choose between averting recession and meeting their inflation targets next year? For now, central bankers are telling us that reining in inflation is their top priority. In our view, if a wider range of core inflation measures fall to 4% or lower, that will give policymakers the flexibility to slow the pace of tightening and ensure that any labor market slowdown does not result in a surge in unemployment. If core inflation measures fall even further, to 3%, that should give central bankers reason to pause policy tightening. But if we get into next year and core inflation remains above 4%, they will be forced to raise rates higher than the market expects, regardless of where unemployment is.
For now, we expect the Federal Reserve (Fed) to raise the fed funds rate by 200 basis points (bps)—three 50bps hikes and two 25bps hikes—over the balance of 2022, bringing the rate to a range of 2.75%–3%. Markets should be comfortable with that trajectory and are giving the Fed the benefit of the doubt that it will engineer a soft landing.
Scenario expectations
Sub Trend Growth (raised to 45% from 25%) became our base case expectation for the direction of market sentiment over the next three to six months. While nominal growth is very high, the labor market is tight and more reopening pent-up demand is yet to come, we had to acknowledge that in six months' time the combination of higher rates, quantitative tightening and uncomfortably high inflation would take a bite out of GDP. As we head into year-end, we expect U.S. real GDP and core personal consumption expenditures (PCE) to approximate 1.5% and 4%, respectively. It could feel like a soft landing in the near term, but recession risk rises further out. The probability of Recession rose (to 25% from 15%) on concern that inflation might be stubbornly high into 2023. It's quite possible the U.S. could see a few quarters of negative real GDP but positive nominal GDP. As an interesting side note, we are mindful that the National Bureau of Economic Research (NBER) determines when recessions have occurred and focuses on unemployment as a key indicator.
Above Trend Growth was reduced (to 20% from 50%), as it was difficult to imagine how the strength in employment and consumption could be maintained in the face of global central bank liquidity withdrawal. Crisis was left unchanged at 10%. Central bankers have a very challenging period ahead. We wish them well.
Risks
The group felt the risks were tilted to the downside. While it is possible that central banks might "blink" and pause tightening if unemployment starts to quickly rise before core inflation drops toward 4%, we think it's unlikely. Monetary policymakers are telling us that bringing down inflation is their No. 1 goal. More likely is that the Fed gets to 3% by year-end, core inflation hasn't come down meaningfully, and policymakers are forced to prepare the markets for a march higher to 3.5%–4% or more. While the only modern example of the Fed tightening despite rising unemployment is 1980, we need to be prepared for history to repeat itself.
Strategy implications
With both rates and credit stabilizing over the last month, the group felt that this may be an opportunity to ready portfolios for fatter left tail risks. Consequently, high quality, short-duration bonds were the favorite. Short-dated investment grade corporate bonds and securitized credit may offer appealing yields with limited downside.
The group also looked at government bonds as a place to add duration. Yields on 10-year U.S. Treasuries more than doubled this year and should offer some flight-to-quality benefits at a yield above 3%. If Fed expectations shift to a higher terminal rate, the group felt the front end of the Treasury market would absorb most of the repricing, with the back end remaining stable. Local emerging market (EM) government bonds also registered some interest, as EM central banks have been raising rates for the last 18 months and have restored some meaningful real yield to those markets.
Closing thoughts
While central bankers must say they have the tools to engineer a soft landing, battling either a 40- to 50-year high in inflation or withdrawing the greatest volume of monetary accommodation in modern history would each be a landmark accomplishment on its own—and these policymakers have to deal with both. Markets have gone through dramatic repricing and at current valuations should be able to accommodate either a growth slowdown or a brief, shallow recession. It all looks too aspirational to us.
Scenario probabilities and investment implications: 3Q 2022
Every quarter, lead portfolio managers and sector specialists from across J.P. Morgan's Global Fixed Income, Currency & Commodities platform gather to formulate our consensus view on the near-term course (next three to six months) of the fixed income markets.
In daylong discussions, we review the macroeconomic environment and sector-by-sector analyses based on three key research inputs: fundamentals, quantitative valuations, and supply and demand technicals (FQTs). The table on the next page summarizes our outlook over a range of potential scenarios, our assessment of the likelihood of each, and their broad macro, financial and market implications.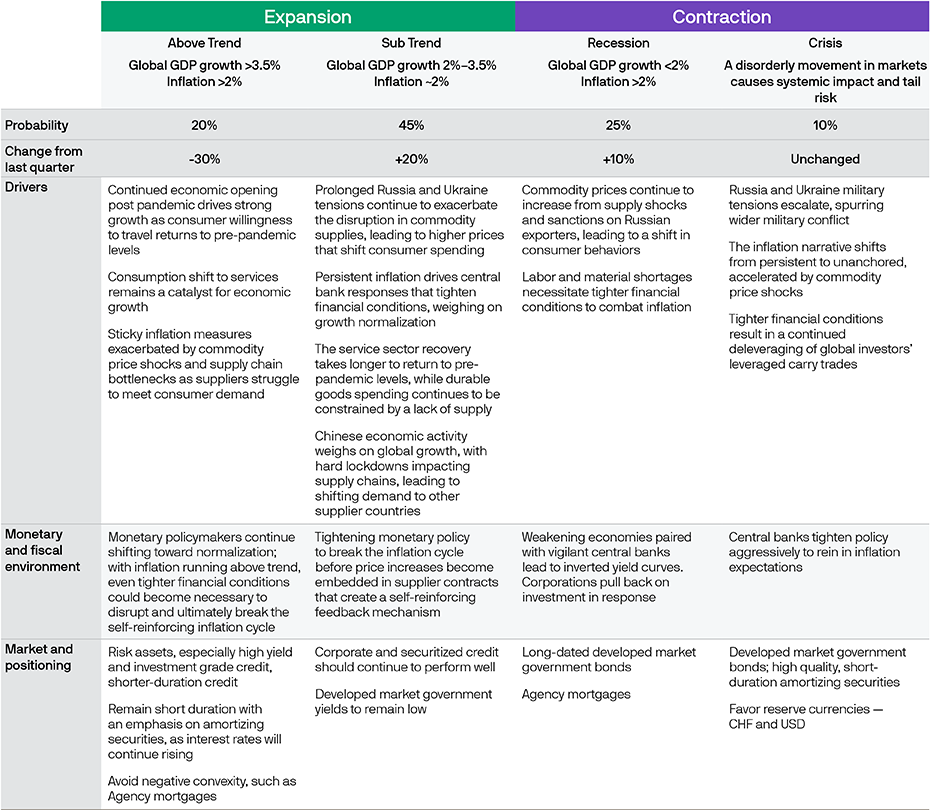 Source: J.P. Morgan Asset Management. Views are as of June 8, 2022.
Opinions, estimates, forecasts, projections and statements of financial market trends that are based on current market conditions constitute our judgment and are subject to change without notice. There can be no guarantee they will be met.
---
Please be aware that this material is for information purposes only. Any forecasts, figures, opinions, statements of financial market trends or investment techniques and strategies expressed are, unless otherwise stated, J.P. Morgan Asset Management's own at the date of this document. They are considered to be reliable at the time of writing, may not necessarily be all-inclusive and are not guaranteed as to accuracy. They may be subject to change without reference or notification to you. JPMorgan Asset Management Marketing Limited accepts no legal responsibility or liability for any matter or opinion expressed in this material.
The value of investments and the income from them can fall as well as rise and investors may not get back the full amount invested. Past performance is not a guide to the future.
Build stronger fixed income portfolios with J.P. Morgan
We have built and evolved our fixed income capabilities with just one aim: to build stronger portfolios that solve our clients' needs. Today we are one of the top fixed income managers in the world.
Diverse perspectives, integrated solutions:
Access the power of a globally integrated team of investment professionals and our proprietary research, encompassing fundamental, quantitative and technical analysis.


Benefit from actionable insights designed to help you invest with conviction, from our regular macro and market views to our fixed income portfolio construction tools.


Choose from a wide variety of outcome-oriented solutions designed to address all your fixed income needs.


Tap into the proven success of one of the world's largest fixed income managers, with broad experience gained across regions and market cycles.